Gumbo Gusto
Celebrating one of Louisiana's favorite dishes, plus man's best friend, farming and more food, of course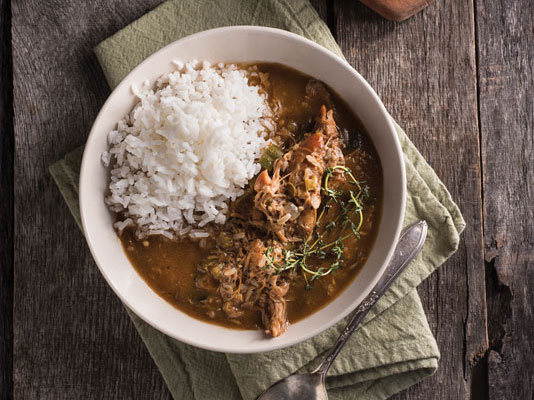 Recently ranked as the third most festival-obsessed state in the U.S., Louisiana boasts three competitive gumbo festivals in a single weekend: New Iberia's 33rd annual World Championship Gumbo Cookoff features 100 teams of gumbo pros Oct. 14-15; (iberiachamber.org/gumbocookoff). Chackbay and Bridge City are both celebrating 50th anniversaries Oct. 13-15. The Louisiana Gumbo Festival of Chackbay (lagumbofest.com) attracts 15,000 visitors with 500 gallons of gumbo and live music. Bridge City's Gumbo Festival (bridgecitygumbofestival.org) boasts 60,000 attendees, pageants and a lively gumbo contest.
New Orleans
'Tis the Season
Get gumbo at these establishments when you ar in New Orleans this fall: Chef and author John Folse's boneless quail, smoked andouille and poached oyster "Death by Gumbo" masterpiece at Restaurant R'evolution (Folse holds the Guinness World Records title for the Largest Serving of Gumbo, weighing 6,800 pounds) and fried bone-in quail gumbo brimming with housemade rabbit sausage and smoked hen. Notable newcomers: James Beard 2023 finalist Chef Serigne Mbaye's Senegalese riff on seafood gumbo at Dakar NOLA and Chef Dook Chase's earthy sausage-laced Creole seafood gumbo at Chapter IV.
Lake Arthur
Pit Bull Tales
Pit bulls are no longer banned in Lake Arthur, now that a 20-year ordinance outlawing the breed has been lifted, largely because of difficulties enforcing the ban. While an ever-evolving roster of Louisiana towns assert "dangerous and vicious" pit bull ordinances, those with official bans have included Baldwin, Kinder, Mamou, Morgan City, St. Francisville and Winnfield to date.
Rapides
Dynamic Farming Duo
Revered for bringing their Rapides Parish bounty from farm to table, Robert and Rachel Duncan have been named Louisiana's top young farming couple of 2023 by the Louisiana Farm Bureau. Their duties include overseeing 500 acres of soybeans on their fourth-generation Boyce farm, raising beef to sell directly to consumers through farmer's markets and tending their vast flower farm while also raising three daughters ages 4, 2 and 1.
Slidell
Cooks Gone Wild
More than 20 teams of cooks are preparing wild game creations derived from swamp gators, wild hogs, deer, bayou quail and mallards during Slidell Chief of Police Randy Fandal's Wild Game, Seafood and BBQ Cook-Off (Sept. 30) in Old Towne Slidell. After feasting, locals can enjoy line-dancing, an arts and crafts fair, face painting and cornhole in the Kids Zone (eventbrite.com/e/chief-fandals-wild-game-seafood-bbq-cook-off-2023-tickets).