Hitting the Town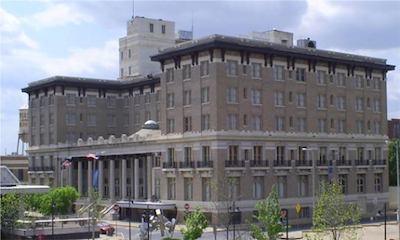 No stay in the Rapides Parish city of Alexandria is complete without being a registered guest at the historic Hotel Bentley. Over the years, it's a place that has entertained the likes of John Wayne, Roy Rogers, General George Patton and a handful of U.S. presidents.
Adding to its mystique and prestige, is this: Hotel Bentley, next to the scenic Red River, is known as the "flagship" hotel of central Louisiana and was designed by the same architect, George R. Mann, who was responsible for the opulent Capitol Hotel in Little Rock, and was hired by timber baron—and hotel namesake– Joseph Bentley. (Fun Fact: Bentley himself lived in the hotel in a large apartment on the top floor and used a personal elevator that remains to this day).
From the moment you walk into her downtown doors, you will be wowed by the historic architectural detail and stature: the opulent grand ballroom, the magnificent lobby and the much-photographed grand staircase. (Tip: Be sure to ask for a tour of the hotel).
Back in 1908, when the Bentley opened its doors, it was touted as being the finest hotel with the finest furnishings in the entire south, and that same grandeur can be seen today. Guest upon guest will tell you: a stay at this luxury hostelry is one sure to please.
The Bentley is a well-preserved museum in and of itself, and was built to be entirely fireproof. There is history throughout the property, and The Bentley houses a collection of WWII artifacts. It's fitting because commanders such as Dwight Eisenhower and Omar Bradley stayed here as they plotted the historic Louisiana Maneuvers. (Historic Fact: More than 500,000 troops were trained in the Alexandria area during the war).
While the hotel has undergone a myriad of changes over the decades, new life has been breathed throughout its walls. Local entrepreneur and preservationist Michael Jenkins is dedicated to restoring the Bentley to its original splendor and evidence of that is already being seen.
The newly opened Mirror Lounge is the hotel's new bar, which is frequented by locals and guests who utilized its leather sofas to relax and unwind. (Tip: Wet your whistle with the signature Southern drinks such as the Maple Bacon Old Fashioned and the Rosemary Honey Gin Fizz). The Mirror Lounge also offers daily $5 specials from the Pimm's Cup to the bacon/jalapeno Bloody Mary.
The Diamond Grill Restaurant has become a hot spot for locals, too. Executive Chef William Leroux pours his heart into every Cajun-Creole dish he creates, and be forewarned: make sure to save room for his seafood gumbo and mouth-watering Filet de Beef Marchand de Vin topped with a smoked bone marrow sauce. Bison, duck and local fresh fish dishes are also among Leroux's creations that are sure to tempt even the most discerning of taste buds at The Diamond Grill. (Tip: try the Chocolate Mouse Bomb or the DG Bread Pudding).
For a change of pace, just a stone's throw away from the Hotel Bentley, is Embers, a local hotspot for dining, libations and live entertainment. This fusion-style artisan restaurant offers breakfast, lunch, dinner and Sunday Brunch, and crowd-pleasing wood-fired pizzas like The Godfather and The Butcher. Need an alternative? An amazing hot brunch dish is the Breakfast Chicken and Waffles.
Domestic, international and craft brews are also hot items at Embers, which is known for serving hard-to find-beers from old breweries, some with recipes dating back a thousand years. As for live entertainment, both local and regional musicians, from a variety of genres, make this a patron-pleasing hotspot.
While it's not downtown, just under three miles away from the Hotel Bentley is a long-time Alexandria favorite, Atwood's bakery on MacArthur Drive. This local icon has been operating since 1977 and serves one of the best king cakes in town. (Tip: the strawberry cream cheese is a must-try). Atwood's best-selling dessert items are the delectable petit fours, true French mousse chocolate desserts. Thinking lunch? You will want to order Atwood's chicken salad croissant.
Be sure to visit the nearby Alexandria Museum of Art on Second Street for awe-inspiring collections and exhibits – tours and art classes are available.
For more information, go to www.hotelbentleyandcondos.com and www.themuseum.org.
*Photos by Embers Downtown and The Diamond Grill Restaurant.