Home: Hallway to History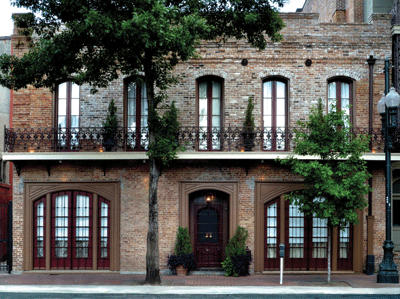 "Glamour": Mary Viola Walker von Kurnatowski perfectly understands the word. Step inside the mansion she shares with Roland von Kurnatowski, her husband, an entrepreneur and the owner of Tipitina's nightclub, and prepare to be awed. Here along the St. Charles streetcar route in the "American Sector" of New Orleans, the couple lives with Mary Grace, their 9-year-old daughter, in an amazing space that has a long and unique history.
"The building dates back to 1840, and it is widely believed that part of the structure served as housing for the carriages, buggies and horses kept by the owners of the grand mansions that populated this area," Mary says. "When I first ventured into the building about 18 years ago, I had to walk down a long hallway next door; go through an opening in the brick wall; and step down into the center courtyard that opened to the sky and was full of mud, moss and pigeons. Here I discovered great brick walls with tall arches, and I immediately thought it would be the most fabulous house."
Vision. Yes, Mary had a vision of the spectacular mansion that exists today. She gave allowance to the fact that there were no doorways, windows or floors and the grand balconies on the front, rear and open courtyard had fallen away decades before her visit. She smiles as she adds, "I had to climb a ladder and shoo the pigeons away to get to the second floor, and I loved everything that I saw."
Undaunted, she forged ahead with the challenging project of acquiring the property, which took several months to complete. "We called in architect Rick Fifield to help us, and when I handed him my rough sketches of possible floor plans, he told me that he thought I was a frustrated architect," she says. Mary had measured all of the walls and existing openings for windows and doors and spent several months fiddling with possible layouts.
The final floor plan was dominated by the arrangement of the brick walls and the arched openings. "Rick listened to my harebrained ideas, and he was a patient instructor about governing codes we had to honor. He was also great about the details such as the moldings we should use and just what we should do about creating a great staircase in the broad foyer."
It was a massive restoration project with only a small part of the rear of the house added as new construction. "My favorite space is still the interior courtyard," she says. "It serves many purposes including as a gathering spot for large parties, and it is especially wonderful when we have the whole floor covered in canvas drop clothes, and Mary Grace and I paint and do lots of craft projects, sometimes alone and sometimes with friends."
Today the almost-8,000-square-foot structure is a splendid home. "Roland, myself and Mary Grace have all been very hands-on in the creation of this place. It is very much a reflection of our efforts and interests, and it is definitely not a house that a group of professionals was hired to come in and 'do.' It has been one giant DIY [do it yourself] project, and it is far from perfect, but it is warm, comfortable and functional and, we hope, very welcoming. I think buildings have their own sort of karma, a cumulative result of all the activities that have occurred in a place. Although part of our building is very old, it has only been a home for a few years, and it is a place with a good karma that we love sharing with our friends. Even Mary Grace's young friends find it warm and interesting."