Home in Alexandria's Garden District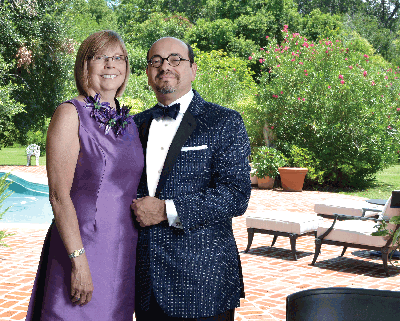 Step inside the home of Susan and Dr. Lawrence "Larry" Menache in Alexandria, and you may think you are in a grand Paris salon. The Menaches have filled their home with important 18th-century French case pieces and chairs that are signed by the ébéniste [furniture maker]. Larry can tell the fascinating history of each piece of important furniture in their collection – a collection that is definitely worthy of museum status: "Some of our furnishings have been in particularly important hands in the past," he says.
Everything about the showplace home is notable, and it is especially interesting that Larry owns Maison Pompeii Antiques and Interiors. He is the interior decorator who brought everything in the couple's home together in special harmony reminiscent of a bygone era when grandeur was the mark of refinement. The unique couple – he is a radiation oncologist at the Cabrini Center for Cancer Care and she is a Bronze Life Master in the American Contract Bridge League who is an accredited bridge director and runs the Ace Bridge Club in Alexandria – loves to entertain, and their home is often open to friends and relatives.
Located in Alexandria's Garden District, the 6,000-square-foot house is situated on a lush, tree-filled 2 acres. Susan says she always admired the house when she was growing up in Alexandria. She and Larry were both pleased when the home was placed on the market by the heirs of the original owners, Mr. and Mrs. Richard Crowell Sr., who owned Crowell Lumber Co.
Larry guided the extensive renovation, reconfiguring the downstairs and adding bedrooms upstairs. "The changes downstairs allow for the excellent flow for both large and small gatherings," he says.
It isn't surprising that the couple has filled their home with antiques. "Before we knew each other, we both loved antiques," Larry says.
"Our marriage was the harmonious melting of both of our tastes, so the house does not look like it just dropped out of the sky, but it is actually a compilation of several generations of family treasures and the things we have acquired separately and together," Susan adds. "One of the wonderful things about our home is that the rooms are constantly in flux as our collection of antiques and art grows and our tastes evolve."
A separate china and crystal closet off the breakfast room neatly displays the extensive collection that Susan acquired from her family, owners of Schnack's Fine Jewelry, the Alexandria store (established in 1865) that also specialized in fine silver, crystal and china. "This isn't a hidden museum," Susan says with a smile. "It simply holds many of the treasures I acquired from my family and purchased on my own as an adult and the many acquisitions from Larry's family. We enjoy having such an interesting resource from which to select just the right things for entertaining."
The couple stresses that their home may be formal but there is no place where one cannot sit. "All of the antiques are used and enjoyed and not just for show – there is nothing you can't touch," Larry emphatically says. "We feel at home as we take care of this wonderful home and its contents for future generations, and we are pleased that our daughter, Meredith (a student in art history at New York University), loves everything just as much as we do. We know she will be a good steward for everything in the future."