Hooked on Fish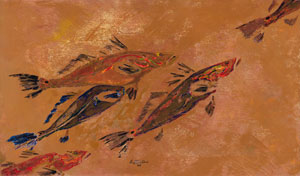 From the back deck of her boathouse on River Road just north of Lake Charles, Raejean Clark has a commanding view of the Calcasieu River and the seemingly incongruous city skyline in the distance. A saltwater gate that prevents brackish Gulf water from intruding on the river and marsh lies just downstream, and the dark stubbled remains of a once-thick cypress swamp stretch out before her. Natural beauty is all around her, a beauty that inspires painters to glorify the South Louisiana landscape on canvas and on film. It is an ideal setting for a painter to breathe in the rhythms and softness of air and light.
Clark finds her expression not in the broad vistas of the marsh and fens or painterly sunsets but beneath the water's surface in an endless landscape where few artists have gone. Clark paints –– or, perhaps more accurately, prints –– fish. Fish caught from the river, bays and Gulf are her subjects; the natural environment and the colors of the changing seasons form her palette. Her remarkable images are filled with the lyrical grace of a Japanese painting, the fascination of an archaeological fossil imprint millions of years old or the whimsical renderings of prehistoric cave paintings. In these paintings, Clark exalts the day's catch with her iconic images that live on and inspire the imaginations of all who have ever fished along the bayous, rivers or coastal marshes.
The walls of her studio are filled with brightly colored paintings of fish –– not schools of swimming fish but profiles with colors enhanced by the artist's imagination. One canvas sits on an easel awaiting her next brush stroke. Another with only the suggested and abstract impressions of fish lined up hangs limply to the front wall like a curious tapestry. She calls this one Usual Suspects.
Clark, who has painted most of her life, began painting, or printing, fish almost two years ago, after marrying Southeastern Louisiana University novelist and English professor Norman German, a Lake Charles native and avid fisherman. "One day while Norman was fishing," Clark recalls, "he pulled up a banana fish. Most people around here call those 'trash fish.' I told him he couldn't throw it back in the water; it was beautiful. I saw something he didn't. He's looking at little fillets. And I'm seeing something different. I'm seeing this beautiful texture, the scales, the detail, the beauty. I love it. If people saw the beauty in them, they would respect it more. I wanted to show my children and friends in Houston that fish have more beauty than what they see on their plates in a restaurant."
Now when German catches a fish, "he says, 'I bet Raejean could do something with this,'" Clark says. "It's fun to see him get excited over fishing, which he loves anyway." On weekdays, German lives in Hammond and Clark in Houston, at least until her daughter finishes high school. Weekends they're together in Lake Charles.
Clark, 52, a native of East Texas, enjoys painting something that is a bit different. "Nobody else is painting fish," she says happily. "I thought it would be interesting. My friends say, 'My God, you're touching dead fish. What are you thinking?'" When her 17-year-old daughter saw what her mother was up to, she sighed with true teenage exasperation: "What sort of hell is this?" Clark's son feels a little differently about his mother's peculiar art: He hangs them in his apartment in College Station, Texas, where he attends Texas A&M University.
While describing her family's reactions, Clark's hands are busy at work, washing the slime off of frozen fish taken from the freezer. "When I'm washing the fish," she says, her hands working the fins and scales, "I see the details. Like in life, sometimes the flaws have great interest. Saltwater fish are a lot slimier than freshwater fish. I just get the slime off so I can print the fish." She pauses a moment and continues: "These paintings symbolize a generation of people who lived here and loved this life."
To call Clark's work "paintings" would be only partly correct. To be more precise, she describes it as "fish-printing." She later learned that she was practicing an ancient Japanese art form called gyotaku – "gyo" meaning "fish" and "taku" meaning "rubbing." And that is exactly what she does, at least as the first step.
After she washes and dries the fish, she places it on a sheet of aluminum foil and then, with a small artist's brush, applies a thin coat of acrylic paint or sometimes ink over the entire surface of the fish. She covers the fish with either canvas or mulberry paper. With her hands, she gently but firmly presses the shroud-like canvas or paper against the fish, careful to catch the fins and tails. When completed, she pulls the "raw" image. Occasionally, she dips the canvas into the river to let the water spirits help determine the painting's background color.
"If I wanted an exact image of a fish, I guess I could take photographs of it," she says. "But you have less control when you print the fish. It's more fun and exciting when you relinquish a little control. I like the surprise. Every time I pull the paper, it's like how I feel when I get that nibble on my line. I wonder what I have." Or as she says in some of her promotional material: "My fish images begin when my reel starts to spin."
After the basic imprint is complete, colors begin to rise in her imagination like a mirage. In written statements that accompany her limited edition gicleé prints, she states: "After the fish's image is transferred to canvas, I season that simple image with watercolor, handmade pastels, layered ink or paint so that it reflects my connection to our Texas/Louisiana heritage. I work in a bit of river water into each image as an homage to our generous Calcasieu River, who has shared her bountiful gifts with generations of Louisiana families."
Whether she uses acrylic paints, buttery pastels, thin watercolors or metallic inks, Clark works each medium to create illusions that swing from bright and gay to dark and moody. "I just know intuitively what colors I will use," she says. "Colors fill in spontaneously. I remember the environment in which I caught it. Were there lilies? In the autumn, I will use warm and brilliant fall colors. I will use sunny colors in the summer and spring. Colors come to me when I hear fish jumping in the river at night just outside my studio. I love the narrative of the image. Perhaps that's because I come from a long line of Southern storytellers. I want you to know where I was and what's happening, like a storyteller telling a story."
To help guide that narrative, Clark often writes brief impressions to accompany the painting. For instance, for Redfish Rising, she states: "One of my favorite fishing spots is the Salt-Water Barrier in Lake Charles. When the huge gates are lowered, baitfish spill over, and the redfish are there, waiting for them. That day, I was there waiting for the redfish. This one was inked in copper and touched with verdigris." Redfish Rising appeared on the cover of the Spring and Summer 2008 issue of Louisiana Literature, a literary journal published by Southeastern Louisiana University's English department. Clark is single-handedly trying to promote the publication by packaging copies of the journal with her small gicleé prints.
After many years living away from the region in such places as Minneapolis and Toronto, Clark says her fish paintings have reconnected her to South Louisiana and Texas. They "validate my connection with this place that I love. I always wished I was back here." Clark's goal is to print an example of every one of Louisiana's native fish. "I love it," she says. "It's replenishing to me. It's fun to find something so late in life."
Clark is represented by the Frame House Gallery in Lake Charles. More of her work can be seen on her Web site at raejeanclark.com.