House Music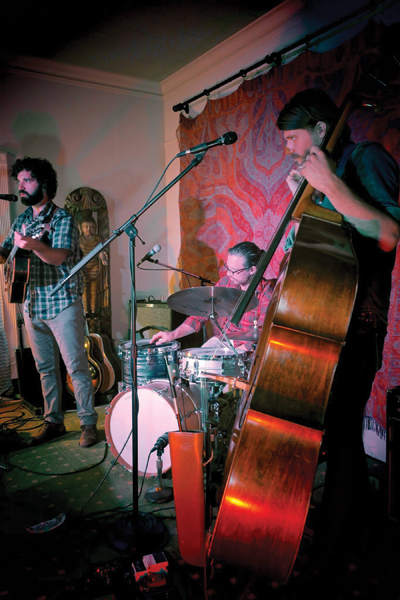 New Orleans is one of the world's most vibrant live music towns, and listeners from around the world regularly descend upon Lafayette to get a taste of the homegrown music scene there, but Baton Rouge, halfway between the two on I-10, doesn't tend to have that same reputation.
But if you, like so many others, underestimated the Red Stick's live music scene before, it's time to catch up.
"Musicians are, more than ever, choosing to live in Baton Rouge and make music," says native son John Burns, who opened Dyson House Listening Room with old friend Kevin Sweeney with a goal of highlighting this burgeoning field of artists.
It's a simple venue: an old house that served a spell as a gift shop. A low stage stands at the end of a large room, and there's room for exactly 70 people to have a chair with a sight line.
There's no bar, no tables, no real space at the back to hover and chat. The name says it all: it's a listening room, and that's what patrons come to do.
"It's comfortable and it's intimate," says Burns. Listening rooms like this provide the ambience of a house concert in a cozy living room, but without the awkwardness of actually being in a stranger's living room, or worse, "having a bunch of strangers in your house."
This warm, intimate environment is as special for the audience as it is for the musicians. The space between the songs that may get filled with rote stage banter or unheard filler at a festival or in a club becomes precious — it's an opening for conversations and deeper explanations.
"The audience is just so appreciative, and the musicians can really feel that," says Burns, explaining that the two-way feedback makes for truly special shows.
For Burns and Sweeney, that's what it's all about.
"This isn't a moneymaking venture for us," says Burns. "We just try to make enough money to keep it open. We do this because we love the music."
Artists take home all of the proceeds of their shows, beyond the costs required to open the doors. This still may not add up to quite what they'd make in a more formal setting, but Burns explains that Dyson House's reputation as a truly unique venue has put them on the radar of some bigger-name artists anyway.
"Our focus is always going to be regional music, but we do have some great touring acts playing, also," says Burns. "More often than not, they come to us. They want to play here because they've heard that it's just such an appreciative audience."
Recently, Grammy-winner Rhiannon Giddens, known for both her solo work and as a member of the Carolina Chocolate Drops, got word from an associate that Dyson House was the place to play an intimate concert. While recording her new CD with producer and musician Dirk Powell, who lives and works across the Atchafalaya Basin in Breaux Bridge, she planned a concert. Burns tells the story of Powell and Giddens "rolling in in a Mazda 323, with their instruments in the trunk. They played a show that was just world-class. Amazing." Burns's exuberance when speaking about these shows is palpable and magnetic; it's no wonder his venue has become a destination for folks on both sides of the microphone.