If Our Ancestors Decorated For The Holidays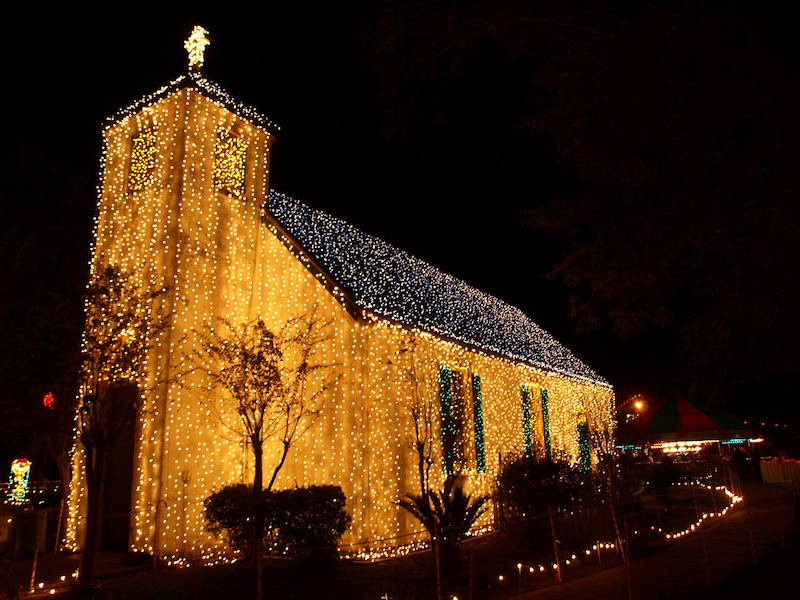 I'm a history nerd, so I must admit that part of me balks at the sight of holiday lights and laughing Santa Claus decorating a historic village. But only for a millisecond. As quickly as that idea floats through my mind it's replaced by pure joy at seeing half a million lights and holiday displays adorning the centuries-old buildings and homes of Acadian Village of Lafayette.
It's all part of Nöel Acadien au Village, an annual event that draws thousands to this winter wonderland. Park staff spend November decorating and preparing for their end-of-the-year fundraiser and once Thanksgiving is a memory, lines fills the parking lots nightly waiting for a peek.
It's one of my family's most treasured holiday experiences, walking past buildings and homes once belonging to Acadian residents and admiring the soft glow of holiday lights. A church sits in the center of this makeshift village, covered in strings of white lights and emitting an ethereal aura. Over on the performance stage, Cajun and zydeco musicians play, artisans sell crafts and local cooks dish out South Louisiana favorites.
This year's Nöel Acadien will be from 5:30 p.m. to 9 p.m. nightly (weather permitting) Nov. 30 through Dec. 23 and include local cuisine, carnival rides, entertainment, holiday shopping and more in addition to the enormous light and animated displays. The best time to visit is on a chilly evening when you can bundle up in hats and scarves and drink hot chocolate while listening to the sounds of Acadiana's best musicians.
Tickets to Nöel Acadien are $10 at the gate or $8 in advance and proceeds benefit the village's non-profit benefactor, the Lafayette Association for Retarded Citizens.
Lafayette is privileged to have two historic villages, the other being the 23-acre Vermilionville Living History Museum and Folk Life Park. It, too, decorates for the holidays, but remains true to its 18th and 19th century history. On Saturday, Dec. 15, Vermilionville hosts its annual Old Time Christmas Family Day with Native American storytelling, Papa Nöel (the French Santa Claus), artisan demonstrations and a reading of "The Night Before Christmas."
In addition, there will be a Sensory Friendly Visit offered two hours before the park opens and including sensory friendly crafts beginning at 9:15 a.m. in the Performance Center. The Sensory Friendly Visits to Vermilionville is a partnership with The Acadiana Autism Society and The Lafayette Parish School System.
Old Time Christmas Family Day will be from 10 a.m. to 4 p.m. Dec. 15. Admission is $10 per family and pre-registration is encouraged but not mandatory.
Before Saturday's event, Vermilionville will offer holiday traditions of yesteryear from 10 a.m. to 4 p.m. Tuesday, Dec. 11, through Friday, Dec. 14, and again Tuesday, Dec. 18, through Saturday, Dec. 22. Regular admission applies.