In Praise Of The Song At My Window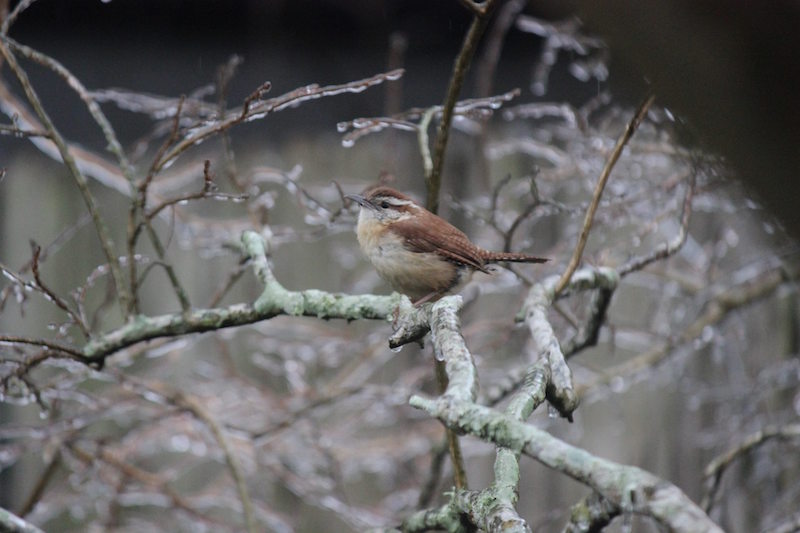 Winter remains mild this year, so the birds at my window are the usual suspects — resident cardinal and wren couples, tufted titmouse, chickadees and the sparrows I can never name (they all look alike!) I'm waiting for the temperature to fall so the American goldfinches will arrive and take over as they did en masse a few winters ago, chirping away and devouring several bags of seed during a rare ice storm. And then there's the white pelicans who visit the LSU Lakes in Baton Rouge, huddling together as they scour the lakes for food, delighting the visitors who arrive to catch the seasonal act in photos.
Louisiana can be a birding haven in winter, when migratory birds come through and local feathered residents gather at bird feeders to stock up for cold weather. We're fortunate in that natural food exists within Louisiana's environment, providing them sustenance that can't be found in northern climes.
Take the rice and crawfish fields, for examples. Drive through southwest Louisiana and you'll find an incredible selection of wading birds and ducks digging through the muddy crops, species such as white ibis, egrets and the illusive yellow rail. Near my home in Lafayette, the preserved side of Lake Martin that's managed by the Nature Conservancy allows the brightly pink roseate spoonbills to roost, along with egrets, great blue herons, cormorants and ospreys, among many others. I love to hike the levee trail in hopes of catching them building spring nests (it's a little early right now) or a colorful songbird who's spending the winter in South Louisiana.
The Coast offers excellent birding opportunities, especially within the Creole Nature Trail and inside Grand Isle State Park. If I'm up for a drive along the coast, I head west to Pevoto Woods, a bird sanctuary for migratory birds that's run by the Baton Rouge Audubon Society and usually filled with great sightings.
Central and Northern Louisiana have their own hot birding spots, places such as Toledo Bend with its bald eagles, Kisatchie National Forest where I spotted my first red cockaded woodpecker and Black Bayou Lake National Wildlife Refuge where more than 100 species have been spotted.
Want a birding breakdown of Louisiana? Check out "Take Flight: The Bird Lovers Travel Guide to the Pelican State" in the May/June 2018 issue of Louisiana Life magazine.
In the meantime, check out Eagle Expo, which celebrates the American bald eagle that visits the Morgan City area. The 15th annual event will be Feb. 13-15.
The annual Grand Isle Migratory Bird Festival, with its birding hikes and other special events, will be held in April, times and dates to be announced.