In Pursuit of Antiques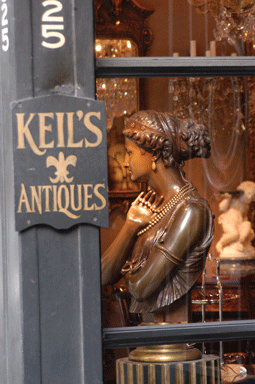 From a breast pocket of the store owner's shirt, a small cloth bag is drawn. It is worn and yellowed. Gently, the shop owner picks open the string-drawn top, shifts his body forward in the chair and pours the bag's contents onto the palm of his free hand. One tarnished button rolls from the folds of cloth. The button is made of brass and circular in shape.
"I just got this today," says antiques and collectibles dealer C.J. Scandurro. "It's a Confederate soldier's uniform button."
The embossed image of a pelican with wings spread wide and head held high provides evidence that it once belonged to a member of the Louisiana militia.
"This one was made in New York, probably pre-Civil War," Scandurro says.
Scandurro's shop, C.J.'s Antiques & Collectibles, is just off the main drag in Ponchatoula on Southeast Railroad Avenue. Packed full of the used belongings of others, it is a smorgasbord of dust-laden artifacts. Chairs hang from the ceiling.
Boxes of tools stand in bins only a few feet from an 1860s arched glass-door bookcase. Empty Coca-Cola bottles and letter boxes filled with period postcards line a wall where mantel fronts lean one against another.
Hunting for antiques requires leisure, says co-owner Mary Scandurro. "People like antiques shopping because you don't feel crushed and rushed," she says. "It is sort of a hobby. We see a lot of young women and their daughters come in because they started collecting for their daughters –– perfume bottles, Depression glass. Then there are those who are looking to replace or add to pieces they may have inherited."
Stores like this line the streets of historic districts throughout Louisiana. They are the Serengeti of the antiques- hunter who comes armed with excess funds and a discerning eye. The motivation is hidden value and sentimental memory. The prize is the pleasure of the find.
New Orleans-area native and Brandon, Miss., resident Paula Rodriguez wanders into Décor Splendide, a spacious antiques store on Ponchatoula's West Pine Street that is reflective of its owner's penchant for interior design.
"As a child, my mother would take us –– me and my sister –– to the French Quarter," Rodriguez says. "Back then, you would go there to eat lunch, and then we would walk from shop to shop, looking. My mother would tell us what kind of era a piece of furniture or jewelry would come from. We might find a particular brooch or vase we liked, and she would buy it for us. When I was older, I began buying a few pieces for myself. Basically, I look for things that will go in my house."
On hand to assist Rodriguez is shop owner Margaret Richmond. She sells both personal finds and items purchased from exporters. Richmond developed her interest in antiques while working to become an interior designer. "I look both for things I like as well as quality," she says. "I'm a hunter. It's a sickness."
An item must be at least 100 years old to be called an antique. In Richmond's world, they also need to be beautiful and interesting in design.
On an oak sideboard sit statuettes of the famous Dusk and Dawn marble sculptures that ornament one of two Medici tombs in Florence. Made in Italy during the early 1900s, the bronze-over-plaster statuettes of male and female figures reclining are depictions from a body of work acclaimed as one of Michelangelo's most famous and accomplished creations.
In the store window is a pair of a different sort, antique handblown Bristol painted vases. Finding pairs of anything is very difficult today, Richmond says. "Most people who inherit pairs end up giving them away to different family members," she says. The vases stand about 15 inches tall. The delicate white glass is curved and full-mouthed. Floral motifs in cool pastels cover the fronts of the vases. With a little imagination, you can picture these once-treasured vases sitting on the mantel of a grand home, filled with splendid bouquets.
Two doors down from Richmond's store is Roussel's Specialty Shop. Here, Victorian antiques, Armani porcelain dolls and Tiffany-style lamps are arranged along with fine antique furniture.
Owner Neil Roussel began his career as a bottle collector when he was still a teenager. It was his appreciation of furniture, though, that fueled his career.
Roussel's specialty is furniture made between 1820 and 1900. "I enjoy the history of furniture," he says. "That furniture is a true example of how things were. The process was very labor-intense, beginning with the preparation of the wood. Back then it took five or six people to complete a piece."
Roussel advises shoppers to find a dealer they feel comfortable with: "Most antiques dealers are in it for their own passion, so find one who can tell you all about it.
Antiques in general hold their value, so you want to shop for quality."
First dibs
Two routes to follow when searching for first picks in antiques are estate sales and auctions. At these sales, shoppers may sidestep dealer profits, but they also give up the assistance of a knowledgeable expert.
Will Ricks has conducted estate sales in and around the Hammond area for the past 12 years. The sales can be emotional, he says.
"You're in someone's home who recently died, moved to an assisted living facility or to a family member's home, so there is some sense of finality to that person's life," he says. The key is to remember you're helping the family financially, Ricks adds.
The sales are set up after the family has removed the items they want. "We go in after to sort and organize things," he explains. "Prices are set by an appraiser, and then the sales are advertised in newspapers."
Most estate sales are on weekends, Ricks says. On the first day, all prices are firm. On the second day, prices are marked down by half. Shoppers can find good bargains this way, but they should always remember to treat the person's belongings with respect.
Auctions, on the other hand, are usually conducted in an impersonal environment and have a quick clearinghouse feel to them. Here, there is a more game-like atmosphere. Barbara Bonnette of Alexandria says the process is very easy: "You look at the items for sale, register to bid and get a numbered card. The card is used to bid."
Most auctions accept credit or debit cards, unlike estate sales, where cash or checks are often preferred.
"Numbers of people go to auctions because they are fun," Bonnette says. "They get to find items and get good buys."
Road finds
Several cities and towns in Louisiana have recognized the interest in antiques and created districts where antiques and collectibles are the primary draw. One such area is West Monroe's Antique Alley.
"Antiquing is one of the main attractions in the area," says Sheila Snow, communications director of the Monroe-West Monroe Convention and Visitors Bureau. "There's a lot of variety here –– European, American furniture and more. The appeal is it kind of takes you back in time."
West Monroe's Antique Alley, formed in 1987 by six downtown area merchants, boasts a membership of more than 40 shops, including 15 antiques stores. West Monroe, like the towns of Washington, St. Francisville, Denham Springs and Ponchatoula, saw its downtown dying as shoppers followed the expansion of suburban malls during the 1970s. They sought to revitalize their downtowns by seeking out a different kind of shopper.
"We are a unique area in Louisiana, one of the largest if not the largest," says Mike McMahan, owner of Trenton Street Antiques in West Monroe. The designation "Antique Alley" came about as a marketing idea through which the remaining shops could increase their marketing range. They pooled advertising dollars and successfully drew shoppers, which in turn drew new businesses.
"The majority of our customers are repeat customers from the local area," McMahan says.
Today, other cities and towns are following the antiques model. In Bienville Parish, bluegrass strings sing out every second Saturday in the town of Arcadia, where there are 10 antiques stores. Down south, shoppers in Breaux Bridge wander a booming antiques-filled downtown while musicians jam outside a local coffee shop.
Parish tourism offices also find the Internet a great resource to direct shoppers to antiques shops along Louisiana's scenic back roads. John Daigre, owner of Cypress City Antiques in Arnaudville, draws shoppers to his collection of cypress furniture and architectural finds through the St. Martin Parish Tourism Commission.
"Two weeks ago we hosted an 'Antiques Roadsheaux' that drew a thousand people," Daigre says. The event, held several times a year, is very popular with people who want a chance to see what Aunt Mavis' tea set is really worth, he says.
Linda Curtis-Sparks, director of tourism for Sabine Parish, notes the recent success of a Web site venture that joins DeSoto and Sabine parishes with Crawford, Texas. Shoppers are directed to 17 stores, including two antiques malls, located in Logansport and Fisher.
Another Web endeavor called the Deep South Antique and Wine Trail lets shoppers peruse store locations through West and East Feliciana, Livingston, Tangipahoa and St. Tammany parishes. The site also teams with those in Natchez, Miss., allowing shoppers to follow the Mississippi River to St. Francisville and then over to Slidell.
Co-joined marketing permits shoppers easier access to information when planning trips. It allows for the discovery of shops such as those tucked away in Lake Providence, Mer Rouge, Columbia, Hodge, Jonesboro, Leesville and Anacoco.
Following any trail can take more than several days, says Tangipahoa Parish Tourism Director Betty Stewart. "It is a pleasant way to experience what is in your own state. There are so many delightful and charming towns, each in their own way as much of a discovery as the finest antique."