In Stitches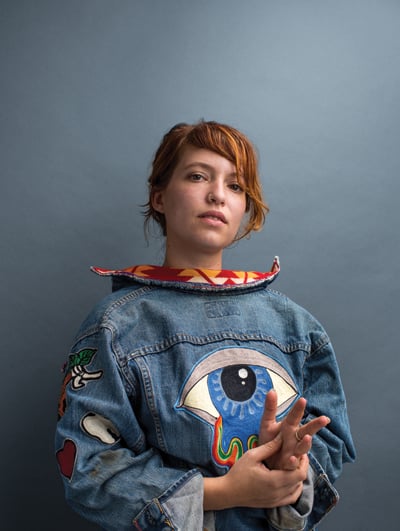 In Frankfurt, Germany, there's a young woman. She could be known for many things, but there in the birthplace of Goethe, Louisiana ex-pat Kristen Aul is known for one thing. People recognize her as the girl who always wears the jean jacket emblazoned with a custom chain-stitched Popeyes logo.Meticulously crafted by Louisiana designer Sigourney Morrison, from whom Aul purchased the item, this same jacket caused a joyful stir inside the Popeyes Louisiana Kitchen on St. Charles Avenue. Aul had returned to help her family with flood recovery in Baton Rouge and had stopped into the restaurant wearing the jacket.
"It's the piece I'm most proud of because it's the one that has given the customer the most joy," Morrison says. "That's why I do what I do. And I hope Popeyes reads this — maybe I can get some chicken out of this deal, ha."
Born in New Roads, Morrison grew up in rural Fayette, Alabama, an hour from the closest movie theater and mall — but she never missed a Mardi Gras. Her father, a New Orleans native, always rode in krewes with his side of the family. And though she felt detached from larger creative movements out in the country, Morrison's youth provided her with a foundation for her future craft.
"Football was king," she recalls of her small conservative town. "But I definitely found a way to express myself in a unique fashion. I got the art and culture from New Orleans, and I got my respect and love for nature and the outdoors from home."
Now 30, the LSU alum grew up cross-stitching with her grandmother and learning to sew as a practical craft that could also be a creative outlet. She still has more than a dozen dolls stitched for her by the family matriarch. After switching her major to fashion design at LSU, Morrison developed her sewing skills and began making hats.
"I think when I actually started making things that I love and hearing some positive feedback from people, I actually thought this would be viable as a business," Morrison says. "It was the first time I was doing something that didn't feel like work or a chore. I can sew for six or eight hours a day and feel happy at the end of it."
After graduation, she relocated to New Orleans, and when her run with Goorin Bros. Hat Shop ended, she bought a circa-1941 chain stitch machine and launched her own design business called Dressed New Orleans. The name is a playful reference to the Big Easy's love of loaded poor boys and the rich history the sandwich has with the people of the city.
"They're so unique, not unlike the people here," Morrison says.
A blend of folk and pop art, graphic design and fashion, Morrison's work is often color-rich or playful and can be found on eye-catching patches, stitched lettering slogans or accessories like a "double sided necktie thingy" she recently posted to Instagram.
She calls her art "thread painting," and it fulfills her knowing that she's adding bold beauty to the world in her own distinct way.
"I get lost sometimes," she says. "I definitely have some carpal tunnel damage creeping up on me."

Q&A
What do you do for fun when you're not working? I'm in a shuffleboard league. We play once a week. I also am in the Organ Grinders. It's a local dance troupe. That occupies my time. It's great to get out there and dance and let loose and be around other inspiring women.
How do you stay inspired to keep progressing? I'm always inspired by New Orleans. It's my home, and I have deep roots here. My inspiration can come from so many different places. I really like vintage signs and the art of sign painting. There's a great one on St. Charles on the side of a building. It's for a moving company and has a momma cat carrying her kitten in her mouth. It's one of my favorites.
Are there any unexpected influences in your work? Well, I get requests sometimes for some weird stuff. And I have always honored those requests. No curse word or risqué image is off limits. But I will never do anything that is racist or sexist. And that's pretty much my only rule.
If you could design clothing for anyone who would it be? That's easy. Dolly Parton. She seems to like butterflies, doesn't she? I would make her the most glorious butterfly jacket the world has ever seen. Dripping with rhinestones and fringe.
OK, now I hope Popeyes and Dolly both read this. Me too! I would die so happy. And full of chicken.

Connect with Morrison at @dressedneworleans on Instagram.