In the Heart of Eunice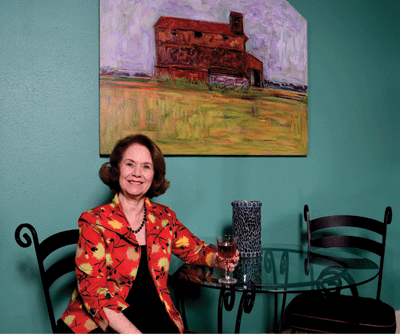 Located in Acadiana, Eunice is a place where people pride themselves on their French heritage. Here you will also find the home of the Liberty Center for the Performing Arts, or just Liberty Theater to the locals, where a live radio show is produced on Saturday nights strictly in French. Neighbors are friendly; the food is excellent; the Cajun music is near-perfect; and it isn't hard to find evidence of deep, proud French roots in the community. "Eunice is special," says Jane Ardoin, who lives in the heart of town in a historic house with white pillars across the broad front porch. She once shared the home with her late husband, Winston, and the couple's four children also grew up in this house.
"Although they are all adults with homes of their own," Jane says," I still enjoy living in Eunice."
The home, which sits on a large tree-studded lot, was constructed near the beginning of the 20th century. The Ardoins fell in love with it the first time they saw it in 1970. "We knew it would be a house to enjoy for a lifetime," Ardoin says as she gives a tour of her 6,000-square-foot home.
Memories of happy times are displayed on the walls throughout the home with large photo groupings of the children growing up, having birthday parties, graduating from high school and getting married. Ardoin likes having plenty of room for her extended family to come for visits. "I have five grandchildren, and it is a joy to once again hear the house filled with laughter when they visit," she says. "I love all of the rooms in my home, and my favorite at any moment would depend on my mood and what I feel like doing. I have always enjoyed the tall ceilings, large rooms, wood moldings and the interesting bathrooms, but most of all I cherish the memories that my family and I have made here."
Ardoin is proud of her partial French heritage, and she says she enjoys the fact that her home has a wonderful French feeling. "Most of my antiques are French, with some nice English antiques added to complete the traditional look I like," she says.
She credits Eunice interior designer Charles F. Seale, a member of the American Society of Interior Designers, with the tasteful interiors. "He knows exactly what I like, and I am delighted with everything he has done, especially how he has created timeless spaces, such as my parlor with warm colorful walls and soft cream-colored drapes and upholstered furnishings," Ardoin says. "He carefully incorporated my family heirlooms and then helped me add pieces, both antiques and new, to complete the look I wanted. We have worked together on many projects over the years, and the end result has always been to my complete satisfaction.
"Life is good in Eunice," Ardoin sums up. "When we say, 'Laissez les bons temps rouler,' it isn't a trite saying; it's a way of life here in the heart of Cajun country."