Interactive Artscape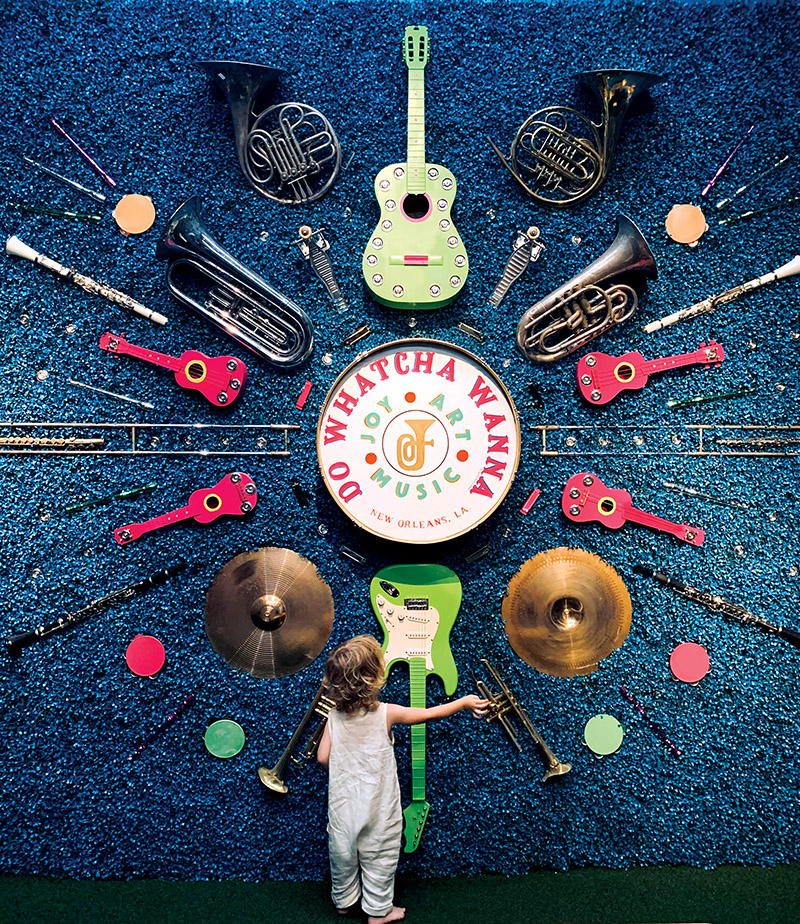 It resembles a New Orleans courtyard, with indigenous plants for hair," says multimedia artist Skye Erie, creator of the compelling "Garden of Legends" featuring seven statues of famous musicians in JAMNOLA's luminous Finale Room. The quirky, 12-room interactive exhibition ranges from crawfish to costumes and sound walls, ending with Skye's pouty Big Freedia, New Orleans Queen of Bounce, and rapper Lil' Wayne's banana-flowered dreadlocks above the entrance. Singer Irma Thomas emerges from her magnolia fountain near Satchmo, Professor Longhair and Fats festooned in glitter (jamnola.com).
---
Thibodaux
Way to Go!
The town of Thibodaux has earned recognition from the popular website USA Today 10Best as having the No. 3-ranked Best Small-Town Food Scene in the U.S., in part due to the success of the Cajun Bayou Food Trail, an initiative launched two years ago. Thibodaux was the only Louisiana town to make the Top 10 list; 10Best.com
showcases destinations throughout out the world.
---
St. Charles, Calcasieu, New Orleans
Do Not Open
Officials are warning Louisiana residents to remain guarded about opening the contents of packages containing seeds mailed from China and Eastern Europe that are often labeled "jewelry" or "toys." According to Dr. Mike Strain, Louisiana Commissioner of Agriculture and Forestry, the first calls (from hundreds statewide) came from the St. Rose area, then Calcasieu and Orleans. "Whatever you do, do not open the packets and plant the seeds," he says. Call 225-922-1234 if you receive a package.
St. Martinville
Cajuns with Cast Iron Pots
Break bread with locals and learn how to cook with a cast iron pot the old-fashioned way with a "Dutch Oven Gathering" Oct. 3 in St. Martinville's Lake Fausse Pointe State Park. They light the coals at 9 am. Pots are on the table at noon. For info: cajuncreolecookers@gmail.com.
Ruston-Lincoln Parish
Still Peachy After All These Years
The 70th annual summertime Louisiana Peach Festival has been rescheduled for Oct. 24. Celebrating the Dixie Gem peach, the weekend outdoor festival will be headlined by the costumed six-piece '80s Cheez Whiz Band and includes a Peachstock Battle of the Bands, kids' fishing and tennis tournaments, a rodeo, peach art exhibit, peach cookery contest and a family-fun diaper derby.
---