Interactive on the River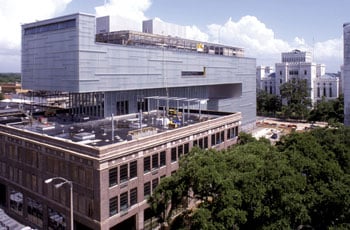 For two years, the city of Baton Rouge has awaited the completion of the Shaw Center for the Arts.
Now the interactive community art school, museum and theater – which extends over one block in the city's arts district and features views of the river – is open.
Developed from the Louisiana State University's plan to build an art museum, private investors joined hands with the city and state to create a new kind of museum with more to do, see and experience, says Dr. Laura Lindsay, interim executive director of the LSU Museum of Art.
The center, whose buildings include a 1930s-era hotel, has a new structure featuring a translucent channel-glass cantilever over the old hotel. The new building is designed to reflect the surrounding riverfront by day and to be a "lantern on the levee" by night.
"For a lot of people, they don't understand. They come to see the architecture, but from a program point of view, it's about what's happening inside," says Shaw's executive director, Andre Mika. "You have so many avenues to interact with the arts here."
Besides the LSU museum, the Shaw Center includes the Manship Theater, the Brunner Gallery, LSU School of Art classrooms and studios, and two "black box" theaters for performances and rehearsals, as well as a rooftop-restaurant with an Asian theme.
Manship Theater was built in a London West End style. "It is extremely intimate," Mika adds. "The last seat is only 40 feet from the stage."
The Community School of Art will offer mainly children's activities, but adult programs, including art, dance and music, will be ongoing as well, he says.
The LSU Museum of Art, which was previously located in Memorial Tower on the LSU campus, will display its collection in 13,000 square feet of exhibition space. In addition, it will have 14,000 square feet for offices, storage, a working gallery, a presentation room and a conference room with a river view. A first-floor museum store will sell merchandise related to the exhibitions and performances in the center.
Currently showing in the center's two museums are:
•"Collecting Passions: Highlights from the LSU Museum of Art's Collection," which celebrates the museum's rich history and diverse collection. The exhibition examines what people collect, why they collect and the impact of collecting on museums.
•"African Gold: Selections from the Glassell Collection," which includes about 135 works of African gold from Ghana. On view are exquisitely crafted gold jewelry, clothing, swords and figurative sculptures dating from the late 19th and early 20th centuries.
Overlooking the Mississippi River, the six-level complex is located across from the USS Kidd and the Louisiana Art and Science Museum.
Information, (225) 346-5001, www.shawcenter.org. –Jacqueline Cochran
LAKE CHARLES PLAYS ITS HAND
L'auberge du Lac: a gambling resort
Lake Charles' latest casino venture, L'auberge du Lac, a $365 million luxury casino and resort, is scheduled to open this spring.
Situated just south of Lake Charles on 227 acres along Bayou Contraband, it features a 700-room hotel complex and single-deck casino the size of two and a half football fields.
"L'auberge will be southwest Louisiana's first gaming resort, where you'll experience services and amenities in an exciting Las Vegas-like atmosphere," says Alain Uboldi, general manager of L'auberge and regional vice president of Pinnacle Entertainment. "It will be very different from what visitors to southwest Louisiana have experienced in the past."
While the name translates as "inn on the lake," this is not an inn in the traditional sense. The property includes a full-service spa, salon and fitness center, retail stores, and five restaurants. Guests will be able to relax in a heated pool surrounded by a tropical setting or float on inner tubes along the hotel's "lazy river" and up to the swim-up bar or beach.
Visitors seeking a more vigorous outing can take in 18 holes of golf on Louisiana's first public Tom Fazio-designed course. Fazio has designed 175 golf courses, including the River course in Kiawah Island, S.C.; four Pinehurst layouts in North Carolina; Loew's 36-hole Ventana Canyon Retreat in Tucson, Ariz., and Steve Wynn's $60 million Shadow Creek course in Las Vegas. Fazio's Bayou Contraband course at L'auberge will incorporate the marshlands of lower Calcasieu Parish into its design.
The casino, which is the centerpiece of the complex, is the only single-deck riverboat in Louisiana and the largest of its kind in the United States.
The resort will also provide the Lake Charles area an additional 26,000 square feet of indoor meeting and conference space.
An artist's rendition of the complex can be found on the casino's Web site at www.ldlcasino.com. – J.C.
BROWSER POWER
Web site touts La. businesses
A new Web site called Access Louisiana is now available to all Louisiana businesses looking to promote their products and services nationally, globally and free of cost.
Developed at a University of Louisiana-Lafayette think tank, AccessLouisiana.com surpasses its initial goal of attracting out-of-state businesses by providing assistance to those that are new and struggling and by creating a first-time statewide commercial real-estate listing.
"The site provides a no-cost way for Louisiana companies to promote their services," and despite only a few businesses participating on the Web site, the database has already proved effective, says Dr. Ramesh Kolluru, director of the Center for Business and Information Technology at ULL.
While at a Houston oil and gas conference two years ago, a Venezuelan oil company representative learned about the Louisiana business database, which at that time was listed on the Louisiana Commerce Exchange System Web site.
While scrolling the site in search of a bulk bag manufacturer, the oil company found a Crowley company that made similar bags for rice processing.
The Venezuelan firm contacted the Crowley company, LA PAC, and within 15 days LA PAC developed a prototype. Four months after the initial contact, LA PAC was making bags for foreign use.
"Until this time, the Crowley manufacturer was only serving the rice industry, but now, with this new bag, it was able to expand its business to the oil and gas industry in Louisiana. Not only did the Crowley manufacturer come away with a new business deal, but it has a new business direction," Kolluru says.
Taking the listing one step further, Kolluru explains how local businesses can use the site to build in-state commerce.
Any business that buys raw materials overseas or out of state can now determine if there are comparable suppliers within the state. "If we don't ship our dollars out of Louisiana, the wealth stays in Louisiana," he says.
The center used contact information as obtained from the state to establish the database. But to benefit from the listing, businesses must provide a description of their services and products.
"If you can't provide information to market yourself, you're not going to get the business," Kolluru warns, adding that users of the site tend to pass over businesses that have no description of services available.
At this time, only about 6,000 of the 88,000 businesses list descriptions with their contact information, a process that takes about 10 minutes, Kolluru says.
The state has launched a campaign to better inform business owners about Access Louisiana.
In the future, the site will include one-employee businesses. At present, it includes all businesses with at least two employees. –J.C. •