Irish for a Day
The Wearin' of the Green St. Patrick's Day Parade is a decade's strong event in Baton Rouge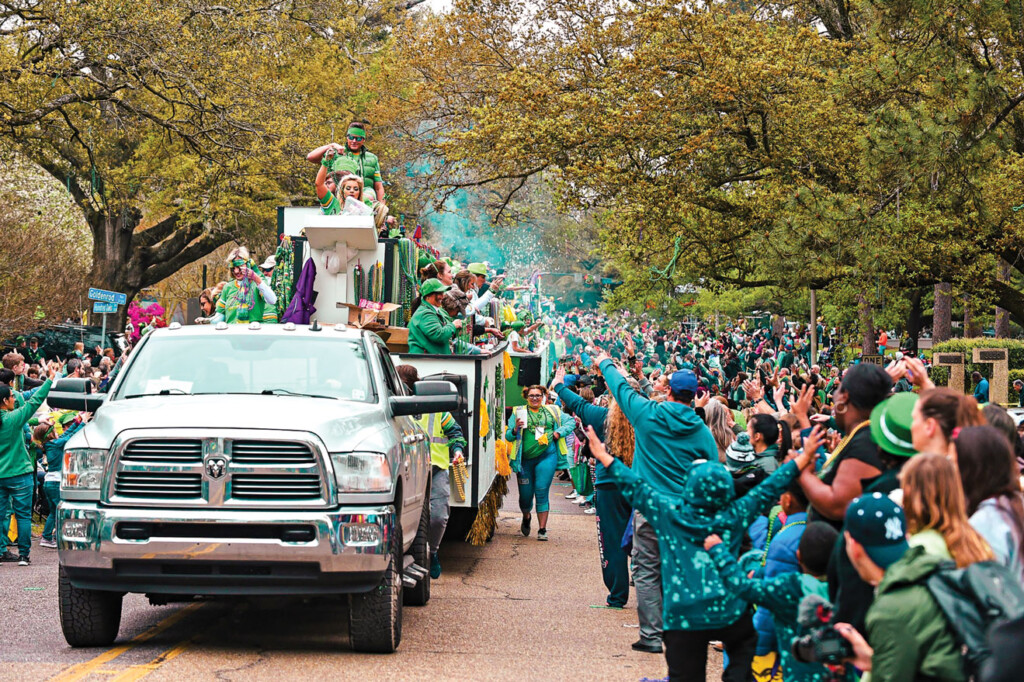 In 1986, Mabyn Shingleton, her husband, TV personality Pat Shingleton, and her baby son Michael in a stroller, lined up at the Baton Rouge City Park Golf Course and headed toward Perkins Road where the couple owned Zee Zee Gardens Pub. Their aim was to celebrate St. Patrick's Day with a parade through Baton Rouge, if only one that was short and sweet.
They dubbed their event the Wearin' of the Green Parade.
"It was a walking parade and it was small," Shingleton remembered. "We thought it was huge at the time."
They continued honoring Saint Patrick every March but because the train would cut off the parade when it passed, they moved the route in 1991 to start at the corner of Hundred Oaks and South Acadian at the Roman Catholic Diocese. This new route flowed through neighborhoods until it reached Perkins Road.
Each year since that auspicious beginning, the parade has grown, now consisting of 90 floats and more than a dozen marching bands. About 150,000 to 200,000 people line the route, making the parade one of the biggest city events of the year.
"It brings in well over a million dollars to the Capital City," Shingleton said, which Baton Rouge tourism corroborated. "It's definitely a player."
The 38th annual Wearin' of the Green St. Patrick's Day Parade will roll at 10 a.m. Saturday, March 18. The Grand Marshal will be Tim Mockler, president of Mockler Beverage Co., a supporter of the event since day one.
Pat Shingleton still oversees the event, but on parade day he's assisted by Spence and Katie Shingleton Maxcy. And that young boy in the stroller? Michael Shingleton, now appearing on WBRZ Channel 2 in Baton Rouge as a news anchor, also helps run the massive family undertaking.
What to expect
Local high school bands make up most of the parade's music, but a couple of university bands are scheduled to perform as well. Naturally, two to three bagpipe bands will make an appearance.
"There are not that many people who play bagpipes — or are good enough to be in a band," Shingleton said with a laugh.
After the parade begins at Acadian Thruway, it heads down Hundred Oaks to go north on South Eugene, then west along Terrace to Perkins Road where it rolls down the highway back toward Acadian. Many people take the opportunity to party along the route, and businesses are known for having special events, including live music. Uncle Earl's in the Acadian Perkins Plaza Shopping Center, for instance, goes all out.
"The entire shopping center becomes a music venue," Shingleton said.
The parade's also been the site of many special events.
"We've had people who have gotten married on the parade route," Shingleton said. "We have had baby reveals on the parade route. It's really unique."
The parade is televised live by WBRZ from the beginning of the parade route and the video later placed on the event's website.
For those actually following their New Year's resolutions, the 5K Shamrock Run begins at 8 a.m. around City-Brooks Community Park and along Perkins Road. The first 500 participants will receive medals. Runners may sign up on the parade's website and proceeds benefit Baton Rouge Green.
The annual event has become such a hit with the Baton Rouge community that organizers publish a 64-page free magazine, full of photos and stories that's later sent to 18,000 homes.
If you go
For out-of-towners, several hotels are located near the route. Downtown hotels — such as the Watermark hotel, Hilton Baton Rouge Capitol Center and Indigo, among others — are close to the beginning of the parade while hotels on College and Acadian Thruway give visitors easy access to Perkins Road and Interstate 10. Because of the crowds — not to mention it's St. Paddy's Day weekend and that usually involves spirited refreshments — Shingleton advises visitors to hail a transportation company such as Uber or Lyft from their accommodations.
For more information, visit wearinofthegreen.com.