Jambalaya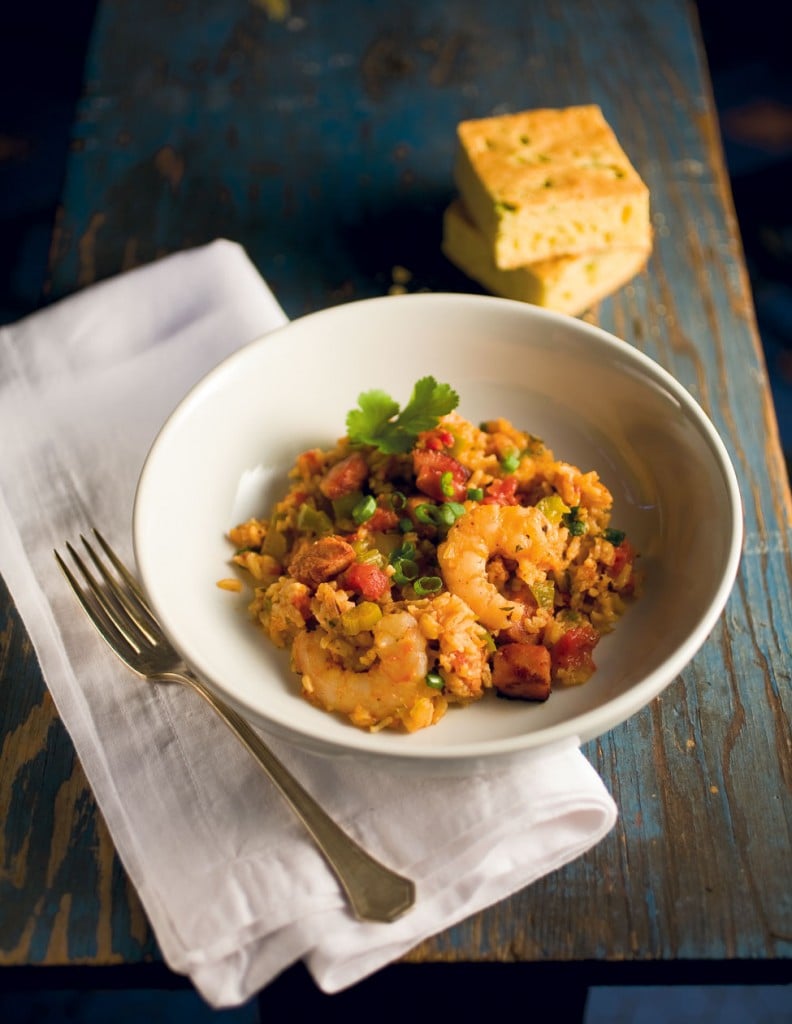 Along with gumbo, jambalaya is one of the most famous and emblematic dishes of Louisiana cooking. Like gumbo, jambalaya can contain a multitude of ingredients from land and sea in combinations that vary greatly from one cook to another. The origin of both dishes is uncertain at best, and in the case of jambalaya, even the derivation of the name itself is a source of considerable confusion.
One widely held theory holds that jambalaya results from a slurring of the Spanish ("jamón") or French ("jambon") names for ham and the Spanish dish paella, a savory mélange of rice, meats and seafood. Others have claimed that the name comes from "jambon" combined with "a la" and "ya," said to be an African word for "rice" ("ham with rice"). A third theory traces the origin of the name to a combination of words from a Sierra Leone dialect that translates as "gift with rice."
An intriguing argument for another source has been made by Andrew Sigal in the journal Petits Propos Culinaires. Sigal points out that the Oxford English Dictionary attributes the origin of the word "jambalaya" to the Provençal word "jambalaia" that appeared in an 1878 French-Provençal dictionary with the definition: "Stew of rice with fowl, mixed vegetables, mish-mash, rabble, see mélange, pilau." In tracing back the references in the old dictionary, Sigal found that the word was originally used to mean a mishmash or rabble, not a culinary preparation.
An early American recipe for a chicken jambalaya without tomatoes cited by Sigal appeared in American Agriculturist in 1849, but it was from Alabama and was called "Hopping Johnny (jambalaya)." Following publication of his article, a reader passed on a recipe for a chicken, oyster and tomato "Jam Bolaya" from Gulf City Cook Book, published in 1878 by Ladies of the St. Francis Street Methodist Episcopal Church, South, in Mobile, Ala. A recipe for "Jumberlie — A Creole Dish" in What Mrs. Fisher Knows About Old Southern Cooking, published in 1881, is made with chicken, ham and tomatoes.
Those early recipes, though not from Louisiana, represent the two principal types of jambalaya that exist to this day — those that include tomatoes and those that do not. Commentators generally note that "red" jambalaya, made with tomatoes, is characteristic of New Orleans Creole cooking while the "brown" version, which has no tomatoes, is the Cajun version. In The New Encyclopedia of Southern Culture, Ryan and Carl Brasseaux suggest that the rural brown jambalaya may be derived from Spanish paella but that the red New Orleans jambalaya "is possibly an offshoot of jollof rice, a West African delicacy" made with tomatoes.
It is impossible to ignore the similarities among a variety of Southern rice dishes that go by different names —"jambalaya," "pilaf," "pilau," "perloo," "red rice" — some made with tomatoes, some not. The Carolina Lowcountry, for example, has a long tradition of one-pot rice dishes. How the various preparations evolved and influenced one another is a matter of speculation. But there is every reason to think that versions of one-pot rice dishes must have traveled from place to place with slaves and settlers, being adapted to local ingredients and preferences along the way.
The earliest Louisiana jambalaya recipes that I have found appeared in two New Orleans cookbooks, both published in 1885: Lafcadio Hearn's La Cuisine Creole and Creole Cookery, which was edited by The Christian Woman's Exchange.
Interestingly, neither recipe includes tomatoes, which are generally cited as a defining ingredient of New Orleans Creole jambalayas. Also of note is the spelling ("jumballaya") in Creole Cookery. On the one hand, that spelling is, phonetically, the way many people pronounce the word, but it also could suggest that the dish is a jumble or a mishmash, as the 1878 Provençal dictionary defined "jambalaia."
At the turn of the 20th century, two important New Orleans cookbooks were published, and both contained recipes for jambalaya, but there's nothing in either book to suggest that Creole jambalaya always contains tomatoes. Mme Begué and Her Recipes includes two jambalaya recipes, one with tomatoes, the other without. The Picayune's Creole Cook Book clouds the issue even further by including recipes for crab jambalaya and shrimp jambalaya that are made with tomatoes, but the recipe for Creole jambalaya does not include tomatoes.
If you're confused at this point, you're in good company. It's safe to say that anyone looking for certainty in either the origin of the dish or its composition is bound to be disappointed. All manner of meats, poultry and seafood find their way into jambalayas and often at least one of them is left over from a previous meal. As Hearn noted in his cookbook, jambalaya "can be made of many things." Some early recipes and occasionally a modern one will incorporate a roux; ground cloves were included in a few versions from years gone by. Jambalayas made with some type of field peas have a long history, and then there is the question of rice. Some prefer short-grain rice, which makes a stickier jambalaya, while others favor the long-grain variety, which produces a drier dish.
Made well, all versions are delicious, and one is about as authentic as another. So the next time you hear somebody declare dogmatically that a proper jambalaya always has to contain such-and-such, you can either roll your eyes and keep your own counsel or you can hold up your hand and say, "Not so fast there, my friend."

Chicken-and-Sausage Jambalaya
1 tablespoon olive oil
1/2 pound smoked hot sausage, sliced
1 medium onion, diced
1/2 pound chicken, cubed
1/2 teaspoon Creole seasoning
2 cloves garlic, minced
1 rib celery, diced
1 bell pepper, diced
2 cups beef broth
1/4 teaspoon whole thyme
1 cup raw rice
Heat oil in a heavy pot, add sausage, and cook on medium heat, stirring occasionally, until browned. Add onion, and brown. Add chicken and Creole seasoning, and cook, stirring occasionally, until chicken browns. Add garlic, celery, bell pepper, broth and thyme, and bring to a boil. Add rice, cover, reduce heat, and simmer, stirring occasionally, until liquid is absorbed and rice is tender, about 20 to 25 minutes. Serves 4.
Shrimp-and-Ham Jambalaya
1 tablespoon olive oil
1 medium onion, diced
2 cloves garlic, minced
1 rib celery, diced
1 medium bell pepper, diced
1 cup cubed ham
1 pound shrimp, peeled and deveined
1 14.5-ounce can diced tomatoes
1 1/2 cups chicken broth
1 teaspoon Creole seasoning
1/4 teaspoon TABASCO
1/4 cup chopped scallions, green part only
2 tablespoons chopped parsley
1 cup raw rice
Heat oil in a heavy pot, add onion, garlic, celery, bell pepper and ham, and cook until vegetables are softened. Add shrimp, tomatoes with juice, broth, Creole seasoning, TABASCO, scallions and parsley, and bring to a boil. Add rice, cover, reduce heat, and simmer, stirring occasionally, until liquid is absorbed and rice is tender, about 20 to 25 minutes. Serves 4.