Jesting at the Festival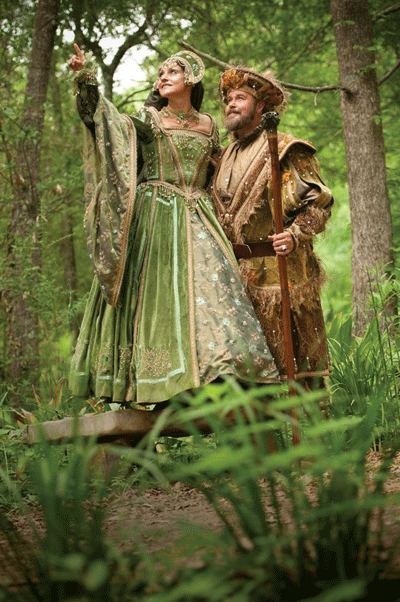 For eight consecutive weekends beginning Oct. 8, this Texas-size celebration transports visitors back to the days of King Henry VIII. Here you can step back into a fantasy world where the king and his loyal subjects parade through the streets at noon, where jesters and jugglers provide colorful entertainment at every turn, where craftsmen rekindle ancient skills and where Anne Boleyn once again loses her head for you-know-who.
Located near Houston between Plantersville and Magnolia, the Texas Renaissance Festival is one of the largest Renaissance festivals in the country, drawing more than 450,000 visitors. The fairgrounds are transformed with permanent structures constructed in true Tudor style. The scene is completed with nearly 500 costumed performers
on 17 stages, shops, food vendors, human-powered rides, trolling performers and the Royal Fireworks display at dusk.

Don't be shy about arriving at the festival bedecked in period regalia. Many guests blend right in, so much so that craftspeople and actors are identified with leather badges. You can even rent (or purchase) Renaissance costumes from vendors throughout the festival grounds.
Budget an entire day for the festival (and a whole weekend if you intend to enjoy several shows). Just covering the entire pine-shaded, 50-acre grounds means leisurely strolling in true Renaissance style; rushing is so 21st century!
One guaranteed way to slip into a slower pace is to indulge in The King's Feast in the sumptuous Royal Dining Hall, a two-hour event that combines a six-course meal with beer and wine accompanied by rollicking and sometimes bawdy entertainment. Although the menu varies, a typical feast might begin with flatbread and greens with herbs, oil and cheese, followed by Marco Polo soup with pork, shrimp and nuts. The intermezzo course might
be a berry cocktail "from the King's orchard." A grilled meat course is next, offering a choice of chicken breast or Portuguese garlic sausage, served with roasted potatoes and mixed vegetables. The Royal Course follows with prime rib, pork and lamb, and the meal ends with a dessert course of crème brûlée with oranges and saffron.
Between courses, guests (each sporting a red or blue hat, some with multiple points) enjoy entertainment by Merlin the Magician, belly dancers, a tightrope walker and musicians. Seating is limited for this event, priced at $95, which includes festival admission. For more on The King's Feast, visit www.thekingsfeast.com.
Even if you don't partake in the feast, you'll hardly go hungry. You'll find plenty of good food throughout the park, from turkey legs to shrimp kebabs, which you can wash down with red wine or a mug of ale. Several different food vendors are clustered in the Captain's Gallery area; you can choose from pub grub at the Captain's Pub, the Whale's Tail Inn or the Knight's Pub or opt for lighter fare at the Renaissance Coffee Shoppe or the Admiral's Bread Bowls. Hawkers for the various eateries stroll the park calling out the specials of the day and enticing diners to visit. A surprising array of ethnic specialities are scattered throughout, including Tex-Mex, Polish, German, Italian and Greek restaurants. Truly adventurous diners can sample "dragon meat" (fried alligator) on a stick at the Musketeer's Banquet.
Authentic arts and crafts fill the booths throughout the festival. Look for glass-blowers, jewelry-makers, leather-workers, candle-makers, potters and more. Nearly 350 shops are positioned throughout the grounds, many of them staffed by the artists and artisans themselves. You'll find clothing, jewelry, home furnishings and adornments, original paintings, sculptures and caricatures, toys, decorative candles, lotions, boots, shoes and other leather items, musical instruments such as harps and flutes and myriad other unique items for sale. If you have your heart set on that full-size suit of armor, you'll find it here.
Equally authentic are the shows, scheduled throughout the day at stages across the park. Mud wrestlers. Jousters. Chariot races. Magic shows. Much of the festival entertainment is truly unique, such as the Birds of Prey show, which features eagles, hawks and owls swooping and soaring over the audience at the falconer's command.
Another popular entertainment is the Ded Bob Show on the Globe Stage, a wryly humorous ventriloquist act featuring bawdy-minded skeleton puppet Bob and his "helper," Smuj. Jousting takes center stage in The Arena several times a day as noble knights try to unseat each other before large appreciative crowds watching from the grandstands. Several stages are dedicated to Renaissance-themed music performances by such acts as the Cannibal Tudors, Cantiga, the Gypsy Guerilla Band, The Burly Minstrel and a host of other performers.
If you see an unexpected procession during your stroll around the grounds, it very well might be a wedding in progress. Last year, 33 couples tied the knot at the fair, and on average, two weddings are held every festival weekend. In keeping with the Renaissance spirit, wedding parties are typically costumed as royals: knights and ladies, ladies-in-waiting and a minister dressed as a friar. The bride's arrival may be announced by trumpet flair as she steps from a horse-drawn carriage. The park offers several different wedding venues, including the King's Chapel, where wooden arbors are enclosed by a profusion of vines; the Roman Basilica, which is guarded by 18 Italian cypress trees; the Water Garden's Fountain of Eternal Flowers; Titania's Bower; the Magic Garden with more than 100 statues and altars adorned with symbolic blossoms; and the Rose Garden, where hundreds of roses perfume the air.
For all the grown-up fun of the Texas Renaissance Festival, the youngest subjects are not left out. Simply strolling through the park presents a million distractions to capture their attention (parents should be aware that some of those sights include generous displays of cleavage and slightly risqué behavior). Kids can have their faces painted with Renaissance designs at some of the booths or watch artisans at work creating their wares.
In all, six different portions of the park include attractions aimed at children, with the majority grouped in the Sherwood Forest, Arena and Castle Theatre areas. There, smaller kids can enjoy frolicking on The King's Swings; greeting the goats, sheep and other animals in the petting zoo; or trying their luck in the pond at Fisherman's Follies. Older children can compete for prizes on the crossbow, battle-ax and knife throw ranges or by climbing the ropes on Jacob's Ladder. And kids of all ages can enjoy human-powered rides such as the Dizzy Dragon; wandering through The Amazing Maze; or riding elephants, llamas and camels (younger children will need an adult companion here).
So saddle up your trusty charger, don your chain mail and tunic, and let yourself be transported back in time for a lighthearted look at the wonders of 16th-century England. Let the festivities begin!
Dates: The Texas Renaissance Festival takes place Saturdays, Sundays and Thanksgiving Friday from Oct. 8 through Nov. 27, 2011. The grounds are open 9 a.m. to dusk.
Tickets: Tickets at the gate are $25 for adults and $12 for children. Special ticket pricing is available online, for groups and at special outlets; see www.texrenfest.com for details.
Getting There: Festival grounds are 50 miles northwest of Houston on more than 50 acres of landscaped grounds on FM 1774, between Magnolia and Plantersville, Texas. From Houston, take Interstate 45 north toward Conroe. Take Highway 105 West (left under the freeway), and follow 105 approximately 22 miles to Plantersville. In Plantersville, turn left on FM 1774, and go 6 miles to the festival entrance. There will be signs and officers directing traffic in Plantersville and at the festival entrance.
Accommodations: The official resort hotel of the Texas Renaissance Festival is La Torretta Lake Resort & Spa, www.latorrettalakeresort.com. You'll also find a list of other nearby hotels and motels on the Texas Renaissance Festival Web site. Camping is available in the shaded far portion of the parking lot for $20 per vehicle; reservations are not required. Pets are not allowed.
For more information: Visit www.texrenfest.com or call (800) 458-3435.
Themed Weekends
Each of the eight weekends of the Texas Renaissance Festival takes on a special theme. Although you'll find shows, games and special happenings throughout the festival, these themed events showcase not just a special style but also special contests, a featured artist, special entertainment, musical performances and more each weekend.
Oct. 8-9: Oktoberfest. The sounds of German music fill the air during the opening weekend. You can dance a polka and then grab a bratwurst – and be sure to cheer for the German knight during the jousting contest!
Oct. 15-16: 1001 Dreams. Fantasy takes center stage during this magical weekend. Keep an eye open for wizards, elves and faeries, and save time to take part in the Fantasy Scavenger Hunt. The weekend highlights include a Fantasy Costume Contest that will be judged by Queen Titania.
Oct. 22-23: Pirate Adventure. Ahoy, the pirates have invaded! Come in pirate costume and enter the Best Dressed Pirate contest, or practice your best "yar" for the Talk Like a Pirate Contest.
Oct. 29-30: All Hallows Eve. Carved jack-o'-lanterns decorate the festival grounds as everyone partakes in His Majesty's Annually Decreed Tricks or Treats outing. Enter the Banshee Screeching Contest, and don't miss the always-amazing Halloween costume contest.
Nov. 5-6: Roman Bacchanal. Toga time! Roman Bacchanal takes center stage on this special weekend when you can seek wisdom from the oracle of Delphi or take part in the world's largest toga contest.

Nov. 12-13: Highland Fling. It's time to wear that kilt, and enjoy the fun with bagpipes and drums, Scottish dishes, and the Bonnie Knees Contest and the Highland Dance Contest ensuring a good time.
Nov. 19-20: Barbarian Invasion. The Barbarian King and his horde raid the Renaissance village for this special event, which includes contests such as the Worst Dressed Barbarian and Strongest Barbarian and the Barbarian Obstacle Course.
Nov. 25-27: Celtic Christmas. The final weekend of the 2011 festival ends with three days of merriment and Christmas festivities, including a yuletide scavenger hunt, hot spiced mead and a visit with Father Christmas.