John Folse – Louisianian of the Year – Culinary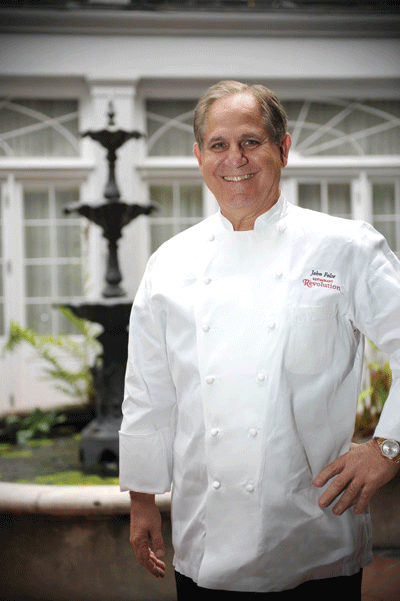 We present here our first class of Louisianians of the Year. In doing so we defined some key categories: Conservationist, Visual Artist, Civic Activist, Educator, Celebrity, Chef, Musician and Entrepreneur. There are other important, higher profile categories that we could have looked at – politics and sports being among them – but these chosen eight represent to us an impressive cross-section of local creativity. Thanks to all of them for their good works; thanks to all of you for providing an active state in which those works can be appreciated.
Culinary
John Folse
Chef / Gonzales
Business-savvy kitchen pro lives, breathes Louisiana.
It was the Monday morning after the LSU Tigers had whooped the Alabama Crimson Tide, and chef John Folse was feeling pretty whooped himself. He had just returned from Tuscaloosa, Ala., where he and two other chefs had cooked more than 3,000 pounds of seafood gumbo for hungry football fans.
"It was the largest seafood gumbo ever made," he says, having documented the information with Guinness World Records.
Proceeds from the gumbo sales went to charities to support Alabama's recovery from a 2011 tornado. Thus the event joined the list of philanthropic efforts that have typified the career of one of Louisiana's best-known culinary figures.
Folse says that becoming a chef was almost inevitable for a boy born to a St. James Parish family of eight that was headed by a father who hunted and trapped to earn a living. Folse's mother died when he was 7, and his dad subsequently made sure that all the kids knew their way around the kitchen.
They learned about wild game and the native foods and seasonings of South Louisiana, but Folse also credits his deep understanding of Cajun and Creole cuisine to a black woman who cooked for the family after his mother died.
"She was a fabulous cook, and she taught us not only about diversity and the community but showed us how to make sausage and hogshead cheese," he says.
Folse started putting his knowledge to work in 1978 when he launched Lafitte's Landing Restaurant in Donaldsonville. The spot quickly gained a following among both locals and tourists.
The restaurant's success helped put chef John Folse & Co. on the culinary map and sparked the chef's expansion into other activities: catering; manufacturing of food products including soups, sauces, entrées and specialty products; cookbook publishing; a radio and television cooking series; a bakery; a dairy offering fresh and aged cheeses; and a cooking school, the John Folse Culinary Institute at Nicholls State University in Thibodaux.
"I'm proud to be one of the Louisiana chefs who has been entrusted with bringing the message of Louisiana food around the world," he says. At age 65, he's not even close to being finished.
Folse and fellow chef Rick Tramonto, founder of acclaimed fine dining restaurants in Chicago, have teamed up to open Restaurant R'evolution in the Royal Sonesta Hotel in New Orleans. Folse says the French Quarter eatery – his first restaurant in the city – will be a "showcase" of local history and, more important, the food will be "authentic" Louisiana.
"I want people to say, 'Wow, this is the best crabmeat-stuffed fillet of flounder I've ever put in my mouth,'" he says.
The restaurant is slated to open in early March.