Kidding around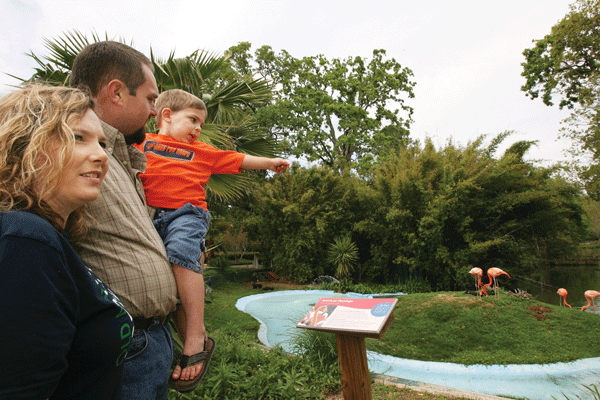 Summer's almost here again, so it's time for you school-age citizens to start planning ways to keep your families entertained in the carefree months ahead. Maybe you'll take a big trip to some far-off place, but that still leaves lots of weekends for close-to-home adventures. So, mix 'em up: a couple of drives to get to know the places and people that make your state so special and a couple of trips just for fun –– sightseeing, recreation and entertainment.
As you make your plans, you can browse for ideas at louisianatravel.com, and by all means, call the State Office of Tourism at (800) 99-GUMBO to request the 2009 This Is My Louisiana guidebook and map, as well as brochures on any individual city or attraction that you're already curious about. You don't have to be too selective at this point, however, because once you receive the big guidebook, its listings generally include, for each attraction, a Web site filled with exhaustive details and an offer for additional literature.
Ground zero for "fact-finding" trips –– the kind designed to introduce visitors and ourselves to Louisiana's history and claims to fame –– is the Capitol Complex just upriver from the old Baton Rouge business district. There, a walk around one block and a stroll through the Capitol gardens for a ride up the Capitol elevator will take you to and through buildings that offer more lore, legends, lies and even facts about the story of Louisiana than you can shake a stick at!
Start at the State Welcome Center at 702 River Road N. (tell your folks that parking is around back, with access from Lafayette Street). There you'll find not only the standard statewide literature that you see at all our Welcome Centers but also good information about the Capitol Complex and the city, plus a few special items available nowhere else: a great Learn About Louisiana brochure full of state symbolism and geographic regions; a "Louisiana Facts" folder from Secretary of State Jay Dardenne; a greeting from Gov. Bobby Jindal designed like a trading card; a state coloring book for younger-youngers; and, for older-youngers, an activities book from the Louisiana Legislature presenting the structure of our state government and the legislative "maze" a bill has to go through before it can become law.
Next you can walk through the formal garden with its oaks and azaleas to our skyscraper State Capitol to see the marble statuary and inspirational murals in Memorial Hall, visit the ornate Senate and House of Representatives chambers and ride the elevators to the topside observation deck for a "wow!" look at the Mississippi River and capital city.
Now walk straight back through the gardens, past the statue and grave of Gov. Huey Long, to the beginning of Fourth Street, where the Louisiana Collection in the handsome new State Library waits to share its endless information with you (when you have a bit more time), and, right across the street, the newest facility of the Louisiana State Museum is waiting to present you with as lively and thorough an overview of our state as you could imagine. Its Grounds for Greatness section measures Louisiana's role in terms of national significance –– Poverty Point and other evidences of prehistoric importance; the impact of the Louisiana Purchase in shaping the nation; and Louisiana's role in war, commerce, civil rights and other aspects of modern history. Armed with that knowledge, you'll move into the Louisiana Experience section, which pays tribute to our culture and geography, encompassing art, music, politics, commerce, folkways and natural phenomena.
It's quite all right, of course, to mix "fact-finding" and "just-for-fun" attractions in a single itinerary, so you'll be forgiven if, after the Capitol Complex, you lead your family across Baton Rouge to the cool bayou float-ride, the spectacular slides and the Hurricane Bay wave-pool action at the Blue Bayou water park.
Most of our major cities, in fact, offer recreational attractions that blend nicely with sightseeing opportunities, such as the rock climbs, bungee-trampolines and water slides of Party Central in Bossier City and the 32 water slide and kiddie-pool features at Watertown USA in Shreveport. And when it comes to good ol' H20, a requirement for a traditional Southern summertime, don't forget our rivers for inner-tubing and our sandy creeks that run through Kisatchie National Forest, Alexander State Forest and many of our state parks.
Another category of attractions worth sampling in different cities is our impressive list of incredible children's museums, where even the youngest of youngsters can get their first glimpses of gee-whiz science, from electricity to bubbles big enough to engulf them. The oldest of those are the 30,000-square-foot Louisiana Children's Museum in New Orleans (where kids enjoy such adventures as piloting a towboat down a simulated stretch of the Mississippi) and the giant Sci-Port: Louisiana's Science Center in Shreveport with its 290-odd science and math exhibits and its wonderful Red River Gallery (where a world of indigenous mammal and amphibious life unfolds around a replica of Capt. Shreve's own riverboat).
Elsewhere across the state you'll find the Kids' Tree House in the arts district of Alexandria, the Idea Place at Louisiana Tech in Ruston, the Children's Museum of Acadiana in Lafayette, Louisiana Arts and Sciences Museum in Baton Rouge and Northeast Louisiana Children's Museum in Monroe (with its 16-foot-diameter globe for learning about the earth inside and out).
Its great variety of attractions and activities continues to make New Orleans a popular destination for all ages –– sort of a real-city Disney World –– with steamboats gliding along the river past the French Quarter, buggy rides powered by mules wearing sunshades and floppy hats, streetcars departing the Canal Street riverfront in every direction and two of the largest and grandest parks in the nation.
City Park is the oak-shaded setting not only for a world-class art museum and sculpture garden but also for the giant fairy tale figures of Storyland and the century-old carousel adjacent to the park's botanical gardens. Across town, Audubon Park is not only an oasis of paths, ponds and immense live oaks but also the focus and anchor of a network of zoological and zoogeographical attractions unique in America.

BEAUTY IN THE BEASTS
It all began with Audubon Zoo itself, which has grown exponentially in recent decades to include a vast array of animal worlds –– our favorite being the Louisiana Swamp Exhibit –– and that spirit of local pride has carried through to the Audubon Aquarium of the Americas with its great emphasis on the marine life of Louisiana; the Mississippi River and the Gulf/Caribbean; and to the new Audubon Insectarium, whose spectacular exhibition covers the buglife of the world but highlights the role of insects in the Louisiana swamplands and New Orleans itself.
A three-month visit by 16 full-size and fully animated dinosaurs (coinciding with a giant-screen 3D feature called Dinosaurs ALIVE at the Entergy IMAX Theater) will be doubling the appeal of Audubon Zoo this summer. Audubon Zoo is joined by other zoos, "ranges" and exotic-animal shelters around the state as select spots that comprise one of our greatest categories of attractions for local folks and sightseeing visitors. You can ride among open-range animals of the world in trams or in your own family auto at the High Delta Safari Park near Delhi (just off Interstate 20) and Global Wildlife Center near Folsom (in St. Tammany Parish), and gators and other swamp critters can be seen up close at Gators and Friends near the American Rose Society gardens in Greenwood, the Bayou Pierre Alligator Park near Natchitoches, the Insta-Gator Ranch near Covington and Kliebert's Turtle and Alligator Tours off Interstate 55 near Ponchatoula.
Alligator Bayou near Baton Rouge offers 15 acres of pristine Spanish Lake swampland for observing all the flora and fauna you would expect, and "retirement homes" for abandoned or abused exotic animals can be visited on a limited schedule at Chimp Haven south of Shreveport near Keithville (chimpanzees) and nearby Yogie and Friends (lions, tigers, panthers and cougars). The 83-year-old Alexandria Zoological Park is the 33-acre home of more than 600 animals, including the residents of its African Experience and Louisiana Habitat sections, and the addition of an Elephant Oasis will soon boost the 1,800 population of the Baton Rouge Zoo. In Monroe, you'll ride a boat, train or horse-drawn wagon to view the 500 residents of natural-habitat islands at the Louisiana Purchase Gardens and Zoo, and don't leave town without also visiting the fun and nostalgic Coca-Cola Museum, recently opened (along with its urban garden and other collections) in the century-old home of the very first bottler of Coke.

HISTORY FOR FUN?
Really now, what other state can offer such a variety of history lessons that are downright entertaining and fun? Where else do you learn about settlement and pioneer days in a life-size replica of our first fort, cluttered with real log kitchens and barracks and filled with costumed soldiers and craftsmen, where you can (if so inclined) poke an imaginary flintlock rifle over a real pointy-topped palisade and yell "pow-pow"? Or witness historic events at the Musee Conti Wax Museum in New Orleans, as cool as any movie star wax museum in Hollywood? Or actually overnight on a sailor's rack in a World War II destroyer, Baton Rouge's USS Kidd? Or see Andy Jackson and our favorite pirate whip the British in a 12-stage puppet show in the town of Jean Lafitte? Or actually visit an ancient apothecary, filled with the medicines and grindstones and leech jars of yore, at the Old Pharmacy Museum in New Orleans, established by America's first licensed pharmacist (and displaying the voodoo paraphernalia of his "competitors," as well)?
Where else can you see political heroes and scoundrels memorialized in a Political Hall of Fame museum, as ours are in the Huey Long/Earl Long hometown of Winnfield? Or visit an actual early-day capitol building like ours in Baton Rouge, where Huey comes to life in mechanical animation and push-button video clips present the firebrand political oratory of past governors? Or amble through a totally authentic settlement of newly arrived Acadian exiles at Lafayette's Vermilionville historical theme park, an assemblage of vintage structures peopled by costumed crafters and guides?
Tributes to Cajun culture also await you at Acadian Village in Lafayette, the impressive Acadian Memorial beside Bayou Teche in St. Martinville, the Bayou Terrebonne Waterlife Museum in Houma and at three major branches of Lafitte National Park (in Thibodaux, Eunice and Lafayette).
Black history is the focus of special collections in several cities (including the River Road African American Museum in Donaldsonville and the African American Museum in St. Martinville) and at plantations such as Melrose near Natchitoches and Laura, Greenwood and Whitney along the Mississippi. Shreveport's venerable State Exhibit Museum houses, among other important holdings, a significant collection of Caddoan Indian artifacts, and ancient and contemporary native cultures are also preserved in collections, dance performances and crafts demonstrations at the Adai Indian Nation (north of Robeline near Natchitoches); at Poverty Point and Marksville state parks; and at the tribal centers and museums of our Chitimacha, Coushatta and Tunica-Biloxi reservations (Charenton, Kinder and Marksville).
While thumbing through their This Is My Louisiana guidebook, kids with particular interests will be surprised to see how many Louisiana destinations are related to their own favorite topics. Who knew, for instance, that beyond the Carnival collections of the New Orleans area –– Mardi Gras World in Algiers, the Arnaud's Restaurant ball-gown collection, the Mardi Gras Museum in Kenner's Rivertown and the State Museum's giant Carnival display (in the Presbytere at Jackson Square) –– that there are major Mardi Gras museums to be found in Morgan City, Bossier City and Lake Charles? Sports fans will be delighted to see how many state, regional and university halls of fame pay tribute to great teams and individuals of the past, while doll-lovers, railroad buffs and other enthusiasts will be amazed by the surprising numbers of specialty collections they'll discover.
Planning is the key! A little homework –– that and a bit of parental cooperation –– and every single summer can become your best ever!