Kitchen Gourmet: Local Catch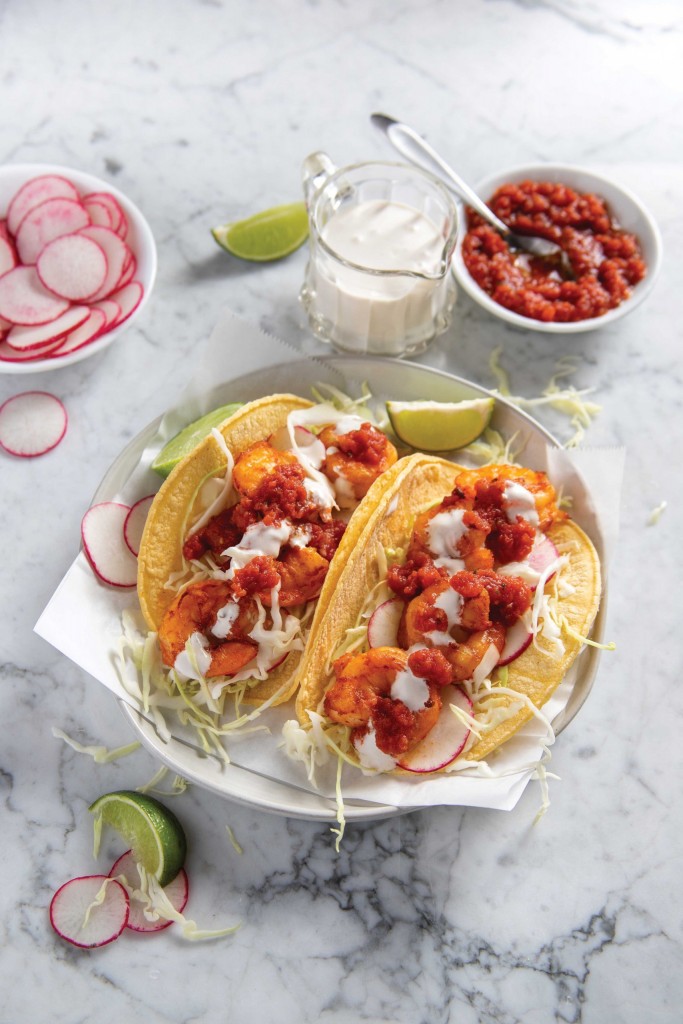 ---
Tip


Use your favorite salsa, either homemade or commercial, for this recipe. Crema is a slightly tangy Mexican cream. If unavailable, substitute sour cream thinned with a little milk or cream.
---
It's a tradition in these parts to take your boat and nets out on Vermilion Bay for the opening of shrimp season. As with duck season or snapper season, families celebrate these occasions as important rituals that help connect the present to the past, events that bind one generation to another in symbolic ways. The shrimp or the ducks or the fish are important, but not as important as the experience itself.
Most of us don't have the opportunity to catch our own shrimp, but Louisiana shrimp are abundant, either fresh or frozen, and we have myriad ways of preparing them. Shrimp are one of the most popular types of seafood (if not the most popular), so they star in many iconic Louisiana dishes, such as shrimp and okra gumbo, seafood gumbo, shrimp po'boys, shrimp jambalaya and barbecued shrimp.
But that's just the beginning. We stuff shrimp and we turn them into a stuffing for flounder, peppers, eggplant, mirlitons, tomatoes and artichokes. We grill shrimp, we combine them with grits or pasta into elegant creations that take their places on sophisticated menus. And there are all the various cold preparations — shrimp remoulade, shrimp cocktail, shrimp salad, avocados or tomatoes stuffed with shrimp and all the rest. That doesn't even begin to cover the various ethnic preparations of shrimp that enrich our culinary repertoire.
I have searched both old and modern Louisiana cookbooks, looking for notable differences between Cajun and Creole ways of cooking shrimp. I haven't found any clear-cut distinctions, although historically, in addition to basic preparations of shrimp, the haute Creole cuisine of New Orleans incorporated the crustaceans into more elaborate preparations that graced the tables of the wealthy and were served in elegant restaurants.
Shrimp freezes better than many kinds of seafood, which accounts, in part, for the crustacean's national popularity, but it goes without saying that fresh shrimp are better, and fresh, heads-on shrimp are the best. That's where we Louisianians have the advantage, since beautiful Gulf shrimp are landed all across our coast and are available for a reasonable price, particularly at the dock.
This month's recipes are simple and can be prepared quickly — a spinach salad with shrimp, bacon and eggs; a salad of shrimp, tomatoes and pesto; shrimp fried rice; and shrimp tacos — making them perfect choices for hurried weeknight dinners.
Shrimp Tacos
1 pound medium shrimp, peeled and deveined
2 teaspoons extra virgin olive oil
½ teaspoon kosher salt
1 teaspoon smoked paprika
½ teaspoon chipotle chile pepper
corn or flour tortillas
shredded cabbage
thinly sliced radishes
lime wedges
salsa
crema
Preheat broiler. Combine shrimp, olive oil, salt, smoked paprika and chipotle chile pepper in a bowl and toss to coat. Transfer shrimp to a broiler pan or cast iron skillet and broil until shrimp are cooked through, about 5 minutes, depending on broiler.
Meanwhile, heat tortillas on a griddle or cast iron pan. Serve tortillas filled with shrimp, cabbage and radishes, with a squeeze of lime and drizzled with salsa and crema. Makes about 16 tacos.
---
---
Tip


Almonds, walnuts or pecans can be used in place of pine nuts, or they can be omitted entirely.
---
Shrimp Salad with Tomatoes and Pesto
1 pound boiled shrimp, peeled and deveined
2 tablespoons fresh-squeezed lemon juice
½ pound cherry tomatoes, halved
pesto (see following recipe)
coarse salt and freshly ground black pepper
lettuce leaves
In a medium bowl, toss shrimp with lemon juice. Add tomatoes and pesto, and toss to coat well. Season with salt and pepper. Serve on lettuce leaves. Makes 4 servings as an appetizer.
Pesto
2 cups loosely packed fresh basil
½ clove garlic
¼ cup extra virgin olive oil
2 tablespoons pine nuts (optional)
¼ cup freshly grated Parmesan
coarse salt
Place basil, garlic and olive oil in the bowl of a food processor. Pulse several times, stopping to scrape down the bowl as needed, until basil is pureed. Add optional pine nuts and Parmesan and pulse to combine. Season to taste with salt.
---
Spinach Salad with Shrimp
4 slices thick-cut bacon
8 cups baby spinach
1 pound boiled shrimp, peeled and deveined
4 teaspoons Creole mustard
4 teaspoons white wine vinegar
¼ cup extra virgin olive oil
coarse salt and freshly ground black pepper
2 hard boiled eggs, sliced
Cook bacon until crisp, then drain on absorbent paper.
Meanwhile, wash and dry spinach, discarding any bruised or wilted leaves. Place spinach in a large salad bowl. Add shrimp. In a small bowl, whisk mustard and vinegar together until emulsified, add olive oil and whisk again. Drizzle dressing over spinach and shrimp and toss to coat. Season to taste with salt and pepper and toss again.
Divide salad among 4 serving plates. Garnish with slices of egg. Cut bacon into bite-sized pieces and distribute among the salads. Makes 4 servings.
---
Shrimp Fried Rice With Peas and Ham
½ cup frozen peas
2 tablespoons vegetable oil
4 cups cold cooked rice
8 ounces medium shrimp, peeled and deveined
½ cup cubed ham
coarse salt
2 eggs, lightly beaten
Blanch peas in boiling water for 1 minute, then drain and refresh under cold running water.
Place a wok or large skillet on high heat. When hot, add oil and heat until oil shimmers. Add rice and cook, stirring and tossing, for a few minutes, then add shrimp and continue stirring until shrimp colors. Add ham and peas and continue to stir and toss for a few minutes. Season to taste with salt. Add egg and continue stirring until rice is coated and egg is set. Makes 4 servings.