Knowledge of Place
Biologists Amy and Kelby Ouchley live their life's work in Union Parish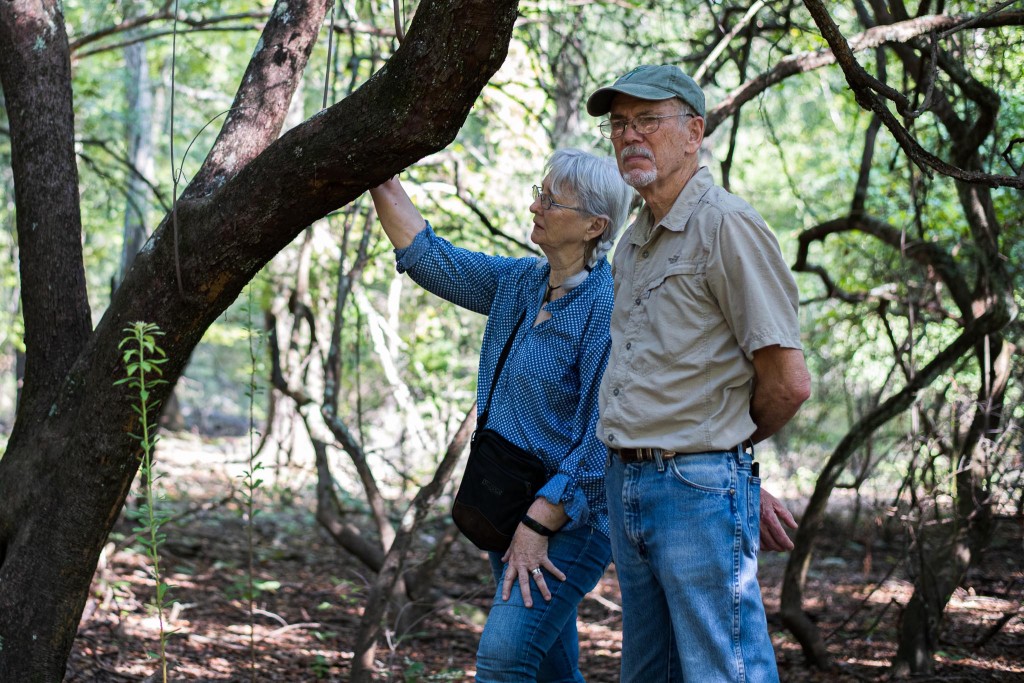 At a Glance

Location
Union Parish
Flora
Pondberry, Ozark Chinquapin, American alumroot
Fauna
White-breasted nuthatch, summer tanager, prothonotary warbler
The home Amy and Kelby Ouchley built in Rocky Branch, 14 miles north of West Monroe, contains no curtains. Biologists, naturalists and authors, the Ouchleys have spent their lives seeking intimacy with nature. Their home's tree-level vantage provides the sensation of being always outdoors. From a living room window, they examine one of their two bigleaf magnolias. Its leaves grow to 30 inches. The creamy white flowers bloom more than two feet wide.
"We watch that tree like most people watch TV," Amy says.
The Ouchleys live on 12 acres of intact mixed upland hardwood and pine forest. The land they've named Heartwood consists of this and 60 more acres. In 2007, it received official state recognition as a Certified Habitat.
When they want to leave this paradise for another, the Ouchleys need travel only half a mile from their front door.
"Sometimes we put our kayaks in right here," Kelby says as we pull off Highway 143 and into D'Arbonne National Wildlife Refuge. In this 1.2 million-acre watershed, the floodplain spans three miles. For several months each year, water levels rises as much as 20 feet. It's mid-August and dry, so rather than paddle, we walk — or at least I do. The Ouchleys prowl. That's one way Kelby describes his adventures in the wild in his latest book, "Bayou D'Arbonne Swamp: A Naturalist's Memoir of Place" (2022).
The Ouchleys have just celebrated their 50th wedding anniversary, and for more than 30 of them they've prowled here together. Kelby has explored this place his entire life. "All my ramblings as a boy were however far I could hike or paddle in a day's time," he says. Many brought him here.
In the small details, the Ouchleys unearth wonder, the way, for instance, that tree varieties change in the swamp, much as they do in the mountains, depending on elevation. Rather than discerning differences from alpine vistas, however, perceiving changes here often means looking down.
"It's a subtle beauty," Amy says of the swamp. "You have to be a better looker than in other places."
A negligible ascent, sometimes only several inches, means a change from overcup oak to willow oak. Continue rising and different oaks flourish: nuttal and water, swamp chestnut. Through this landscape, the Ouchleys feel their way, bending to caress overcup oak acorns before continuing to Old Mill, site of a late 19th-century sawmill. The water, black and smooth, is at low stage. This, Kelby notes, is artificial and due to a U.S. Army Corps of Engineers navigational project to maintain a 9-foot depth on the Ouachita River. Kelby began noticing its environmental effects 20 years ago.
"We started seeing unnatural mortality in large stands of willow oak," he says. "Several hundred acres in one area would die. The 9-foot channel raised the water table under trees that were not adapted to having such a high water table. They can tolerate flooding, but on a 12-month basis if they can't dry out enough, their roots no longer function."
From Old Mill, we climb to Pasaw Island, a place that is, for the Ouchleys, the heart of D'Arbonne. "We say over and over we wish we could have been here 100 years ago," Amy says. "We've been fortunate to live here for 30 years. We've grown into the sense of place."
After we accidentally startle a great blue heron, Kelby identifies a slaty skimmer dragonfly. Since his 2008 retirement from the United States Fish and Wildlife Service, he's written seven books, including "American Alligator: Ancient Predator in the Modern World" and two volumes of "Bayou-Diversity," both subtitled "Nature and People in the Louisiana Bayou Country," using spare time to become a dragonfly expert.
On their prowl, the Ouchleys discuss writers who have devoted their lives to understanding landscape and local culture, among them Annie Dillard, John McPhee and Barry Lopez, who writes, "If I were to now visit another country, I would ask my local companion … to tell me the names of things and how, traditionally, they have been fitted together in a community." Anyone seeking such understanding is fortunate to find the Ouchleys and their work. They carry the knowledge of this place. They also feel it.
"Whether we want to be or not," says Kelby, "our well-being is connected to our environment — globally and locally." This recognition puts us one step closer to witnessing the poetry and grace of the natural world at our doorstep.
Did you Know?
Facts and Figures
• D'Arbonne National Wildlife Refuge was established in 1975 to protect bottomland hardwood forest and provide winter habitat for migratory waterfowl. In his latest book, "Bayou D'Arbonne Swamp: A Naturalist's Memoir of Place" (2022), Kelby Ouchley writes, "I cannot choose just one favorite bird that inhabits D'Arbonne Swamp. You must allow me several. However, in the avian guild no species embodies the essence of a southern swamp more than the wood duck."
• In times of normal or above-average rainfall, the bottomland hardwood forest of D'Arbonne National Wildlife Refuge becomes an important overflow area for the Ouachita River floodplain. During the high-water season (usually January-May), nearly 90% of the refuge floods.
• Amy Ouchley's books include "Swamper: Letters from a Louisiana Swamp Rabbit" and "Let's Go Fishing: An Aquatic Education Activity Guide for Upper Elementary Grades." She is an illustrator of "Bayou D'Arbonne Swamp: A Naturalist's Memoir of Place," in which Kelby Ouchley writes, "Together in nature we have acted as each other's seeing-eye biologists for five decades."