La Ville Du Pont des Breaux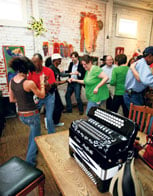 I once thought I was going to be a fatality while I was in Breaux Bridge. There were neither maladies nor criminal intents involved; it was just that I was in the wrong place at the wrong time. The place was the dance floor at La Poussiere, a hall devoted to Cajun music located at the edge of town. The time was a Saturday night just as the band began playing a Cajun waltz. While my wife and I did something that barely resembled dancing, the other couples began moving in a circle, each pair properly performing the rapid steps of a true Cajun waltz.
Once a waltz circle gets going, pity the person who is not in step or not moving at the same pace. As though powered by its own centrifugal force, the circle moves uninterrupted and oblivious to any slower objects that might get in its way. We were like a couple of tree limbs caught in the center of a cyclone wanting to bounce out of the wall for safe haven. "La Poussiere" is Cajun for "the dust," which is what dancers kick up when the music is started. To this dust we shall return one day, but we will stay off the dance floor and just watch.
Much more calming is just exploring the town of Breaux Bridge. Years that end with "nine" have a special significance in the history of this St. Martin Parish town located next door to Lafayette. In 1799 land owner Firmin Breaux built a footbridge across Bayou Teche. From then on whenever travelers would ask for instructions for crossing the bayou, they would be told to "go to Breaux's bridge."
A town developed near the bridge so that in 1829 Scholastique Picou Breaux, a daughter-in-law of Firmin's, drew up a town design called Plan de la Ville Du Pont des Breaux. Thirty years later, in 1859, the town of Breaux Bridge was officially incorporated.
Breaux Bridge might have existed as just another quaint Cajun place except that in 1959, a century after incorporation, the state Legislature officially declared the town to be "la capitale Mondiale de l'ecrevisse." Or, as those who spoke that other language would say, "the Crawfish Capital of the World."
That brings us to 2009, which is a significant anniversary of all of the aforementioned, most notably the 150th of the town's incorporation
Passageways have been kind to this spot along Bayou Teche. Just as a bridge helped create a town, in modern times the proximity of another artery, I-10, has made the place, located just west of the bountiful Atchafalaya swamps, quickly accessible.
So what to do to celebrate the anniversary? Well, visit the town, of course, where the centerpiece is the ancient drawbridge that eventually took the place of Firmin Breaux's pedestrian crossing. An image of a crawfish atop the bridge assures you that you are in the right place. You can go to the Crawfish Festival (this year May 1-3), or on quieter days, you can dine at Café des Amis.
Then, of course, you can dance at La Poussiere or at other nearby spots where the licks of Louisiana music reverberate. You can dance until the sun begins to rise over the Atchafalaya or until the waltz circle slows to a stop. Dance as though kicking up the dust sends tremors to the swamp that keep the frogs croaking all night. You may dress in jeans or shorts or anything that shimmies, and maybe, in this anniversary year, you might dance from 9 a.m. to 9 p.m. and then start over again.
Ed. Note: Check out our new department, Quirky Places, on page 111. The Great Louisiana Quiz will return, on an alternating basis, in our May-June issue, and winners of the January-February contest will be announced at that time.