Lake Fausse Pointe State Park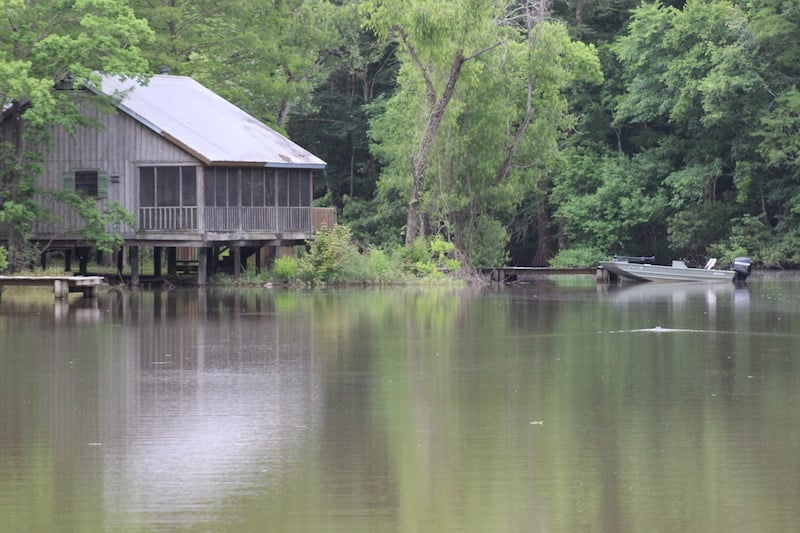 The morning brought a symphony of bird calls outside our quaint cabin at Lake Fausse Pointe State Park, located on the west side of the Atchafalaya Basin levee near St. Martinville. Two beady alligator eyes watched us from the bayou off our porch and a squirrel slipped up a neighboring bald cypress tree. Wifi was spotty at best; most of the time we had to stand next to an electrical pole on the road to pick up anything, but somehow, on this quiet, summer morning, the lack of being connected made all the difference. When thunder sounded in the distance and a light rain began to fall, we headed back into our newly renovated cabin and listed to the pitter pat music on the water's surface.
The peaceful experience proved heavenly and so very much needed. We were only an hour outside of Lafayette and a short ride to the bustle of Interstate 10, but for two days we imagined ourselves far from the noise of the modern world.
Lake Fausse Pointe State Park cabins flooded in 2016 but half have been renovated and reopened, all offering two bedrooms, one containing a double bed and the other two sets of bunks. The living area includes an equipped kitchen and a sleeper sofa and comfy chairs around a TV which brings in satellite programming. One cabin is ADA compliant. Facing the bayou known as Old Bird Island Chute is a screened porch with chairs and a double-person swing. We were visiting for the peace and quiet but for those who come to fish can park boats on the docks immediately outside their accommodations.
During the day, visitors may spot all kinds of birds and small wildlife inside the 6,000-acre park, which includes several hiking and biking trails through various ecosystems. At night, owls call out and deer venture from the woods. In the bayous swim alligators, eyeing visitors as they slowly saunter by, some braving a chance to sunbath on the mud flats. The park rents canoes and kayaks allowing visitors to explore the park's troughs, bayous and lakes in and around the park. Boat launches are available for those who bring their own.
In addition to cabins, Lake Fausse Pointe State Park offers premium, improved, canoe and backcountry campsites for tent camping and slots for RVs. There's also a playground for the kids with a splash pad that's sure to attract all ages to cool off in summer.
To access the park, exit I-10 at the Henderson Exit and turn on to Hwy. 352. Turn right on to the Henderson Levee Road and travel about 23 miles to the park's entrance.
For information, visit https://www.crt.state.la.us/louisiana-state-parks/parks/lake-fausse-pointe-state-park/.