Laurel Hill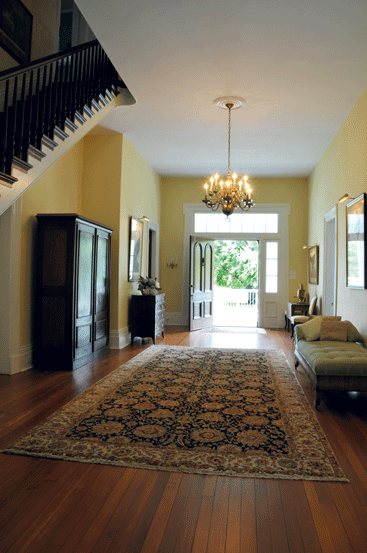 Laurel Hill backs up to a 50-foot bluff and is surrounded on the other three sides by rich farmland and forest. This is where, in the mid-19th century, a simple farmhouse was built in Louisiana's rich plantation country near St. Francisville.
Driving past a picturesque barn, down the long private road from the two-lane highway, you will find a grand old home that was originally a "Carolina eye house," so called because it was one room deep and two rooms wide, with fireplaces on both sides of the structure.
The remains of the original house are much in evidence today, while an extensive renovation created a comfortable 5,000-square-foot retreat for Mary and James "Jimmy" Hatchette. The couple's primary residence is in Fredericksburg, Texas. "It doesn't seem strange to us to have a second home 520 miles from our main residence," Mary says. "I have a sentimental attachment to this place since my father and mother bought it in 1956. They lived in Chicago and were looking for a place to retire near New Orleans, where my father had been born."
Although a complete history of Laurel Hill is not available, the Hatchettes have learned much about the previous owners. Records show that Judge Edward McGehee of Woodville, Miss., owned the property in 1834, but there is no record of a house existing at that time, though most Carolina eye houses in the area were constructed around 1820. McGehee's decedents lived in the home until 1942. There were only three owners before Mary's father purchased it. "We have records that the house was made larger in 1874," Mary says. "One of the most amazing facts is that the property has always remained intact with none of the original acreage sold off over the years. Much has been learned from the records of the house that were filed when it was added to the National Register of Historic Places in 1982.
"We acquired the house from my family in 1998 and began a major renovation in 2003," Mary continues. "We gutted the place and added new plumbing and wiring. A modern kitchen and office for Jimmy were part of the redo, as was an addition to the sun porch and the creation of a new powder room."
Interior designer Maureen Miller of Austin, Texas, was selected to head the project for the new addition. She is also certified as a building designer. "We worked together well," Maureen says. "Mary and I researched the original colors, and I was careful to incorporate historical elements and materials wherever possible. One of our favorite innovations was using old cypress boards to build the new kitchen and library cabinets and old barn siding as the wall material in the new powder room. We pushed out the rear porch 10 feet to create a larger sun porch."
Also involved in the project was architect John Klein of Fredericksburg, who acted as the architectural consultant.
Burnett Carraway, a contractor from Mississippi who only works on old houses, was in charge of the extensive renovation. "He does amazing work," Mary says. "We were fortunate to have him."
"Laurel Hill has been a perfect retreat for us over the years, and we come as often as possible," Jimmy says. "We have an excellent caretaker who makes sure everything is maintained in good shape."
Although both of them garden, Jimmy is the one in charge of the magnificent rose garden full of
Knock Out roses of every color. "Jimmy is a mega-gardener," Mary says. "He is definitely responsible for the plantings." She quickly adds with a smile, "But he does allow me to do the pruning." Garden designer Michael Hopping of Port Allen is credited with the master plan for the rear garden.
"This has always been a happy house," Mary says. "I have loved the history of the area, and it is a joy to know this place is always waiting for our next visit."