Literary Louisiana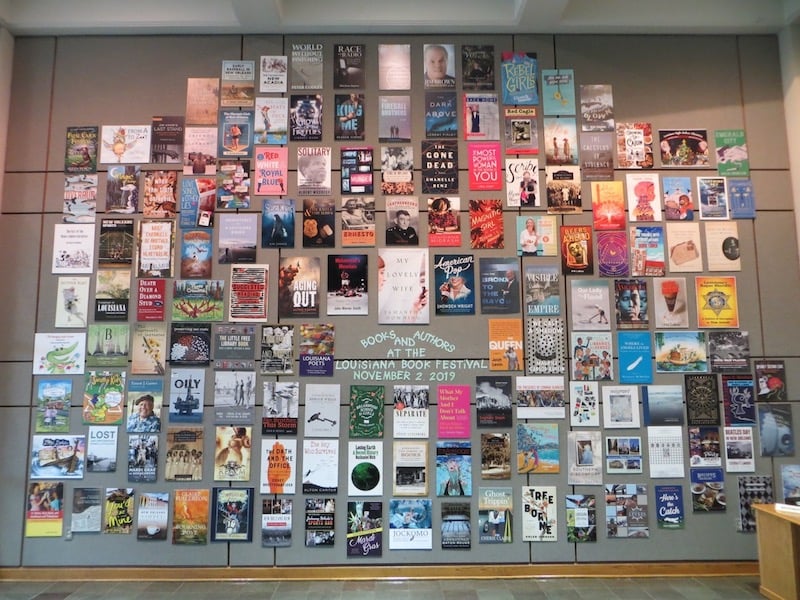 It's a literary weekend in many ways, from spoken word to live theatrical performances to the annual massive Louisiana Book Festival.
First up is the annual Festival of Words Nov. 1-2 in Grand Coteau, an event that brings in three award-winning writers: Yuri Herrera, Donney Rose and Tyler Robert Sheldon. The three participating writers will offer a literary presentation, Q&A and book signing from 6:30 p.m. to 9 p.m. Friday, Nov. 1, at Chicory's Coffee & Café in Grand Coteau. Then on Saturday, Nov. 2, the authors will be part of the all-day literary festival at the Thensted Center, 268 Church St. in Grand Coteau. Saturday's event includes a community stage of poets and spoken word hosted by Alex "PoeticSoul" Johnson, drive-by poetry with St. Landry Parish students with Bruce Coen and Friends, award ceremony for youth of creative writing contest, and writing workshops.
Rose is a poet, teaching artist, creative consultant, and community activist from Baton Rouge. Rose has also authored two books, "The Crying Buck" chapbook and "Black Out Loud," a collection of prose-style poetic interpretations of Black History Month 2017. Herrera is an award-winning novelist — his latest being El incendio de la mina El Bordo — and is an associate professor at Tulane. Sheldon is the author of five poetry collections. A Pushcart Prize nominee and recipient of the Charles E. Walton Essay Award, he is an MFA candidate at McNeese State University, and in the Fall of 2019 he will pursue his PhD in English at Louisiana State University.
For more information on the Festival of Words, click here.
The 16th Annual Louisiana Book Festival gathers more than 250 authors and presenters from 9 a.m. to 4 p.m. Saturday, Nov. 2, in downtown Baton Rouge's Capitol Park with events and programming in the Louisiana State Capitol, State Library of Louisiana, Capitol Park Museum, Capitol Park Event Center, and in tents on neighboring streets. There will be more than 100 programs offered throughout the day, followed by book signings in the Barnes & Noble tent, where featured titles will also be available for purchase.
The festival begins with State Librarian Rebecca Hamilton honoring 2019 Louisiana Writer Award recipient Richard Campanella in the State Capitol. Campanella is a Tulane University School of Architecture professor and the author of 10 books and 200 publications on Louisiana and New Orleans geography.
Throughout the day there will be best-selling authors speaking, storytelling performances for children, live musical performances, cooking demonstrations and book-related exhibitors.
A special program in the Senate Chamber this year celebrates the 10th anniversary of Little Free Library, with a panel attendee winning a Little Free Library donated by the Louisiana Library and Book Festival Foundation.
Now in its 11th year, the One Book, One Festival program invites attendees to read Truman Capote's "A Christmas Memory," with Dr. Gary Richards leading the discussion at the festival.
For a full list of authors (including yours truly) along with programs and a downloadable schedule, visit LouisianaBookFestival.org.
From noon to 5 p.m. Sunday, Nov. 3, several performances will be held beneath the historic balconies along Main Street and at the Shadows-on-the-Teche plantation house in New Iberia. It's the annual Beneath the Balconies fundraiser for the Iberia Preservation Alliance.
Lunch and music will be offered from noon to 2 p.m. on the Shadows' west lawn. The balcony performances begin at 2 p.m. and feature performances by: "The Three Tenors," "Willy Wonka," "Legally Blonde," "Crossroads Jam," "Seussical," "Sondheim," "The Wizard of Oz," and Sophia Brazzy Jazzy, with a grand finale by The National World War II Museum's "Victory Belles."
For more information on Beneath the Balconies, visit the event's Facebook page.