Lorrain Bridge and Park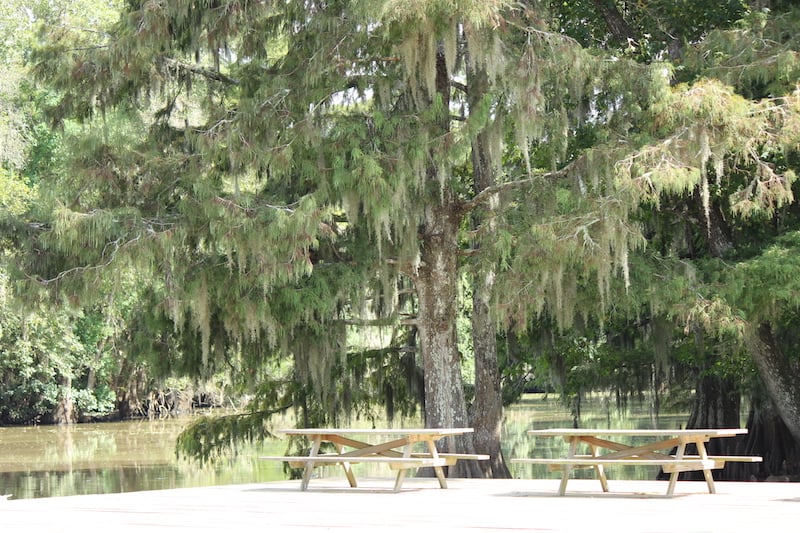 It's a lovely, although circuitous drive to Lorrain Parish Park, heading south from Welch and Interstate 10 and then west on rural West Niblett Road. You'll pass bayous, cows and rows of ancient live oak trees until you reach Bayou Lacassine and one of the state's oldest wooden bridges.
The historic Lorrain Bridge, which is being considered for placement in the National Register of Historical Sites, was constructed around 1895 as a wooden draw bridge. It was reconstructed in 1920 and the draw bridge portion disabled in 1955. The bridge that connected Calcasieu and Jeff Davis Parish closed in 1998 until several organizations rebuilt the structure and opened the bridge on July 1, 2004.
The bayou-side park and bridge are located northeast of the small towns of Hayes and Bell City. Lake Arthur is a short drive to the east and Lake Charles another 45 minutes to the west.
Lorrain Park makes for a fun country drive, with an outdoor pavilion and picnic tables for picnicking. The bayou rolls sleepily by and there's a fishing cleaning station for those who wish to throw in a line. In addition, a boat launch gets you on the water. The bayou empties into the Lacassine National Wildlife Refuge and, further along, Grand Lake. Nature lovers will appreciate the alligators and birds that frequent the area; we saw a gator or two basking in the sun.
There's a camping area and public restrooms with showers, but the recent pandemic may have prompted closures so be sure to call before arrival. Under ordinary circumstances, the nine RV sites with electricity and tent sites are available.
The park is open 24 hours and there's no fee to enjoy its acreage.
For more information, call (337) 721-3540 or visit calcasieuparish.gov.