Louisiana Art & Science Museum to host Art After Hours Launch Party Aug. 18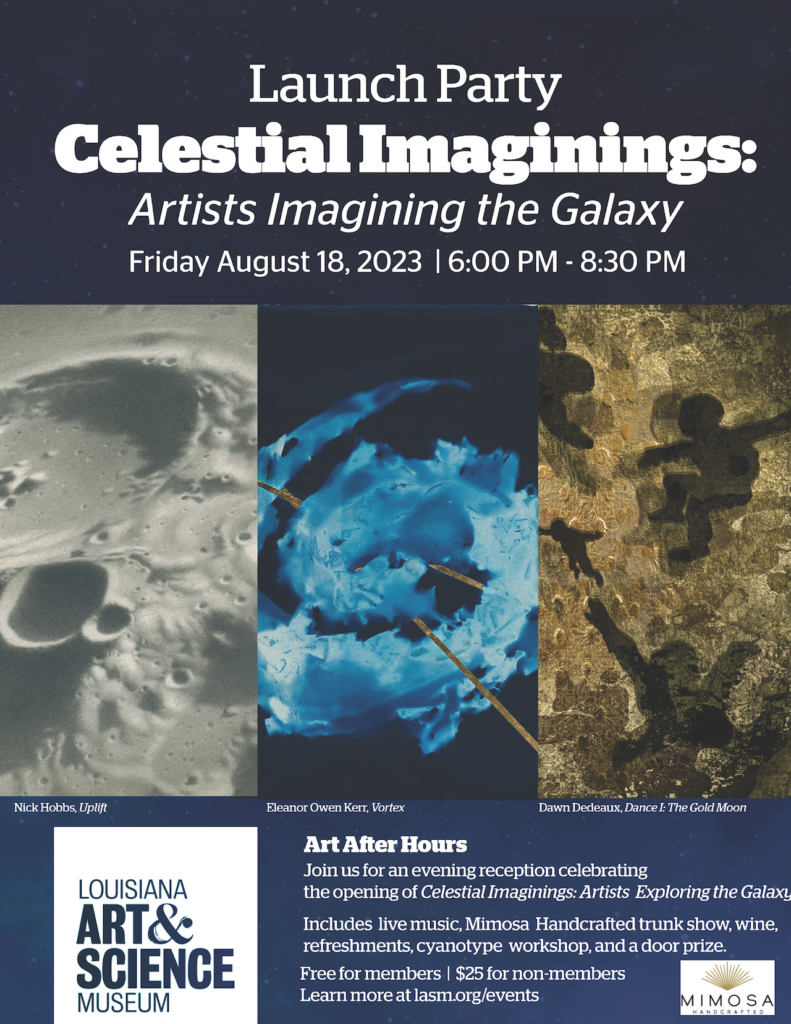 BATON ROUGE, La (press release) – The Louisiana Art & Science Museum (LASM) will host an Art After Hours Launch Party to celebrate the opening of the museum's newest exhibition, Celestial Imaginings: Artists Exploring the Galaxies, on Friday, August 18, 2023, from 6 PM – 8:30 PM in The Republic Finance Gallery. 
The exhibition, which was designed to celebrate this year's 20th anniversary of the Irene W. Pennington Planetarium, features eight contemporary artists searching for answers to life's mysteries by combining art and science.  "The 'Celestial Imaginings Art After Hours Launch Party' celebrates artists who have used scientific processes, made observations, and studied the universe's mechanics," states LASM Curator and Public Programming Manager Tracey Barhorst. "They use their own interpretations of the stars, planets, and night sky to inspire their work and spark their imagination and that of their audiences."  
The artists, who explored many different mediums and ranges of styles for this exhibition, include Rachel Brumer, Nick Hobbs, Jackie Haxthausen, Jedidiah Dore, Meagan Moore, Eleanor Owen Kerr, Ophelia Chambliss, and Dawn DeDeaux.  "The staff in collaboration with the LASM Collections and Programs Committee, which is comprised of LASM Trustees and Advisory Council Members, did an outstanding job implementing the concept of assembling choice work from artists and scientists to help our visitors connect interdisciplinary concepts to inspire new ways of seeing and thinking," states LASM President & Executive Director Serena Pandos. "The work made by these artists in response to the Webb Space Telescope images is a once-in-a-lifetime opportunity for humankind to see space in a whole new way." 
Along with a curated tour of the exhibition, Mimosa Handcrafted will host a pop-up sale for the event alongside LASM Museum Store Manager Paula Taylor, who will have various items that pair directly with the exhibition on display and available for purchase. "We are honored that Madeline Ellis with Mimosa Handcrafted has always been such a strong advocate for LASM," states Taylor. "The beautiful 20th Anniversary commemorative planetarium dome pendant that she designed for us is a wearable, iconic piece of the Baton Rouge skyline! We will have the anniversary necklace available for sale the night of the event, plus a sampling of other Mimosa Handcrafted pieces in the LASM Museum Store." 
"We also wish to extend our thanks to Entergy and the Alma Lee, Norman and Cary Saurage Fund of the Baton Rouge Area Foundation for making this exhibition possible through their generous sponsorship and grant support," continues Pandos. "The Louisiana Art & Science Museum has also received a 2023 Louisiana Culture Care Fund Grant, which provides generous general operating support related to LASM's exhibitions. Funding for this 2023 Louisiana Culture Care Fund Grant has been provided by the State of Louisiana and administered by the Louisiana Endowment of the Humanities." 
  
The "Celestial Imaginings Art After Hours Launch Party" will also include wine, hors d'oeuvres, live music, and door prizes. Tickets for the event are $25 for nonmembers and free for LASM members and are available for purchase at tinyurl.com/ArtAfterHoursLaunchParty.  
Visit lasm.org for more information on the "Celestial Imaginings Art After Hours Launch Party" and other public programs at LASM.