Louisiana at Large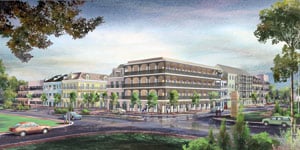 ULTIMATE TAILGATING
Sports condos coming to LSU
When it comes to understanding what a sports fan really wants, Capstone Development Corp. of Birmingham, Ala., is ahead of the game.
Project "FieldHouse, Baton Rouge" is a 100-unit luxury sports condominium development planned for 2005 at the north entrance to the Louisiana State University campus.
For a minimum cost of $150,000, and for as much as $500,000, you can purchase your own loft-condo designed with inspiration from the New Orleans French Quarter and including plenty of room for entertaining before and after games.
The idea is to make tailgating more convenient for the true sports enthusiast. "This project is targeted toward those alumni who spend a lot of time on the LSU campus," says Will Bru, senior vice president for Capstone. "Twenty percent are spoken for already.
"We haven't received final zoning approval, but construction should begin late spring, May or June of 2005," Bru says.
The development, designed as several three- and four-story buildings, will include retail space at the street level. An artist's rendition of the development is on the company's Web site at www.capstonecompanies.com.
Capstone has been involved with LSU for some time now, Bru explains. Since its founding in 1990, Capstone has concentrated on college and university housing. It has built residence halls on and off the LSU campus.
Bru says some buyers view this as an investment for their children, who may attend LSU in the future. Others are just excited about the prospect of having a place where they can go before and after a game that is within walking distance of the school's sports arenas.
Capstone is planning to build similar developments near college campuses in Starkville, Miss., and Louisville, Ky. It is currently turning a former pasta factory across from Lambeau Field in Green Bay, Wis., into a complex of professional sports condominiums and selling those to Packers fans. –Jacqueline Cochran
HEART HELPER
Rice bran as a cholesterol fighter
Diane Wright Hoffpauer of Crowley has the recipe for a food fortifier that promises to help improve heart function and possibly help the local rice industry.
Made from a combination of rice bran, vitamins and omega-3 fatty acids from fish oil, Heart Bran helps decrease the bad cholesterol that contributes to artery blockage.
"It's our hope that a major food company will pick it up for one of their products," Hoffpauer says. "We are sending out samples."
Heart Bran is a powdered ingredient suitable for addition to baked goods, cereal, yogurt, salad dressing, nutrition bars, powdered drinks and snack foods, Hoffpauer explains. "We are going to get really creative with the flavor and delivery systems so that the final products will taste good and be as appealing as the original food before the addition of our nutritional ingredient," she says.
Rice bran has been associated with a positive effect in the management of atherosclerosis, cardiovascular disease and the associated conditions of hypercholesterolemia and hyperlipidemia; B vitamins found in bran are effective in lowering homocysteine, a marker for inflammation in the body; and omega-3 fatty acids from fish oil, extensively studied for the past 30 years, lower triglycerides. Heart Bran claims to utilize each of these ingredients so the same benefits are gained when included in a daily diet.
Hoffpauer is a food science entrepreneur who worked 24 years with the Wright Group, a family-based business that sells vitamins, minerals and herbs to major food companies. Last year she formed her own company, Light Heart LLC, and now she plans to manufacture the food fortifier here in Louisiana.
"We have big plans for Heart Bran and additional Light Heart LLC products," Hoffpauer says.
Light Heart is currently working with D. Frank Greenway at the Pennington Biomedical Center in Baton Rouge on a study of the effects of Heart Bran contained within a chocolate bar.
"We made it into a chocolate bar and sent it to a group of patients. We found it significantly lowered homocysteines [a known risk factor for heart disease] and are going to publish the findings in April," Hoffpauer says. –J.C.
EVANGELINE'S NEW LOOK
Opelousas "racino" on fast track
The new Evangeline Downs Racetrack and Casino will be off and running this February in Opelousas.
With the approval of the state Racing Commission, the new $120 million facility added a spring quarterhorse meet to its 40th season of racing, which includes an 87-day thoroughbred meet and 28-day fall quarterhorse meet.
Located on more than 600 acres positioned at the crossing of U.S. 190 and Interstate 49, the "racino," an industry-created description, is the first of its kind built from the ground up.
It will be eight years since voters in St. Landry Parish approved the relocation of Evangeline Downs and its use of slot machines. From every dollar of slot profits, 15 cents goes directly into racing purses at Evangeline Downs.
Former owners B.I. Moody and William Trotter changed the future of the racing industry in Louisiana when they decided to incorporate slots use with horseracing.
Moody and Trotter approached St. Landry Parish economic-development directors with the idea after voters in Lafayette Parish ousted video poker in 1996. Opelousas is 18 miles north of Carencro, the Lafayette Parish town where the track had operated since 1965.
Evangeline Downs, along with Louisiana Downs in Bossier City, Delta Downs in Vinton and the Fair Grounds Race Course in New Orleans, had used video poker to supplement racing purses since 1991. In 2002 Delta Downs opened a slot machine casino. Louisiana Downs followed 15 months later.
Peninsula Gaming Corp. of Delaware purchased Evangeline Downs in 2002 and opened the casino portion of the new Opelousas facility last December.
"We always felt we were not a complete package until the track was here," says general manager Mike Howard. "We're there now."
Standing on the top floor of the tiered clubhouse, Howard looks out onto the track visible through immense plates of glass covering the front and sides of the one great room. In the distance, a line of trees borders the far stretch and final turn – still-undeveloped acreage.
"We turned the lights on the other night. You should have seen it," Howard says. "People were coming from all over to see what was going on."
The racetrack features a 1-mile dirt track and interior 7/8-mile turf track. The turf track, which will be ready for use in 2006, is a first of its kind for Evangeline Downs.
Grandstand and clubhouse seating face east and are accessible through the casino entrance located at the opposite end of the building. Dividing the two gaming areas are a food court, 24-hour café, sports bar, 350-seat buffet dining room and 80-seat steak and rib restaurant.
There are plans for a recreational vehicle park and multipurpose entertainment and livestock arena where rodeos, 4-H club activities and livestock sales can take place.