Louisiana Destinations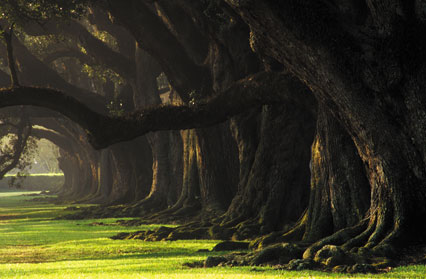 This year, one of the best places to include on your travel itinerary is right in the center of the state. Alexandria and Pineville sit on opposite banks of the Red River in the middle of Louisiana, offering a unique experience through diverse culture and rich history, art and great recreation and food and fun that will keep you wanting more. The Alexandria/Pineville area is home to three of nine distinguished Audubon Golf Trail courses and offers hotel rooms ranging from economical to luxury, a variety of bed-and-breakfast choices and a fantastic array of restaurants with a local flair. Visit this area, and you can enjoy a night at the theater, distinguished art, local music, living history, an exciting ballgame or an adventure at the zoo. Central Louisiana is truly a way to get away from it all without emptying your gas tank or your wallet. Find out more about Jazz on the River, April 19, at www.theheartofLouisiana.com.

Avoyelles Parish, located in central Louisiana, has long been known for the warmth and friendliness of its people; its wonderful food; excellent hunting and fishing; and interesting, beautiful historic locales. In addition, Avoyelles is home to a number of cultural and recreational activities and a land-based casino. More than 20,000 areas are lakes, bayous and rivers, and the parish has been traditionally known as a "sportsman's paradise." Abundant in wildlife and fisheries, the parish boasts state wildlife-management areas, including Spring Bayou, Pomme de Terre and Grassy Lake. National wildlife refuges include Lake Ophelia and Grand Cote.

A number of historic properties have been entered on the National Register of Historic Places. Many historic markers are also noted throughout the parish. Avoyelles Commission of Tourism invites you to visit its new location at 8592 Highway 1 in Mansura. The commission now shares a new office with LSU/Southern Ag Center and the future home of the LA State 4-H Museum. For additional information, call (800) 833-4195. Find out more at www.travelavoyelles.com.

The state capital, Baton Rouge, is a charming city that has gracefully merged its past with the energy and excitement of the present. From every direction, everything uniquely Louisiana culminates here. Experience the downtown renaissance at the Shaw Center for the Arts with theatrical performances, art galleries, fine dining and more. Get a bird's-eye view of the city from the observation deck of the 34-story State Capitol, and then walk right across the street to visit the brand-new Louisiana State Museum. And while you are downtown, dive into the colorful history of Louisiana politics at the Old State Capitol and the Old Governor's Mansion, built by legendary Gov. Huey P. Long.

No trip to Baton Rouge would be complete without experiencing the picturesque ride along River Road to visit one of the numerous antebellum homes, including Nottoway, Houmas House, Magnolia Mound and many more. Spend a day with the kids at the award-winning Baton Rouge Zoo or travel through the swamp in search of alligators and other wildlife at Alligator Bayou Swamp Tours. For more information, call (800) LA-ROUGE or visit www.VisitBatonRouge.com.

Mark your calendar: The Southern Breeze Wine & Culinary Festival is back for a second year April 4-6. This year's event will be expanded to include winemaker dinners at up to six restaurants. Get ready for a great weekend of fine wine, delicious food and good times. The three-day wine and culinary event will be held on the grounds of the Old State Capitol, as well as several other hot spots throughout the city. You will enjoy winemaker dinners, grand wine tastings, walkabout brunches and more.

History is also the order of the day in St. Francisville, just 30 minutes north of Baton Rouge. St. Francisville, in beautiful West Feliciana, provides a glimpse of a unique area of Louisiana. The plantation homes and breathtaking gardens are monuments of the adventuresome and creative English who settled this area more than 200 years ago and built a Southern empire quite different from the rest of Louisiana.
Experience the simple pleasures with a drive through the beautiful countryside. Nature preserves, abundant birds and other wildlife, winding roads, moss-draped oak trees, ancient cemeteries, churches and stately plantations speak for why it was here that John James Audubon painted at least 80 illustrations of his Birds of America in the 1820s. St. Francisville's easygoing warmth and ambiance attracts bird-watchers, photographers, golfers, bicyclers, hikers, nature-lovers and historic travelers for relaxing weekend getaways. The Bluffs, a beautiful Arnold Palmer Golf Course, hosts golfers all year long. Find the unique treasures of gracious bed-and-breakfast inns and hotels, art galleries, antique and unique gift shops and great cuisine that await the most discriminating of travelers.

The Audubon Country BirdFest, sponsored by the Feliciana Nature Society, will showcase the beautiful and abundant bird life, natural habitat, and history of Louisiana's Feliciana parishes. The 2008 festival will be April 4- 6, and headquartered at the St. Francisville Inn and Parker Memorial Park in St. Francisville.

The Cajun Coast encompasses Morgan City, Berwick, Patterson and Franklin. A trip to the Cajun Coast is like stepping into another world. Just 90 minutes from New Orleans, you can celebrate Louisiana culture and traditions with food, fun and music at 16 festivals, some cited as among the best in the nation. Stroll a 19th-century boulevard of cast iron street lamps and moss-covered oaks in the heart of a community with more than 400 buildings on the National Register. Explore the exotic beauty of the Atchafalaya on a swamp tour. Visit antebellum homes, plantations and historic communities. Explore museums, try your luck at the casino or play a round of golf at the newest addition to the Audubon Golf Trail — The Atchafalaya at Idlewild.

Right in the midst of what National Geographic magazine called a "hauntingly beautiful land," every year in Morgan City the summer winds down with the Louisiana Shrimp & Petroleum Festival, this year from Aug. 28-Sept. 1 The oldest state-chartered harvest festival offers family entertainment, continuous live music by local and national acts, a huge arts and crafts show and sale, a children's village, the Cajun Culinary Classic and the traditional Blessing of the Fleet and water parade. Best of all, there is no admission fee. For more information on the festival, call (800) 256-2931 or visit www.shrimp-petrofest.org. Find out more about the Cajun Coast at www.CajunCoast.com.
Concordia lies adjacent to the Mississippi River. The Duck's Nest restaurant, named by owners David and Fay Crews after the abundance of mallards and hens on Lake St. John, features panoramic views of Louisiana heron, pelicans and indigenous wildlife. David's Blackened Crawfish Supreme and Catfish Spokane are must-haves on the menu.

Cotton Then and Now is the story told at the 1,800-acre Frogmore Plantation, which features historical cotton and slave-culture tours but also includes the high-tech computerized farming and ginning of today.

Ferriday's nearby Delta Music Museum has some harmony of its own on April 5, the annual Louisiana Secretary of State's Delta Music Festival and Hall of Fame Induction. Sounds of national, regional and local talent ring through the 1,912 storefronts on Louisiana Avenue, a street already filled with the aroma of Southern specialties.

RV-lovers will want to park at the River View RV Park, located under the live oaks and featuring magnificent views of the river. Other guests may overnight at the Comfort Suites Riverfront Hotel and savor the complimentary Southern breakfast on the banks of the Mississippi River. Guests can take a stroll along the new riverwalk and visit the state-of-art Vidalia Conference and Convention Center. The screened or glassed-in porch at Slough Daddy's, next door, is a must for lunch or dinner. Molly B's catfish is a favorite.

Providing harmony among the river, the lakes, the music, and food and family, Concordia is the perfect place for a relaxing weekend. For more information, visit www.vidaliala.com or www.ferridaychamber.org or call (318) 336-7008 or e-mailCPTC@concordiatourism.org.

Chemin Neuf, the New Road, was carved in 1822 as a shortcut from False River to the Mississippi River. Incorporated in 1875, New Roads, which sits on the banks of False River, is the commercial hub and seat of government of Pointe Coupee Parish. Many fine retail establishments, restaurants, bed-and-breakfasts and historical features call New Roads home. As travelers seek the history, culture, food and charm of attractions off the beaten path, the tourism industry continues to grow in New Roads and on False River. Places of interest include the grave of Julien Poydras; the 22-mile- long oxbow lake for water sports and fishing; Bergeron's Pecan Shelling Plant; numerous plantation homes dating from 1820; various events and festivals, which are listed at www.pctourism.org; and historic cemeteries. Small-town charm and ambiance welcome even the most discriminating visitor, who will find good food, good times and Louisiana lagniappe.
This spring is an ideal time to visit The Historic New Orleans Collection, located in the heart of the French Quarter. Its holdings showcase more than three centuries of Louisiana history and survey the region's economic, social, cultural and military history. Visitors are invited to tour the galleries at 533 Royal St. and visit the Williams Research Center at 410 Chartres St., where rare manuscripts and maps, jazz artifacts, genealogical records and historical photographs are made available to the general public.

Don't miss Surrounded by Water: New Orleans, the Mississippi River, and Lake Ponchartrain, an exhibition on view through Aug. 10 at 533 Royal St. and Birds of a Feather: Wildfowl Carving in Southeast Louisiana, an exhibition on display in the new addition to the Williams Research Center at 410 Chartres St., through April 20. Part 2 of Birds of a Feather explores the contemporary tradition of hand-carved wildfowl decoys and their transition from folk art to fine art.

Tour the recently expanded Louisiana History Galleries and the Williams Residence, or explore the history of French Quarter architecture with its new Architectural Tour of the Collection. Bring the kids to the annual Family Day, May 18, for food, fun and activities for kids of all ages.

All facilities are open to the public, Tuesday–Saturday, 9:30 a.m.–4:30 p.m. The Royal Street complex is also open Sunday, 10:30 a.m.–4:30 p.m. For more information call (504) 523-4662 or visit www.hnoc.org.

Located in Louisiana's famed French Acadiana, Houma presents every visitor with sprawling plantations, a vibrant historic downtown, thriving fishing villages and lively views of some of the most beautiful wetlands around. Visiting Houma offers an experience blended with rich history, breathtaking scenery and a thriving culture.
Explore the wetlands with one of Houma's colorful guides; "get hooked" on world-class fishing; uncover age-old traditions at one of Houma's museums or cultural centers; travel the scenic routes along the bayou; and pass a good time at one of Houma's many fairs and festivals, namely Mardi Gras, the Voice of the Wetlands Festival and the Grand Bois Inter-Tribal Pow Wow. For more information, visit www.houmatravel.com.

Iberville Parish is tucked between the swamps of the Atchafalaya and the bustling state capital of Baton Rouge. Iberville is renowned for its many beautiful historic buildings and waterways. The pride of Iberville is Nottoway Plantation, the largest remaining plantation home in the South, which is open for tours daily. Other interesting attractions include the Plaquemine Lock, with its unique Dutch-influenced architecture and gleaming white tile exterior; the majestic St. John the Evangelist Catholic Church, with its marble altar and intricate stained glass; Iberville Museum; captivating Bayou Plaquemine Waterfront Park; beautifully restored historic buildings; and quaint towns intermingling with the natural beauty of bayous, massive oaks and cypress trees.

Many waterways provide easy access to the 800,000-acre Atchafalaya Basin, which is teeming with wildlife and offers wonderful recreational opportunities. And for the golfer, Iberville is home to one of the finest golf courses in this region –– The Island Country Club, which is part of the Audubon Golf Trail, has been featured on The Golf Channel and in Golf magazine. North Iberville offers a picturesque view of rural Louisiana along the meandering Bayou Grosse Tete, draped in massive live oak trees dripping with moss; open fields of sugar cane, corn and soybeans; and rustic fences keeping cattle in pastures of green grass. For more information, visit www.IbervilleParish.com.

A visit to Lafourche Parish will open your eyes to what natural Louisiana beauty is all about. The Jean Lafitte National Park Wetlands Acadian Cultural Center in Thibodaux tells the story of the Acadians who settled along the bayous and the wetland swamps of Southeastern Louisiana, with extensive exhibits and artifacts. The Wetlands Acadian Cultural Center is located in Thibodaux along the banks of Bayou Lafourche. A spacious boardwalk affords an excellent view of the bayou. Several large plantations, including Madewood, Oak Alley and Laura, are easily accessible in the area. Charter fishing, camping and great seafood restaurants are available throughout the area.

In Thibodaux, visit Laurel Valley Village, the oldest surviving 19th- and 20th-century sugar cane plantation in the United States, with more than 50 original structures. Several movies were filmed here, including A Gathering of Old Men; Interview With the Vampire; and Ray, the life story of Ray Charles.
Lockport is the home of the Bayou Lafourche Folklife and Heritage Museum. Housed in a National Register of Historic Places building, the museum has a wonderful collection of exhibits that depict early life along the bayou, as well as traveling exhibits.

"Reel" excitement abounds in Lafourche Parish, one of the Top 5 fishing spots in America. Fishing charters are available in the South Lafourche area down to Fourchon at the Gulf of Mexico. If a charter is not for you, cast your line into the gulf at the public beach at Fourchon or just enjoy the cool gulf breeze as you watch the waves roll to shore or take a dip in the warm gulf waters.

If you had the pleasure of seeing the motion picture Steel Magnolias, you already know what a beautiful town Natchitoches is. This is a town where you can experience the charm of the original French colony in Louisiana, established in 1714. The Landmark Historic District offers distinctive shopping, dining and attractions, while the town also features historic fort sites, museums, cultural events and festivals.

Natchitoches has some of the most beautiful bed-and-breakfast inns in the state, all close to the Cane River National Historical Park at Oakland and Magnolia plantations.
This spring, The Old Courthouse Museum presents Acadian Memories: The Works of Mary Anne Pecot de Boisblanc. The artist is known for her contribution to Louisiana's history and culture through her artwork. Nearly 60 works of art that portray the many facets of rural life in Acadiana will be featured. Many of her paintings tell the personal story of her Acadian heritage, from her family's home in Acadie, Nova Scotia, to the family's exile in Santo Domingo to her ancestor's reunion on the banks of the Teche. Many paintings reflect the customs and traditions of rural Cajun Louisiana.

The Old Courthouse State Museum is open Monday-Saturday, 9 a.m-5 p.m. Call (318) 357-2270 for details. For more information, visit www.natchitoches.net.
This spring, New Orleans Plantation Country is an exciting place to visit. Embrace the charm and elegance of the historic plantations by taking a picturesque day tour. Hear stories of powerful Creole families while overlooking sugar cane fields and 300-year-old avenues of oaks. If adventure and nature inspire you, then a swamp tour is sure to thrill. Glide through cypress- filled waters as a native guide quietly approaches wild animals that call the River Parishes home. After a full day of events, indulge in an authentic Cajun dining experience. The menu is filled with entrees refined by generations of culture: crawfish, gumbo, jambalaya and oysters, to name a few. No need to drive home as the hotels of the River Parishes are ready to serve you with Southern hospitality.

Special events in the River Parishes fill the calendar from March to June 2008. March 16-22, St. Joseph Week; March 19, St. Joseph Altar; March 29, Third Annual River Road Car & Bike Show at Destrehan Plantation; March 30, Lutcher/Gramercy Lions Club Couchon de Lait; April 19, St. James Parish Relay for Life; April 27, St. James Catholic Church Fair; May 2-4, Little Red Church Food & Fun Festival; May 2-4, Second Annual May Festival; June 7-8, Juneteenth Celebration. For more information, visit www.TakeMeToTheRiver.com or call (866) 204-7782.
For outstanding dining, shopping attractions and outdoors, Ruston has something for the traveler in you. Visitors can tour the Louisiana Military Museum and relive America's war history through a collection of more than 200 years of military artifacts and displays dating to the Civil War. History-lovers will also want to visit the 18-block historic downtown district filled with shopping, dining, art and architecture designed in the Breaux Style. The historic district also includes the Piney Hills Art Gallery, featuring works from 30 of Ruston's most talented artists. Dine in the district for an eclectic blend of culture and cuisine sure to satisfy the taste buds.
Idea Place and Planetarium is located on the Louisiana Tech University campus. Visitors enjoy a hands-on opportunity to explore the scientific wonders of the world through interactive exploration of the scientific phenomena.

Basketball will still be in full swing this April with the Ruston Showcase, a traveling tournament featuring 17-and-under and 16-and-under teams from around the South, April 25-27. Games will be played on five different courts within five minutes of each other. The tournament championship will be played on the newly installed Karl Malone Court at the Thomas Assembly Center located on the Louisiana Tech University campus. On May 22-25, the Louisiana Tech University baseball team will host the Western Athletic Conference Tournament in Ruston. Fans and teams will arrive in Ruston for this exciting baseball weekend to crown the WAC baseball champion. The winning team will go on to compete in the NCAA Baseball Tournament. For more information, visit www.experiencruston.com.
Webster Parish is located in the beautiful piney hills of Northwest Louisiana, 30 miles east of Shreveport, just off Interstate 20. The area was first settled around 1818. Dorcheat Bayou was the transportation artery that brought the first settlers to the area. The parish seat was established in Minden, the largest community.

Minden today is known for its historic downtown with the original brick streets, antique shops and quaint restaurants. Nearby, the beautiful historic residential district features more than 70 historic properties within walking distance of downtown, many on the National Register of Historic Places. Spend a night at Yellow Pine Inn, a bed-and-breakfast that is listed on the National Register. For more information, visit www.yellowpineinn.com.

Upcoming special events: March 20, Carson and Barnes Circus at the Minden fairgrounds. Call (318) 377-4240 for tickets. March 29, experience the "Largest Big Top in the World," and see 75 exotic and domestic animals. March 29, Spring Fling at Yellow Pine Inn in Sibley. Contact Mary McKinney at (318) 377-3600, or visit www.yellowpineinn.com. April 5, Scottish Tartan Festival at the Scotland Farms just north of Minden off Highway 79 at the Athens Road. Contact Mike Petree at (318) 798-6771. April 23-26, Spring Arts Festival in Minden. For more information, call (318) 393-5991. May 3, Minden Cruisin' for a Cure Car Show. Contact Schelley Brown at (318) 423-0192 or iluvoldcars@yahoo.com, or go towww.mindencrusinforacure.com or www.mindencruisinforacure.blogspot.com.

Lafayette is the heart of Cajun Country and the cultural center of Louisiana's heritage. Here you'll discover the rich history of our French, Spanish and Caribbean ancestors. Learn how these diverse cultures came together, creating art and architecture, music and dance, food and celebrations and a joie de vivre that has influenced not only the lives of everyone in our state but also has made an impact on the entire world. Lafayette offers something for everyone, so prepare to be enlightened, educated and most of all entertained.

Mark your calendars: Downtown Alive! will be held March 28, April 4, 11, 18, May 2, 9, 16, 23, 30 and June 6. It's an outdoor concert for the entire family at Parc Sans Souci or Parc International, Lafayette. It's free and open to the public. Vendors arrive at 5:30 p.m.; performances are from 6-8:30 p.m. For more information, call (337) 291-5566 or visit www.downtownlafayette.org.

PGA Nationwide Tour/Chitimacha Louisiana Open Golf Tournament. March 24-30, 2008. Le Triomphe Golf & Country Club, Broussard. Championship golf tournament. For more information (337) 593-8000 or (337) 856-9005, www.laopen.com. Third Cinema on the Bayou Film Festival. March 26-30. For more (337) 235-7845, www.cinemaonthebayou.com.

Cycle Zydeco Bike Tour. March 27-30, Lafayette, St. Martin and St. Landry parishes. Advanced registration required. (337) 232-3737, (800) 346-1958, www.cyclezydeco.com.

Louisiana Pelican Classic. April 18-20. The Wetlands Golf Course, Lafayette. Sponsorships call: for more information, (337) 852-9830. $10 daily admission ticket. 7 a.m. – 6 p.m., Friday, Saturday and Sunday, (337) 261-5811, www.lapelicanclassic.com.

Festival International de Louisiane. April 23-27. Downtown, Lafayette. Hundreds of artists from more than a dozen countries on six stages over five days, all free. Francophone celebration that features the best in international performing, visual and culinary arts. Pin $5. Times vary. For information, (337) 232-8086, www.festivalinternational.com.

Breaux Bridge Crawfish Festival. May 2-4. Parc Hardy, Breaux Bridge. Friday, $5; Saturday, $10; Sunday, $5; three-day pass, $15; children under 12, free. Fri.day, 5 p.m.-midnight; Saturday, 10 a.m.-midnight; Sunday, 9 a.m.- 4 p.m. For information, (337) 332-6655, www.bbcrawfest.com.

The array of casinos open along the Gulf Coast is impressive, but one of the best is surely L'Auberge du Lac, located two hours from the Houston metropolitan area on Contraband Bayou, in Lake Charles. The locale has a rich and fabled history.
Contraband Bayou is located on Interstate 210, commonly referred to as "the Loop," at Nelson Road, the second exit from Interstate 10 from the west. This premier facility is ideally located for the business traveler or the customer who is looking for the ultimate in hospitality and dining experiences, plus nonstop gaming action.

The casino is one of the world's largest single-level riverboats and the only one of its kind in the state. It is 225 feet wide and 330 feet long, with a 30,000-square-foot gaming area, including more than 60 table games and more than 1,600 slot machines. The casino features the latest in slot technology with machines offering "ticket-in, ticket-out" convenience.

Also on the property is a unique 26-story asymmetrical hotel complex that has approximately 1,000 spacious rooms, including several suite and villa configurations. The guest rooms are characterized by a contemporary, rustic theme. The well-appointed rooms and suites use fresh colors and fabrics, providing an up-to-date version of the arts and crafts aesthetic. Both comfortable and inviting, the guest rooms are an ideal location to relax after an exciting day of resort activity.

Executive suites range in size from approximately 550 square feet to more than 2,100 square feet and include a private "villa complex" adjacent to the hotel tower, overlooking either the lavish pool or the beautiful Contraband Bayou. Each villa includes a private courtyard and spa. Nearby is a fabulous collection of retail shops.
In March the complex opened The Shops at L'Auberge. The recent $61 million expansion includes hotel rooms, the retail complex, a new VIP checkin area, a new VIP lounge and a stunning new quiet adults swimming pool with outdoor bar.

Deep in the heart of Louisiana sits the historic Bailey Hotel, where turn-of-the-century style and Cajun hospitality come together. Located in Bunkie, the Bailey Hotel, built in 1907, was placed on the National Register of Historic Places by the Department of the Interior. The hotel is a member of Historic Hotels of America. A stay at the Bailey is a delightful step back in time, with some rooms still intimately small and well-appointed as they would have been decades ago and others redesigned into larger suites with Jacuzzi tubs and Victorian period furniture.

Authentic Cajun cooking is alive and well at the Bailey's Magnolia Room, where a home-cooked breakfast, complete with grits, pancakes and fried eggs, returns to Central Louisiana. Enjoy homemade biscuits, honey-cured ham and bacon and omelets to order, along with fresh fruits and juice. Plate lunches with fresh vegetables daily will tickle the palate of even the most discriminating guest. Dinner is served by experienced sauciers and chefs, defining the elegance of fine Southern dining. Meticulous menu preparation using the highest quality beef, pork and seafood provide Bailey's guests with satisfaction guaranteed to please.

Romantic interludes at the hotel are special, with rose petals, chocolate-dipped strawberries and champagne and dinner in your room if you wish. A horse and carriage will peacefully take you on a tour of Bunkie. For weddings, birthdays, anniversaries, re-unions, business seminars and workshops, the entire hotel can be yours. Special room rates are available for group functions. Call toll-free (866) 346-7111 for information and bookings. E-mail stay@baileyhotel.com, or visit www.baileyhotel.com.

Louisiana Campground Owner Association is a group of privately owned campgrounds throughout the state that offer family entertainment with swimming, hiking, tubing, canoes and fishing. These are ideal family and couples destinations. Obtain your free guidebook by calling (225) 590-3084, or visit www.campinglousiaina.com. The association represents 45 privately owned campgrounds throughout Louisiana.
No trip through the state of Louisiana is complete without outstanding food. Prejean's Restaurant is located on the Interstate 49 North Service Road, just 2 miles north of Interstate 10 in the heart of French Louisiana. The ambience is friendly and inviting and every guest is greeted by Big Al, who sits in the middle of the dining room guarding over Team Prejean's most recent culinary medals. Live Cajun music plays nightly and on weekend mornings for breakfast.

Prejean's not only offers the freshest gulf seafood but also some of the juiciest steaks and wild-game dishes. Prejean's is known for being "simply Cajun, simply delicious."