Louisiana Made: Pitcher Perfect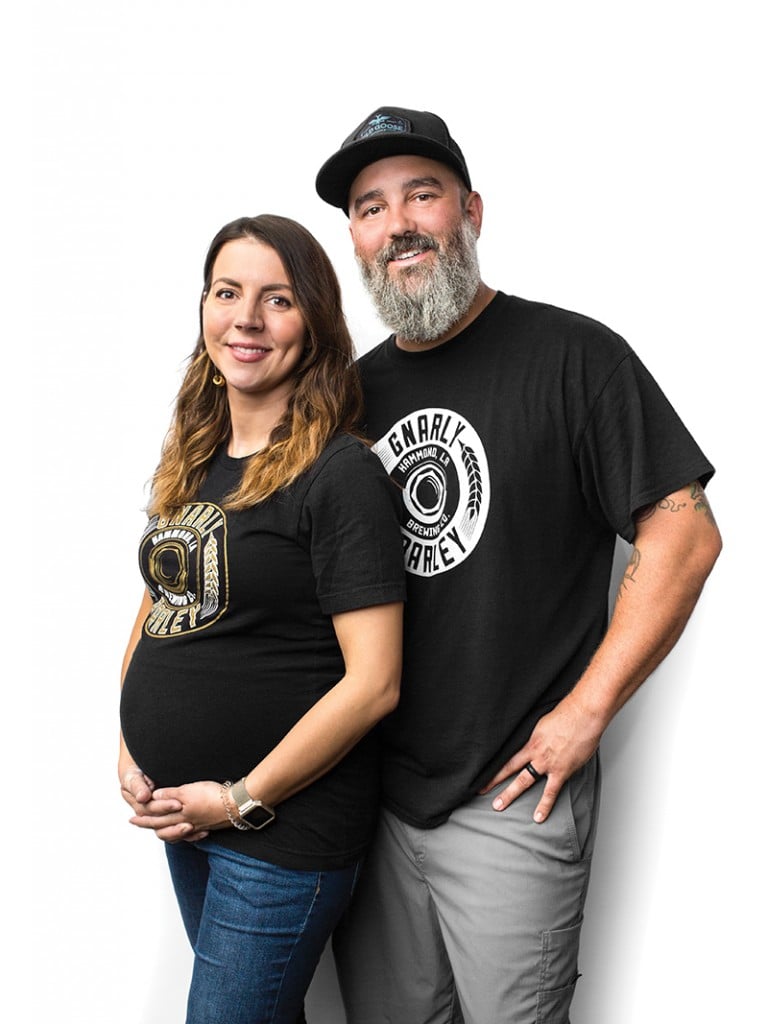 If you're speeding or texting you'll probably miss it, but tucked away in a beige block of industrial-looking storehouses off a small side road in Hammond, stands what the Brewers Association has twice named one of the 50 fastest-growing craft breweries in the country.
Pumping out 13,000 barrels to locations across south Louisiana in 2018, Gnarly Barley is a family-owned brewing company that for five years has given Louisianans more reasons to drink local, with its bright Catahoula Common and creamy Korova Milk Porter, among other seasonal varieties and curious one-offs as well as the recent best-selling Jucifer IPA.
But numbers alone don't make a brand, the founding husband-and-wife team know, and a first glance into the colorful open-air tap room at Gnarly Barley reveals why their beer is more than meets the rye.
A lemon yellow lightning bolt blazes on the wall beyond a long bar top lined with a collage of skateboard decks like armor. Opposite is a gift shop stuffed with patches and bags, soap, sunglasses and beach towels, caps and tees. One says "Doin' it our way in Hammond, LA."
The whole vibe is less Louisiana brew house and more Southern California surfer's garage, drawing on co-founder Zac Caramonta's history as a skateboarder — he's built ramps and half-pipes wherever he's lived — and his love for the rock music from a more psychedelic age.
Most surprisingly to the Caramontas, conservative Hammond has embraced them from the start.
Through a small waiting area with a kitchen table in the middle, his wife Cari sits in her office going over billing details and orders with an assistant. Cari is in her second trimester, their dryer at home is on the fritz, and she really could use a shrimp poor boy right about now.
"When we first started, someone in the beer industry kept trying to tell us, 'Your look really needs to be more Louisiana," she says, gripping the certifiably trippy new design for the Catahoula Common. "We love Louisiana, but I'm glad we stuck with what we like. It's our personality."
As Zac does maintenance on the tanks, Cari is finalizing their plans for Lake Tahoe, the couple's first trip together without their young daughter.
"We never go on vacation," Cari says in matter-of-fact tone. "And it's hard because everything has to be set and dealt with out there before we go. But it's our 10-year anniversary. I told Zac 'We have to do something! If we don't go now, we never will'."
It was Super Bowl Sunday in 2010 when the Saints defeated the Colts for the title, and Zac crafted his first winning home brew. He'd learned how to weld to make his first home system and soon became fascinated by the entire process.
"I'm a gadget guy, and I like systems a lot," Zac says. "I was almost sad when my home brewing was up and running, because I had enjoyed building it so much. I remember thinking 'What's the next project?'"
Soon, Zac was brewing every weekend, and that led to festival appearances, while Cari developed the LLC and began conceptualizing their own beer business.
Now five years into the brewery Zac creates and tests new recipes then hands off production to a head brewer so he can oversee maintenance, installations and build-out on the site. He calls this work his creative expression.
"Production is a grind," Zac says. "But the taproom is where we can be creative and connect with our people."
The weekend of Louisiana Life's first interview, Gnarly Barley is dropping new limited edition watermelon milkshake and hibiscus vanilla milkshake IPAs as well as a classic German-inspired IPA.
"I steer this ship into the hops," Zac says. "Introducing something new is always the fun part."
The Caramontas see the artistry in what a craft brewery does more in terms of how a band releases new songs rather than an established brewery that just relies on the same old favorites.
"People looked for comfort in food and beer years ago because there wasn't as much comfort," Zac says. "Now people are so comfortable we are looking for more adventure in our lives. People challenge themselves with adventure, and that relates to food and drinking, too."
The Caramontas are challenged now by growth, having recently purchased the parcel of land across from Gnarly Barley. Soon, Cari's office will relocate there adjacent to new parking for the taproom. The current office space will be gutted and set up with small tanks for brewing more seasonal varieties and special releases.
As their family is growing, so is their brewery.
"As slow as we are trying to be, it's still fast," Cari says, acknowledging their rank among the 50 fastest growing microbreweries in the U.S. "I don't want to ever get over our heads. We're in it for quality and a great product. It's not all about dollars."
Zac and Cari work well together. "I wear a lot of hats, but we rarely fight about Gnarly — it's more divide and conquer," Cari says.
The matter-of-fact tone in which the spouses address each other impacts the rest of their team.
"We are very real with each other, no filter," Zac says. "Having two people in these integral roles who love each other makes us more efficient, and that extends to the employees. We can be blunt. It's OK. We tell it like it is and keep rolling."
As Zac sees beer drinkers trending toward more craft brews and unique regional offerings, he says large regional beers will be challenged, while there isn't a bubble for micro breweries but the ceiling for production is indeed lowering.
Based on market demands and their own capabilities, Zac envisions growing Gnarly Barley steadily to about 20,000 barrels a year and capping off production there.
For the Hammond native, his motivation isn't simply to sell a bunch of beer.
"You have to have a great culture and the quality, and you have to enjoy the craft of it all," he says. "We have a good platform for this community and know we can take care of our existing employees. To me, that's everything."
---
How did you settle on the name and were there other contenders for the brand name initially?
Zac came up with the name because he's a skateboarder, and it just has a ring to it that's worked out perfectly.
---