Louisiana Made: Turning Heads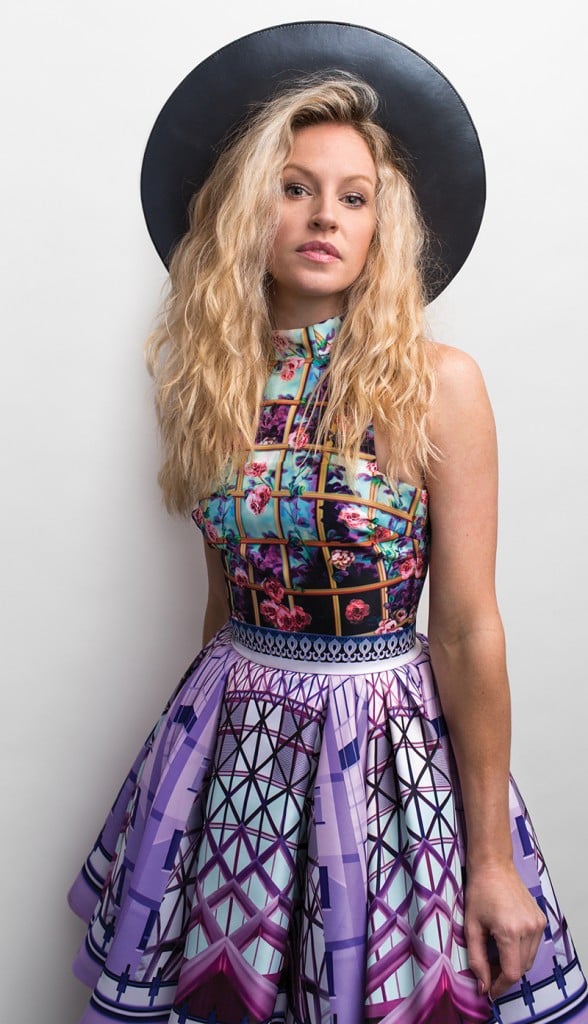 A red Rolling Stones tongue taunts from a cotton tee as she moves swiftly through her efficient home studio in grey yoga pants, describing how she lit one of her hats on fire.
"Oh, I have a torch," she says matter-of-factly.
The ribald nature of her explorations — she also poured wax on and sanded the hell out of the hat in question — have now become routine.
With her hair tied back, she could be ready to hit the gym, but she's actually staying in to exercise her creativity.
For designer Mimi Holaday, this is peak beast mode.
It's the middle of the afternoon in quiet, suburban Baton Rouge, but the lights are on, bright and ready and reflecting from a large white backdrop.
In the fall of 2017 the veteran stylist and textiles designer officially launched Halo Mimi, her own line of men's and women's hats and accessories. She was finally settled in after her move from  New Orleans when she turned half of her living room into a photography studio — she shoots all of her pristine product photography herself — and two bedrooms into a workshop space.
One room is lined with images cut from fashion magazines and sewing machines for shaping and cutting felt and stitching fabrics and applying accessories.
The other is a showroom of sorts, studded with finished and in-progress headpieces for Holaday to assess like a collage of muses standing in formation, ready for inspection and inspiration.
Earlier in 2017, Holaday turned the heads of local creatives by winning the Top Design Competition at New Orleans Fashion Week. There she bested 10 other blossoming designers with the colorful debut of her first collection of hats and a few couture accessories like her stunning vinyl and lace corset. A longtime stylist who used to outfit musicians, DJs and dancers performing at House of Blues, she had only been making hats for two years. Holaday bought a hat from Harrods in London that inspired her to expand her textiles skills through a hatmaking class in California.
In the wake of her win, she described her aesthetic as "Gatsby meets Gypsy."
The line is high fashion with a flair of free-spirited awe, illustrated best by the lucid dream of a piece called Flora, its Victorian palette of dried petals suspended like stardust in a clear crown of vinyl. Jane Austen would have loved it if she ever dropped acid.
But beyond the artful use of classic headpiece materials like feathers and flowers, Holaday more often likes bohemian over boundaries. Any daily discovery can ascend to a design centerpiece in Holaday's eye — the '70s grooves of vintage records, a snatch of foraged south Louisiana brush, a spate of silver box nails.
The details of her work, from fabric choices to the mono-line graphical stitching inside each hat, often demand a second look.
This is free-spirited fashion, and pieces include everything from deer skin and a Queen of Diamonds, to a Fleetwood Mac concert ticket from 1977. Another one she calls "my birdcage," and today she's planning a photo shoot for that seductive masquerade hat in a swamp.
"I need to figure out how to make this more durable," she says, holding up a small dragonfly she wants to apply to a new creation. "Maybe a spray resin. I can't dip it, it's so delicate."
The New Orleans native found the specimen preserved (read: stuck) to the hood of her truck. She immediately began daydreaming of how to use the insect on a new hat.
"I'm always developing ideas," says the artist who works largely on commissions and prefers creating pieces that are one-of-a-kind.
"Even if it's the same concept hat, I like to refine things each time and play with the look to make each one just a little different," Holaday says.
From fedoras and Panamas to Derby and beach-ready wide-brims, Holaday's pieces go for hundreds of dollars.
She sources the raw materials herself and makes everything in-house.
"That allows me to customize and make things at any time and just experiment quickly," she says. "Mass production is such a pollution problem. Fast fashion is so disposable. I think people are more conscious now about spending a little more money on something that is better quality, lasts longer and that you know where it came from."
When she feels like she's in a rut creatively, Holaday travels. That's how her hatmaking path began in London.
"Everytime I'm abroad I have some kind of epiphany," she says.
This summer Holaday and one of her three interns traveled to Italy. The fashion and pace of life on the Mediterranean were like hitting the reset button on her mind, she recalls. Holaday came home and cleared her bulletin board, replacing old images with a fresh look at fashion.
Up next, Holaday plans to grow her brand by developing handbags, belts and scarves, and bringing her decked-out Airstream to events and festivals where creative and stylish influencers gather. Her popup shop at South By Southwest in Austin was a big hit with fashion bloggers and new fans alike.
Often she wishes she could keep her hands on felt all day, but the life of a creative entrepreneur includes marketing emails and web updates, process scheduling and number crunching, too.
"I definitely see Halo Mimi expanding our offerings in the next year, and there's a lot on the business side that goes along with that," Holaday says. "But I'm doing what I love, and growing is no reason to be disappointed."
---
Q&A
What do you do for inspiration when you feel stressed or stuck in a rut?
I like to indulge in rich culture, embrace spontaneity, read books, learn new things, and meet new people for sure.
How has growing up in Louisiana or living here now influenced your work?
When I was growing up, my mom was a model in New Orleans for local designers, boutiques and department stores, so I was introduced to fashion early on. New Orleans music culture has heavily inspired me as well, working as a dancer in various concert halls.
---