Louisiana made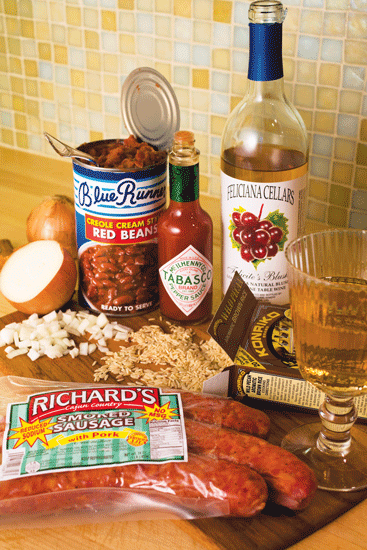 Throughout the state there are producers working at pleasing a palate.
Here are a few Louisiana food companies that have succeeded, some for more than a century and some that could be considered newbies in the state food culture.
Southern BBQ Sauce: With a new label, a new marketing blitz and new ownership, the barbecue sauce that was initially made in 1957 in Jennings is aggressively staking out a future in the 21st century. Andrew "Andy" Guinn Sr. and his son, Andrew "Drew" Guinn Jr., built a new 24,000-square-foot manufacturing facility in the parish seat of Jefferson Davis Parish. They produce hot and spicy barbecue sauces along with a milder version.
Southern BBQ Sauce is the creation of a grocer who figured it would be smart to bottle his wife's sauce and sell it. Infused cooking oils such as Lemon Herb and Smoked Chipotle & Garlic are also produced by the company. One of the newest additions to the company's repertoire is a salsa. The company also makes seafood boil, roux, spray basters and pepper sauce. The Guinns are interested in seeing the 50-year-old label last for years to come. "We not only see this as a business but as a tradition that we deem worthy to preserve."
www.southernbbqsauce.com; (866) 61-CAJUN.
Elmer Candy Corp.: Pick your candy: Gold Brick Eggs, Heavenly Hash Eggs, Pecan Eggs? Or how about Gold Brick Topping? According to Elmer company officials, Gold Brick is the original chocolate hard shell. And they should know because Elmer has been making candy and other sweet goodies since 1855. Now based in Ponchatoula, Elmer started operations in New Orleans. In 1970, the company moved to Tangipahoa Parish to the city that's considered the state's strawberry capital. Seasonal candies have garnered lots of customers for the company. In 2005, during the company's 150-year anniversary, the production plant set an in-house record, producing 17 million Easter candies. The company is also the second-largest heart-box-chocolate manufacturer in America. But for folks who like sweet toppings, well, the Gold Brick Topping is the ultimate experience. Packaged in a can, the thick, liquid milk chocolate hardens on ice cream, chilled berries and even cake.
www.elmercandyjrchocolatier.com; (985) 386-6166.
Richard's Cajun Foods: White boxes stuffed with links of sausage for gumbos, jambalayas or grills –– that's how Richard's introduces flavor. Richard's Cajun Foods, based in Church Point, has distributed its product since 1981. The company makes smoked sausage, andouille, boudin and roux and has a line of microwaveable foods such as chicken-and-sausage jambalaya, chicken-and-sausage gumbo, crawfish-and-corn maque choux and pickled pork. Church Point is located in an area (Acadia Parish) known for smoked meats. One of the most enjoyable ways to eat Richard's sausage is to place a piece over a hot charcoal grill, let the sausage warm up, and then set it on a slice of white bread to eat.
www.richardscajunfoods.com; (337) 684-6309.
Louisiana Fish Fry: Seafood and all that's great about it is what the Pizzolato family has been striving to provide with its products since 1982. Louisiana Fish Fry is an offshoot of Tony's Seafood in Baton Rouge, named after company founder Tony Pizzolato. Thirty different products such as fries, mixes, sauces, seafood boils, spices and seasonings have made Louisiana Fish Fry a must-have item in many homes in and outside of Louisiana. The fish fry was the original product the family started marketing, and it adds flavor to fish, shrimp and oysters that leads to a person packing on a few pounds. It's worth it, though. The company also makes it easy for cooks to prepare étouffée, gumbo, jambalaya, shrimp Creole, red beans and rice, dirty rice, cobbler and brown gravy with mixes for each.
www.louisianafishfry.com; (800) 356-2905.
Jelks Gourmet Coffee: Harvey Jelks has spent the better part of his adult life selling top-quality coffee to discriminating java enthusiasts. Jelks started the coffee company in 1972 and merged with F.E. Morgan Coffee Co., which had been in existence since 1896, in 1978. In a state that takes its coffee seriously, Shreveport-based Jelks satisfies caffeine fixes with a large variety of flavor-infused coffees, cappuccino mix, chai, cakes, cheesecake, cookies and other products that are all flavor-filled. Decaffeinated coffees are also available. Jelks has more than 200 different flavored coffees such as Apple Crumb Pie, Bananas Foster, Mexican Liqueur Cream, N'Orleans Coco Rum, Sweet Mint, Tropical Vanilla and White Chocolate Mousse. Jelks is a quiet man who thinks a good cup of coffee is worth as much time as is needed on the production end of his business to ensure that customers are pleased.
www.jelks-coffee.com; (800) 235-7361.

Steens's 100 Percent Cane Syrup: When the sugar cane cutting season is under way, Abbeville residents understand how important it is to get out of the way of large trucks with cane-packed trailers because chances are a large portion of it is headed downtown to Steen's. The Steen's syrup mill was started in 1910 and ever since has kicked out untold amounts of small yellow cans filled with the final results of cane stalks harvested throughout Vermilion Parish. "This family, with its traditions of strong values, has passed on this pure and natural recipe for syrup, produced open-kettle style year after year, so that it can become a tradition you can count on in your family, too" is the statement that Steen's has settled on in marketing itself. For almost 100 years, Steen's has been the syrup of choice for people all over the state who like a little extra on waffles, pancakes and toast. www.steensyrup.com; (800) 725-1654.

Cajun Power Sauce: Hot sauce is about as basic a condiment on Louisiana tables as salt and pepper, but this little nugget of flavor is all about the garlic. As the label says, Cajun Power is for seasoning or marinating chicken, ribs, pork chops, steaks, roasts, brisket, hamburgers, pasta, barbecue, baked beans, sauces, dips, fish, shrimp, crawfish and crabs. That pretty much sums up the gist of a basic Louisiana diet. Cajun Power, which is made in Abbeville, has enhanced the flavors on various plates for more than 29 years. The company also makes Worcestershire sauce; marinades; basting sauce; and starter sauces for chili, gumbo, chicken stew, shrimp stew, crawfish stew, potato hash, baked beans, mango and pineapple salsa with habanero, and red pepper jelly. The company says: "True Cajun Food is not hot; it is a blend of seasoning with spices along with garlic, onions, bell pepper, celery, onion tops and parsley, which will flavor your life forever. The secret is the seasoning." www.cajunpowersauce.com; (877) 876-8748.
Blue Runner: Creamy red or white beans are Louisiana staples, but sometimes time and a lack of stove talent make it difficult for folks to cook beans. That's where Gonzales-based Blue Runner comes to the rescue. The company, which has been packaging Creole cream style beans since 1918, was founded by Pierre Chauvin. At that time, the objective was to can figs and blackberries, but that changed, and today the company packages red beans, white beans, pinto beans with jalapeños, pinto beans and black beans. What customers love about this brand is that the beans are cooked until they are good and creamy before being put in the can. Blue Runner products are made the way old-timers did it, and that means the flavor isn't missing, even if your grandma or mama had nothing to do with your present red beans and rice moment.
www.bluerunnerfoods.com; (225) 647-3016.
Conrad Rice Mill: It wouldn't be a stretch to say that rice is Louisiana's most important ingredient. Bayou State cooks will mix cooked rice with meats in wonderful one-dish delicacies or cover rice with beans, gumbo or even a fried egg. For more than 90 years, Conrad Rice Mill has kept rice on the market. Conrad markets Konriko products such as Wild Pecan Rice, Artichoke Rice Mix, Herb and Garlic Rice Mix, Hot 'N Spicy Brown Rice Pilaf, brown rice, Greek seasoning, dry Mojo seasoning and Creole seasoning, along with Cajun Honey Mustard Sauce, garlic and pepper sauces and other products that take the flavor of prepared foods up a few notches. The rice mill is a featured tourist attraction along the Iberia Parish portion of Bayou Teche. In fact, the mill was put on the National Register of Historic Places in 1981. "We sell to every major wholesaler in the state and to every chain store," owner Mike Davis says. "We have also developed a specialty rice business in all 50 states and Canada, and we're beginning to break into European markets."
www.conradricemill.com; (800) 551-3245.
TABASCO: Just the word invokes thoughts of flavor. TABASCO has been a Louisiana-born and -bred product since the 1860s, made on Avery Island, minutes from New Iberia. TABASCO officials say the sauce was created because "the diet of the Reconstruction South was bland and monotonous, especially by Louisiana standards. So Edmund McIlhenny decided to create a pepper sauce to give the food some spice and flavor –– some excitement." More than 100 years later, the hot sauce can be found all over the world, and wherever it's found, people are enhancing the flavor of their food and eating with a sense of excitement. TABASCO is made the same way its founder intended –– with peppers hand-picked, mashed and mixed with salt before being put in oak barrels, covered in salt and allowed to ferment for up to three years. The mash is then mixed with vinegar, and after a few other processes, the sauce ends up in the world-famous bottle.
www.tabasco.com; (800) 634-9599.

Feliciana Cellars Winery: Located in the East Feliciana parish town of Jackson's historic district, the winery started operations in 1994 inside a Spanish mission-style house. Nine different varieties of wine are produced along with special occasion wines. The sparkling wine Esperanza is a favorite and is available in December. Other varieties include Blanc du Bois, Dry Carlos, Evangeline, LaSalle, Galvez, Rose Lynnette, Felicite's Blush, Mardi Gras Gold and Tunica. All of the wines are available at the winery. In 2008, the winery won two golds and a silver in the Wines of the South competition. The Southern muscadine grape, native to the region, is used to make most of the wines. All of the grapes are grown locally. "The muscadine produces a light, crisp and fruity wine that pairs well with spicy Louisiana cuisine," the wine-makers say. Feliciana Cellars produces 2,000 to 4,000 cases each year, making it one of the state's largest producers.
www.felicianacellars.com; (225) 634-7982.