Louisiana's Amazon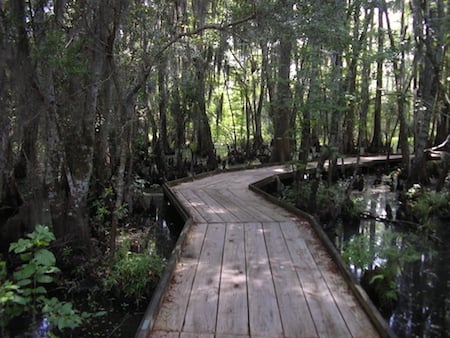 It could easily be mistaken for the dense rainforests of the Congo or the Amazon, or even a prehistoric jungle – only it's in Louisiana.
Whatever it reminds you of, this wild cinematic scene found on the Barataria Preserve Trails may trigger your inner "Indiana Jones" while you traverse its boardwalks and pathways. This feast for the eyes, which oozes lush beauty and mystery, is awaiting your discovery inside the Jean Lafitte National Historical Park and Preserve in southeast Louisiana.
You can navigate through this tropical paradise with great ease because of the handful of boardwalks built right above the swamp and marshland – it's the kind of access infamous pirate Jean Lafitte (and the indigenous peoples who came centuries before him) would have loved as they moved through this unruly terrain. These Barataria wetlands were once Lafitte's stomping grounds as he operated his privateering and smuggling ring in the early 1800s. He knew exactly how to maneuver these murky waterways and enigmatic bayous to smuggle goods and even humans for slave trade. (Fact: Law enforcement records indicate they were searching for Lafitte in this area, but we'll save that story for another time.)
There are nine miles of trails, half of which are elevated walkways while the other half is made of gravel and dirt treks. A huge plus for visitors is you don't have to commit to a long walk; you can go into the marsh and swampland and come right back out in a short period of time with hardly any effort. One of the most popular boardwalk trails at the Barataria Preserve is the Bayou Coquille Trail, which cuts through three diverse ecosystems: a hardwood forest, swampland and the marsh, and it's only a half-mile walk. (Tip: This trail is a great way to see Louisiana's indigenous flora and fauna in just one walk, and you will mostly likely see alligators, too.) (Fun Fact: If you were standing at this site a couple thousand years ago, the mighty Mississippi River would be running right through you.)

*Credit: National Park Service
If time is of the essence, another great boardwalk trail – aptly called the Visitor Center Trail – is literally right behind the visitor center. This shaded walk is only about a half mile (if you walk the total boardwalk and back), and it provides a great overview of the swamp and marsh. (Important Tip: Bring bug spray to protect yourself from insects, including mosquitoes, that thrive here.) (Wildlife Spotting Tip: A lot of animals are active during the summer, but the best time to see them is during the early or later part of the day because, when it is really hot, they, like humans, try to play it smart and lay low to stay cool.)
For a more rugged and authentic hiking experience, without the ease of a boardwalk, take on the tracks across from the visitor center that are on slightly higher and drier ground. Here you can experience the wild Louisiana forest as you begin your journey on the graveled Christmas Road Trail, which is only 0.2 mile in distance. Don't mind getting your shoes dirty? Then continue further onto the Ring Levee Trail, which connects to and follows the Christmas Road Trail. You can expect to see different types of wildlife along these trails like deer, armadillo and different bird species who utilize the forest. (Tip: While no one has been hurt by any wild pigs on this trail, there is a chance you may spot one.)
You can experience the mysticism of the Barataria trails in a variety of ways, a popular way being to take a self-guided tour with a trail map that you can pick up at the visitor center and then use to read informative trailside signs. Another choice is to use your cell phone by calling particular numbers at designated points to learn even more about the history, vegetation and wildlife habitats; this mobile device guide allows you to stop and listen to fascinating facts at your leisure. Need the human and not the technological touch? You can then opt for an intriguing one-hour guided tour with a park ranger. (Tour Tips: The ranger tours vary day-to-day, and there are several different rangers giving these very informative walks. Rangers adapt to whatever is out on the trail, so if they know if there is something interesting or fascinating occurring on one trail, they'll take visitors on that particular trek. These guided tours are no more than a one-mile walk and take place only at 10 a.m.)

*Credit: facebook.com/JeanLafitteNPS
While on these trails, be sure to notice the crescendo of wildlife sounds that can be heard only in these areas. This is also a paradise for birds, and among those heard throughout the trails are herons, egrets, woodpeckers, hawks and the barred owl, which hoots in the daytime. Very often visitors will hear all the wildlife but won't see all of them because of the thick vegetation. Keep your eyes open though, because, depending on the season, you may notice a bald eagle or you perhaps various bird species swooping down to grab a crawfish or two for lunch.
From a plethora of mammals to amphibians, the Barataria preserve has it all. In addition to alligators, there are also several species of lizards nearly everywhere you look, most of them busy either catching a bug or puffing up to impress a female companion. Jean Lafitte National Historical Park Public Information Officer and former park ranger Kristy Wallisch likes to call it "a tiny Jurassic Park" and a "prehistoric time warp." (Big Tip: The best time to visit is during the fall (1) because of the summer's heat and humidity and (2) there are fewer tourists; plus, there are also a lot of wild flowers blooming in the fall. And winter, too, is a great time to visit because of the plethora of migratory birds who are feeding and nesting in this wetland environment.)
Before you head to the trails, make a stop at the Visitor Center where you will find exhibits depicting the Spanish settlers who resided here in late 1700s and the Indian tribes who lived here seasonally for centuries. There are also fascinating artifacts from those periods on display.
Be sure to watch the fascinating 17-minute film that tells the history of the area, plus the stories of the people who inhabited this area and lived off the land for centuries. In addition, you'll learn how the Mississippi River built the delta and get further details about the different ecosystems and creatures who live here.

*Credit: facebook.com/JeanLafitteNPS
After all this discovery, you will have worked up an appetite, and a visit to one of at least two restaurants along Barataria Boulevard will certainly satisfy your hunger. Better yet, why not pick lunch up on the way to the preserve and, before taking a tour head to one of two picnic areas near the trails, have a picnic among all this glorious nature? As for the restaurants, a roast beef poboy "dressed" or a shrimp poboy "dressed" from Chateau Orleans are sure to please. Another option is a poboy or delicious homemade fried chicken with a side of mouthwatering mac-and-cheese from Frazier's, a neighborhood haunt. As for which picnic area to choose, a favorite is the Pecan Grove picnic area because it feels more secluded, (like you are far away from everything), even though you are next to the visitor center parking lot. One more possibility is to picnic a little farther away at the Twin Canals picnic site. (Important Rule: For human safety, food is not allowed on the trails.)
If you don't find any of Lafitte's booty out here, you will certainly fill your senses with Mother Nature's treasures. And just one visit isn't enough; you will find something new upon your return to the Barataria Preserve Trails because, even if you were to walk the same path five times a day, there are always new discoveries to be found. Wallisch tells visitors, "You always see something different on the trails because nature is constantly changing."
And guess what? Even though you feel so far away from civilization in this serene world, you're only miles from bustling downtown New Orleans. "It's pretty amazing such a wild spot has remained next to a major metropolitan area," adds Wallisch.
For information on the trails, the park and events go to:
nps.gov/jela/barataria-preserve-trails-and-waterways.htm