Louisiana's Aviation History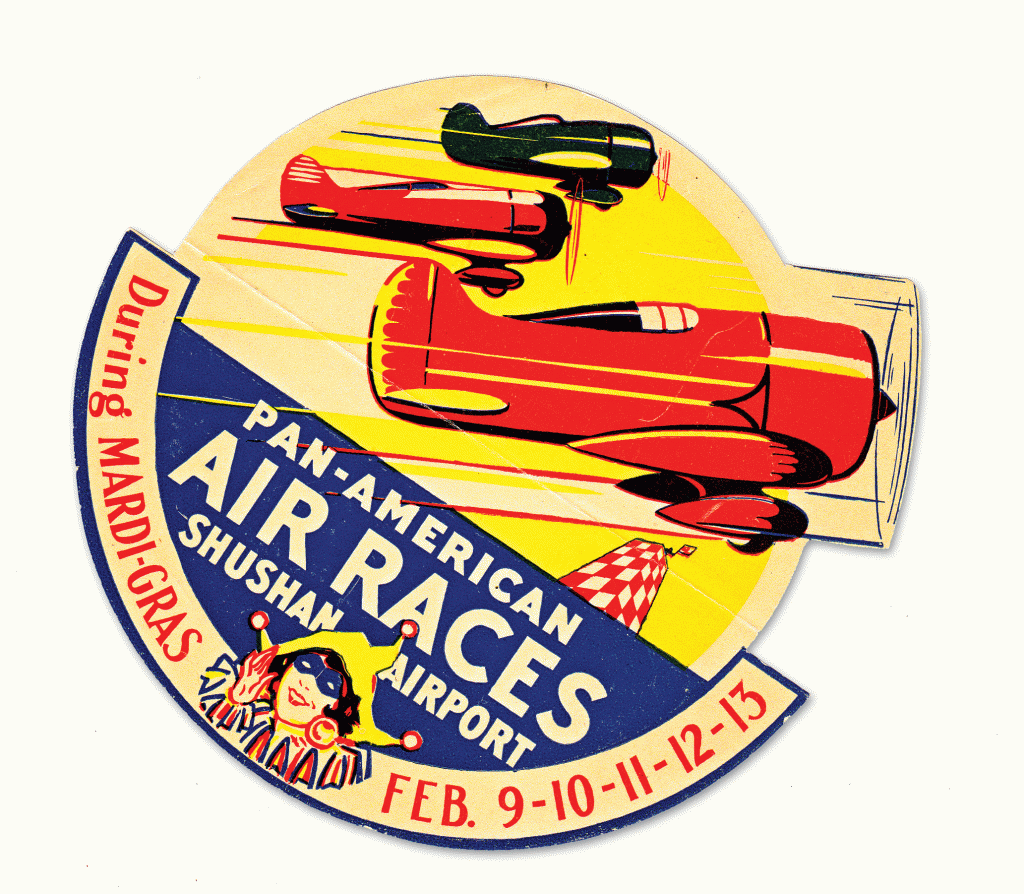 The Wright brothers freed man from the shackles of gravity in 1903. By World War I (with the cavalry still on horseback) our airmen were flying surveillance missions and dropping hand-held explosives, while barnstormers back home promoted Red Cross and Liberty Loan fund drives with their flying shows. Newsreels told their stories, and sometimes one of the daredevils even paid a personal call, as in the case of Ruth Law, who in 1917 set a world record for successive loops above the New Orleans Fair Grounds. Louisiana took notice.
Suddenly, in 1927, flying ceased to be a novelty. That's when Charles Lindbergh nonstopped his famous Ryan M-2 called the Spirit of St. Louis from New York to Paris, sharing with the world his vision of the future of air travel, whereupon Harry Williams of St. Mary Parish bought a Ryan of his own and launched Louisiana to a position of leadership in our rush to the future.
From its first mail-carriers, crop-dusters and fledgling passenger services to its glory days of military aviation in World War II, this state boasts a roster of fliers who wrote bold stories across the skies and left a legacy of landmarks strewn behind. Airfields, statues, museums, monuments, amazing displays of aircraft — all are waiting at the end of easy drives or could be strung together to create a statewide tour for aviation buffs.
WEDELL-WILLIAMS
In 1927 Harry P. Williams was operating his family's cypress logging-milling operation (the world's largest) in Patterson when a young pilot named Jimmy Wedell arrived leading an "aircade" of businessmen on a regional tour. When Williams confessed interest in flying, Wedell took him up for a ride, and Williams was hooked.
He bought his Ryan late in 1928, and in early 1929 the two formed Wedell-Williams (nicknamed We-Will) Flying Service, establishing airports in Patterson; Shreveport; and then-rural Jefferson Parish, an eastbank strip of riverfront that could accommodate conventional planes as well as seaplanes.
The partnership prospered, providing passenger service, flying lessons and aircraft repairs, and Wedell soon proved to be a gifted aircraft designer, as well. He did his design work in the We-Will hangar in Patterson, creating and piloting such planes as his famous "44" to 48 victories in the major national races.
Two such wins came at the Pan-American Air Races of 1934 in New Orleans, coinciding not coincidentally with the grand opening of Shushan Airport (today's Lakefront Airport in New Orleans), where the death of a flier on the first day of racing inspired the novel Pylon by William Faulkner (published in 1935 and filmed as The Tarnished Angels in 1958). Wedell flew twice, winning his first race in his "44" and, in his second, setting a new 100-kilometer speed record of 266 mph on his way to victory in his newly designed "45."
That record and the confidence of a great military aviator from Tensas Parish, Claire Lee Chennault, landed Wedell-Williams the contract to mass-produce the "45" as the Army's new combat pursuit plane, but within weeks Wedell had crashed to his death. The contract went to Curtiss-Wright Corp., whose new dogfighter was the famed P-40, including Gen. Chennault's immortal "Flying Tigers" (with their tiger shark paint jobs) that humbled Japan's Zeros (built by Mitsubishi; what are you drivin'?) in the skies over China.
Two years after his partner's death, Williams crashed near Baton Rouge, and his ashes were scattered over the old Patterson landing strip. His film star wife, Marguerite Clark, sold the Wedell-Williams network to World War I ace Eddie Rickenbacker to become one of the building blocks for his new Eastern Airlines.
Today a stone eagle honors Wedell in the median of Canal Boulevard at City Park Avenue in New Orleans, the New Orleans mansion of Harry and Marguerite on St. Charles Avenue is preserved as a library, and the Williams Memorial Airport above Patterson on Bayou Teche is still a functioning airfield.
As east-west U.S. 90 sweeps past Patterson, turn south on Cotton Road to find the Wedell-Williams branch of the State Museum. It's actually a double facility; one wing tells of the Williams family's cypress lumber empire — whence the wherewithal for Harry's aviation ventures — with the other half housing a downright yummy display of full-size replicas of Wedell racers, from the shapely Miss Patterson ("45") to the plane that will be delivered in October to complete the museum's collection: the company's first racer in 1929, the famed We-Will.
A film for visitors to this exhibit has been created by Glen Pitre, our own homegrown Harvard-grad director (Belizaire the Cajun, Homefront) who has mixed vintage pylon-racing footage with closeups of contemporary actors to re-create the thrills and chills of 1930s aerial competitions. Swivel chairs let you follow the action as the planes zip about you in this three-screen spectacular, complete with actual gusts of "prop-wash" air as wingtips roar around the pylons with only inches to spare.
Picnic afterward in the next-door park named for Kemper Williams (a two-war Army general and founder of the Historic New Orleans Collection) or drive farther down Cotton Road for lunch in the clubhouse of the Atchafalaya/Idlewild Golf Course, the newest course on Louisiana's popular Audubon Golf Trail.
DELTA DAWN
In 1925 an LSU Ag Extension agent named Collett Woolman, serving the delta-land cotton planters of Northeast Louisiana, signed on as an exec with Huff Daland Dusters of Georgia and promptly relocated that company to Monroe, soon steering it away from boll weevil battles in favor of lucrative U.S. mail routes and passenger services. By 1930 that crop-dusting concern had evolved into Delta Air Corp., which re-relocated to Georgia in 1941 but never cut its Louisiana ties. By 1943 it was providing statewide passenger service for Louisiana, and, renamed Delta Air Lines in 1947, it continued, for reasons of nostalgia, to hold its board meetings in Monroe for many decades.
In Monroe today, a stone's throw from Delta's birthplace, the don't-miss-it Chennault Aviation and Military Museum honors Gen. Claire Lee Chennault of the Flying Tigers, whose career began with the Army Air Service in 1918. His tiger shark P-40s, flying as the American Volunteer Group even before our official entry in World War II, ruled the airways over China's Burma Road, and at war's end he returned to Louisiana, established a home in Monroe and created a cargo airline for shuttling relief and military material (including top-secret Army and CIA missions) into Asia.
ARMY AIRFIELDS
The full story of the "Big War" is best told at America's vast World War II Museum, conveniently located in New Orleans, but fully understanding Louisiana's involvement requires a word about its Army airfields. There were an incredible 10 in all (plus a naval air facility), some flying anti-submarine missions in the Gulf and others training airmen to pilot; navigate; and maintain the fighters, bombers and transports of the U.S. Army Air Force.
The Chennault Museum building, in fact, is a landmark of the old Selman Army Airfield, named for Augustus J. Selman, a hometown Navy pilot who died in the line of duty in 1921. Today Selman Field — then America's only start-to-finish training facility for navigators — abuts Monroe Regional Airport.
The Lake Charles Army Airfield trained bomber crews and then, through the Korean War, hosted reconnaissance, bombardment and refueling squadrons. Renamed Chennault Air Force Base in 1958, it closed in 1963, but Chennault International Airport survives as a booming industrial airpark, home of Northrop Grumman's aircraft construction operation, Aeroframe Services' overhaul and repair facility for commercial aircraft and Louisiana Millwork (a major building materials manufacturer), with air-charter operations and general aviation services provided by Million Air.
Pilots and bomb crews of the legendary Flying Fortresses, the B-17s, trained at Alexandria Army Air Base, which was then idle until it became the Korean War home of the 137th and 132nd Fighter-Bomber Wings. In 1955 it was renamed in honor of John Brooke England, a World War II ace and commander of the 389th Squadron from the Alexandria base during the Korean War. Northwest of the city via Interstate 49, exit south on Airbase Road to England Drive, which leads through today's England Industrial Airpark to a "static display" of aircraft representing the base's roles in World War II, Korea, Vietnam and Desert Storm.
Across Red River, old Camp Beauregard Field, established in 1940 as a home for observation planes during the Louisiana Maneuvers, was renamed Esler Army Airfield in 1941 in honor of Lt. Wyler Esler, who died in a crash there in April of that year. In the 1990s the former England AFB became the region's primary airport, but Beauregard remains a vital National Guard facility and site of the Louisiana Maneuvers and Military Museum.
The Strategic Air Command's old Barksdale AFB in Bossier City is now recognized as a Historic District by the Department of the Interior, with 265 of its distinctive masonry buildings listed on the National Register of Historic Places. The highlight of a tour, however, is the 8th Air Force Museum with its extensive indoor exhibits and outdoor static-displayed aircraft, a collection begun in 1978 with a B-17 Flying Fortress of the type flown by the 8th in World War II.
First manned in 1932 — after years of effort by Shreveporters to attract a military air base and months of effort by mule teams to grade its 22,000 acres — Barksdale was initially used for bombing and gunnery training and made history by pioneering the development of techniques for engaging hostile aircraft. More recently it has participated in operations Just Cause (Panama) in 1989 and Desert Shield in 1990, and in 1991 it launched the first combat sortie against Iraq in Operation Desert Storm, a historic 35-hour flight by seven B-52G's.
DeRidder Army Air Base, wartime home of two reconnaissance and two bomb groups, is now the Beauregard Parish Airport, with one original hangar still in use. The "war baby" named Harding Field (fighter and bomber training) grew up to be today's Baton Rouge Airport, while today's Hammond Airport was an early-day municipal strip enlarged by the wartime military (bombing and gunnery training) whose three big "veteran" runways are now kept busy with corporate, private and charter flights.
NEW ORLEANS
At the outbreak of World War II a naval air station was commissioned on the shore of Lake Pontchartrain for flight training and then re-established in Belle Chasse in 1957 and named for New Orleans pilot Alvin Andrew Calendar (a casualty of World War I). Meanwhile, already outgrowing its 6-year-old Shushan Airport, New Orleans had broken ground in 1940 for Moisant Airport in Kenner, used during the war as Moisant Army Airfield and as a sub-base for the naval air station. In later decades Moisant would grow to be New Orleans' great international airport, renamed for Louis Armstrong in 2001.
And the first New Orleans airport, the one opened with races and fanfare in 1934? Well, that's a happily-ever-after story!
So pleased was Gov. Huey Long with the idea of his hand-picked Levee Board president, Abe Shushan, to build the airfield on a man-made peninsula — thus keeping it out of the hands of the anti-Long politicos of New Orleans, because local control ceased at the lakeshore — that he allowed Abe to name it for himself. He did so, joyously hiring the architects of Huey's new State Capitol (Weiss, Dreyfous & Seiferth) to build the airport's great Administration Building and ordering that every niche and knob be emblazoned with his Shushan "S."
Dignified bas-reliefs on the façades and a sculptural group for the "Fountain of the Winds" were sculpted by the great Enrique Alferez, while interior murals depicting Louisiana landscapes and exotic regions of the world were painted by Xavier Gonzalez, A.J. Drysdale and other local artists.
The remarkable airport became a magnet for the pre-jet set (even famed flier Amelia Earhart on her final journey in 1937), but by 1940, with Huey dead, sidekicks like Shushan in jail and war clouds gathering, Abe's initials were removed, and the place became simply the New Orleans Airport. From 1941 to 1945 it was the New Orleans Army Airfield, a base for submarine patrols and flight training. It was then returned to civilian duties only to be robbed in 1963 (at the height of Cold War missile-mania) of much of its artistic charm. To transform the Administration Building into a fallout shelter, metal sheathing covered the deco façade, and new wall coverings and partition changes hid the murals.
A total restoration of this magnificent relic of pioneer passenger service, however, has begun. Exterior work is scheduled for completion in 2010, and soon thereafter the restored murals will again grace the old Walnut Room and Fly-Away Lounge, as those and other hidden treasures are uncovered. Perhaps even the old woody phone booths will ring again around the terrazzo-masterpiece floor, beneath the intricate frieze and deco-metal guardrails of the central lobby.
A long journey indeed, but for exactly 75 years now, Lakefront Airport has been as grand a place as any on earth for ending—or beginning—long journeys.