Louisiana's Sacred Places, An Interview With Deborah Burst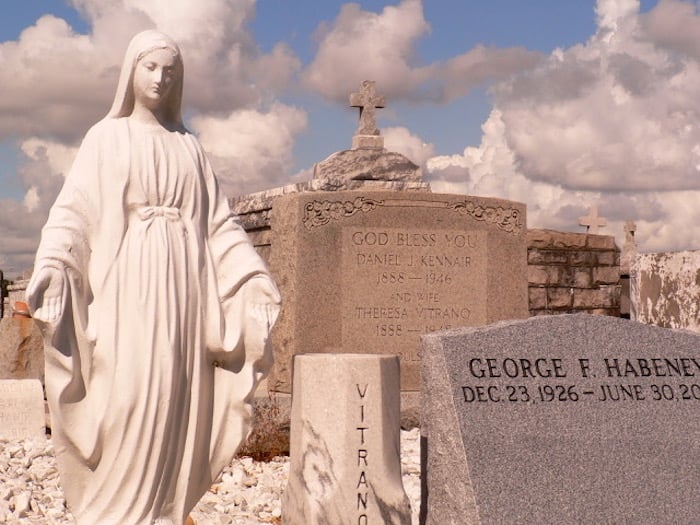 My career has taken me numerous places throughout the United States and always — always — I'm asked about our decadent festival known as Mardi Gras. Why do we celebrate in the middle of winter and why always on a Tuesday?
It all revolves around today, Ash Wednesday, the Christian holy day of prayer and fasting that hails the beginning of Lent, the six weeks of penitence that concludes with Easter.
In other words, "Mardi Gras is living it up before giving it up."
Louisiana takes its spirituality seriously. The state is home to gorgeous churches, cemeteries that rise like miniature cities with architectural grace and sites that offer the piety solace.
On this holy day, we asked New Orleans native Deborah Burst, an author and award winning writer and photographer, to share some of her favorite spiritual places in Louisiana. She has published five books, including "Louisiana's Sacred Places."
What are some of your favorite spiritual places to visit in Louisiana?
Along the back roads from New Orleans to St. Francisville are both intimate churches and cemeteries. Louisiana's jagged coast is home to the bayou's veiled graveyards, each with a presence of lost souls. Metairie Cemetery is an elite estate, like a tour of the world's finest cityscapes and art galleries. In stark contrast, the New Orleans' Holt Cemetery is home to sculptures and figurines that serve as guardians, while empty chairs are thrones awaiting Christ's return.
What is your favorite Catholic church to visit in New Orleans?
The Immaculate Conception Jesuit Church in New Orleans is filled with Islamic architecture. Bronzed, pocket doors are a fitting entrance to this immense temple rising three stories. Inside is a dimly lit sanctuary, the high altar shimmers in gold, reminiscent of the glittery treasures of India. Christian statues and a small crucifix hold company with Moorish onion-style domes. Flanked with gold studded candelabras, and tall garish shadows, whispers of the dark world seem to mingle with the heavenly light.
What religious ritual in Louisiana do you find the most fascinating?
The Day of the Dead, what Catholics refer to as All Saints Day, is celebrated on Nov. 1. It draws unique rituals from different cultures. In the small town of Lacombe, Creole families come together to honor departed ancestors. The priest makes his rounds in blessing eight cemeteries, each grave embraced with glowing candles and colorful bouquets of flowers.
For more information about Burst's many books on Louisiana, visit www.deborahburst.com.