Louisianian at Large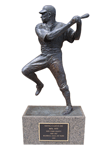 Canning Green in New Iberia
COTEAU –– Canning yams has gone green in South Louisiana at the Bruce
Foods factory just outside New Iberia.
It is one of few private industries in the state that has tapped into the use of methane gas, a byproduct of organic waste, and one of even fewer industries to have access to a continuous supply of methane, says
Ted Kozman, director of the Industrial Assessment Center for Louisiana.
"What is unique by Bruce Foods is it is using a truly renewable source," Kozman says.
At the Bruce Foods plant in Coteau, sweet potato waste is dumped into large ponds and then routed to digesters. Methane gas, released during the decomposition process, is captured, piped and burned as boiler fuel.
The use of methane in place of natural gas has reduced energy costs by 80 percent, says Norman Brown Sr., vice president of manufacturing for Bruce Foods Corp.
Because of success with the new fueling method in Coteau, the company installed digesters at its North Carolina processing plant, as well, Brown says.
David McGee, an engineer supervisor with the state Department of Natural Resources, says the significance of Bruce Foods' methane use has to do with the rerelease of carbon already in existence.
Because releasing methane gas into the atmosphere is illegal –– it must be flared or burned off –– the company's use of it as fuel is putting it to use, McGee says.
"They [Bruce Foods] are not adding to the CO2 levels; they are just recycling what's in the environment," he says.
Kozman says a few other Louisiana industries, such as the GM plant near Shreveport, use methane gas from landfills for generation of power. But, as a source, landfills provide limited amounts of methane, he says.
That Bruce Foods has opted to use a source that will be around as long as there are sweet potatoes shows it is thinking ahead, Kozman says.
Right Fielder in Bronze
GRETNA –– When New York Giants legend Mel Ott swung at a baseball, his right leg would rise and kick, throwing his body fully into the hit.
That stance, unique to Ott, is now represented in a life-size bronze statue that stands in the heart of Gretna's historic downtown as a means of informing visitors of his accomplishments.
At the age of 16, while still attending high school, Melvin Ott signed to play with the New York Giants.
The year was 1926, and for the next few seasons, he warmed the bench and filled in as needed.
Then in 1928, he joined the roster as a right fielder, hitting 18 home runs.
Ott played for the Giants for 22 seasons. He compiled a career batting average of .304, hitting a total of 511 home runs.
He batted over .300 10 times, played in three World Series and was named the National League home run leader six times.
Ott is ranked fourth in the Top 50 right fielders of all time, behind Babe Ruth, Hank Aaron and Frank Robinson.
He was inducted in 1951 into the National Baseball Hall of Fame in Cooperstown, N.Y.
Virgie Ott, who is married to a distant cousin of the baseball player and works as the tourism coordinator for the city of Gretna, says the statue's placement is intended as a means of both honoring Ott and informing out-of-town visitors.
Gretna residents are well-aware of Ott's accomplishments, having long ago named a park and boulevard in his honor, but those who come to Gretna to visit for a day usually come to see the downtown, she says. "It is unlikely that many will drive to the park," she says. "A memorial within the historic district is more likely to be seen by the many who walk the area, and as a tourism office, it is our job to promote him in every way we can."
People who visit the historic district to view Gretna's architectural treasures now also have a visual reminder of the "Master" Melvin Ott and of his contributions to the game of baseball, she says.
"Since its commemoration, it gives viability to our community pride and serves as an inspiration to our youth," Ott says.
Gretna is the parish seat for Jefferson Parish. It was settled in 1836 by German immigrants and is located
on the west bank of the Mississippi River across from New Orleans' Lower Garden District.
Equinox-Gazing at Poverty Point
DELHI –– As hundreds prepare to gather across the Atlantic at Stonehenge to celebrate the vernal equinox, Louisiana residents need search no further than Poverty Point National Monument for a firsthand encounter
with ancient history.
Located in the far eastern corner of the state, Poverty Point contains some of the largest prehistoric earthworks on the North American continent.
Constructed by a pre-agricultural society between 1650 B.C. and 700 B.C., the site covers an area of more than 400 acres and consists of concentric ridges that once stood 5 feet in height.
Although no one knows exactly what the site was used for, it is believed the ridges served as foundations for dwellings where a large and extensive community once overlooked the Mississippi River flood plain.
According to the state Department of Culture, Recreation and Tourism, archaeological finds of stone tools and soapstone vessels provide evidence that inhabitants participated in an extensive trade network.
Raw materials for the tools originated in the Ouachita and Ozark mountains and in the Ohio and Tennessee river valleys, and the soapstone came from the Appalachian foothills of northern Alabama and Georgia.
Other materials also found have been traced back to even more distant locations in the eastern United States, the state park service reports.
In 1962, Poverty Point was designed a National Historic Landmark by the U.S. Department of the Interior and is recognized by the United Nations as one of three World Heritage sites in the continental United States.
It predates construction of the Mayan pyramids.
The site is open to the public from 9 a.m. to 5 p.m. daily. It contains a visitor center, museum and archaeological research laboratory.
The vernal equinox is the first day of spring and will be celebrated this year on March 20.