Louisianian at Large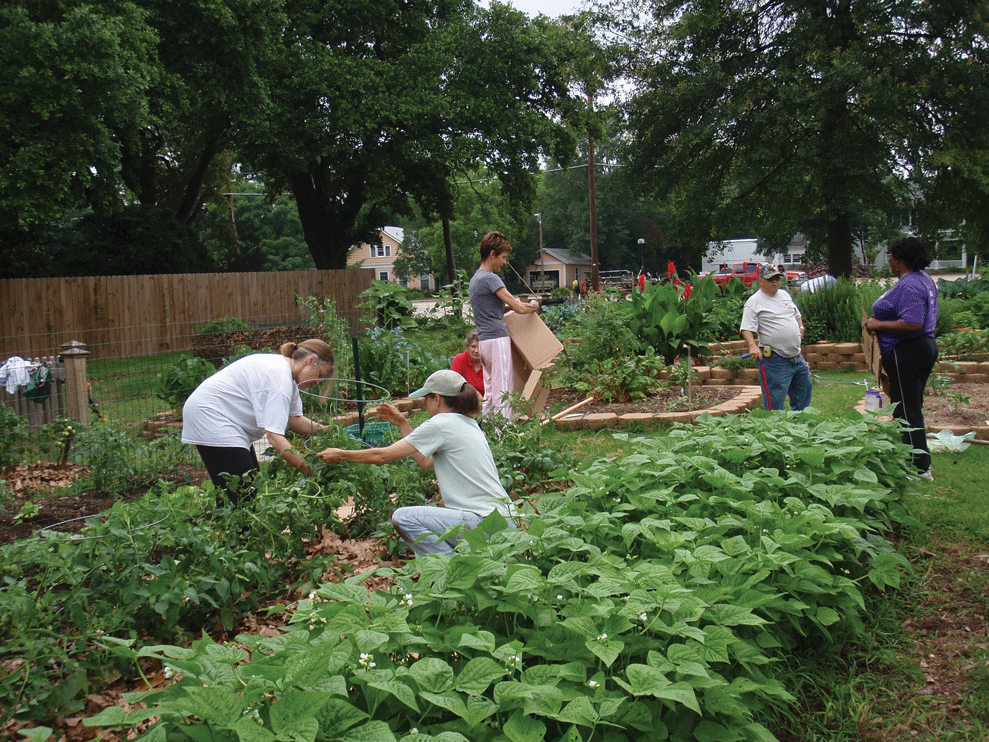 Gardens for the Neighborhoods
SHREVEPORT — The Red River Coalition of Community Gardeners celebrates its second year of operation this June with success stories from eight active gardens serving low-income neighborhoods within Shreveport.
With funding from the federal Supplemental Nutrition Assistance Program, the Shreveport-area LSU AgCenter provides seeds, plants, soil, tools and educational support to coalition gardeners for the purpose of increasing consumption of fresh fruits and vegetables.
"What you find in a lot of underserved neighborhoods is a lack of access to grocery stores," says Grace Peterson, LSU AgCenter Family Nutrition Program agent and community garden coordinator.
Gone are the mom-and-pop corner stores that once served residents, and in their place are convenience stores, where very limited amounts of fresh produce are sold, Peterson explains. "As a result, families, and especially children, go without."
Rosie Chaffold, founder of one of the eight coalition gardens, says she eagerly welcomed AgCenter help at the Allendale Garden of Hope and Love upon learning of coalition goals.
Chaffold says she began the garden about eight years ago and though it was successful as a means of instilling pride back into her neighborhood, AgCenter support has enhanced and expanded produce offerings –– so much so, Chaffold says, that a local store owner has committed to opening a grocery store.
"It will be a community grocery store, and the garden will provide vegetables," she says. "It is to open before the end of the year. A community garden is really about making a difference in neighborhoods. It proves there is always something you can do to help yourself and other people."
Peterson is charged with the development of a plan for the expansion of the Community Garden Program.
"Materials developed are going statewide," she says. "We have already been doing some volunteer training in Many and Natchitoches. Last summer, I met with some people in Alexandria. … The great thing about food is we all have to eat, and it's a great way to bring people from all different backgrounds together."
a fitting tribute
RUSTON –– Following years of planning, a museum honoring the 57-year career of Grambling State University head coach Eddie Robinson now stands open to the public on the university's campus.
"He was a man who first of all loved people and then demonstrated the way a person through leadership should do for mankind," says former Grambling baseball coach Wilbert Ellis. "He told his players to think beyond the game of football. He took these men and women and made them not only great athletes but great men and women."
Born in Jackson, La., Robinson moved to Baton Rouge when he was 6. After graduating from McKinley Senior High School, he attended Leland College in Baker, where he earned his bachelor's degree.
While at Leland, he played in the position of quarterback under Reuben Turner, a Baptist preacher who introduced Robinson to the concepts of a playbook and coaching clinics.
Robinson was hired by Grambling in 1941 to both teach and coach football.
Ellis said Robinson also developed the school's basketball programs for men and women. "He influenced so many," Ellis says. "He was just a part of everything around the university."
During Robinson's career, Grambling accumulated nine Black College National Championships and 17 Southwestern Athletic Conference Championships. Robinson held the title of National Collegiate Athletic Association's "all-time winningest" coach from 1997 to 2003.
More than 200 of Robinson's players went on to the National Football League, including Super Bowl XXII quarterback Doug Williams, who succeeded Robinson as Grambling's head coach in 1998.
Of the 4,000-plus players Robinson coached, 80 percent became graduates.
Robinson practiced what he preached when, in 1954, he received his master's degree from the University of Iowa.
"He told his players to think beyond football," Ellis says. "He took their individual talents and showed them they could do anything they wanted to do."
Robinson did not live to see the 2010 opening of the museum. He died in 2007.
Museum Director Ray Higgins said a life-size bronze statue dominates the entry foyer and a timeline paralleling current events recounts Robinson's achievements.
"We wanted to make sure Coach Robinson is remembered for years and years to come," Higgins says. "There are so many he touched. The museum is really less about the football victories than about his life."