Louisianian at Large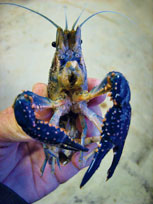 Mystery of the blue crawfish
Experiments on the effects of prolonged light exposure on Louisiana crawfish have Northwestern State University researchers rubbing their eyes, for after only four months, six out of 10 crawfish turned a permanent royal blue in color, a phenomenon that was totally unexpected and is still unexplained.
"Our research was not aimed at changing the color of the crawfish," says Julie Delabbio, director of the NSU Aquaculture Research Center. "We were investigating whether lengthening the amount of light that crawfish receive each day would make them grow larger or faster. The color change was a complete surprise."
Delabbio says blue crawfish do exist in nature, and if one or two had become blue, they might not have thought much about it. The curious thing was the number of the crawfish that turned from red-brown to blue, she says: "Sixty percent. That's a lot."
W. Ray McClain, professor of aquaculture with Louisiana State University AgCenter in Rayne, says current studies attribute blue color development in crawfish to either genetics or diet. "Color formation is the result of a combination of pigment and protein that form a chemical bond," he explains. The things that affect color determination are believed to be diet, as seen in crawfish that display a light-blue color; a change in gene structure or a mutation, as seen in royal blue crawfish; and a hormonal deficiency that causes a failure of pigmentation formation, as seen in albino or white crawfish. Aquatic environment also has been shown to influence color, but those studies reveal only value shades of pigmentation formation, he adds.
Delabbio said experiments on light exposure on crawfish will be conducted again this year at the NSU Aquaculture Research Center. This time, though, effects from environment and diet will be included in the study to determine if any of those factors, and not lighting alone, produced the color change.
There is the possibility that the blue cast from ambient lighting used to light tanks was absorbed in a way similar to the way that other animals in nature take on the color of their environments as a means of camouflage, she says, adding that a diet of catfish meal, primarily corn and vegetable oil, fed to the crawfish also could have had some effect.
The NSU study, which was aimed at increasing growth time and size, did prove successful in that crawfish exposed to light 24 hours a day were twice the size of those not exposed to extended hours of light, Delabbio says.
That in itself is encouraging because if through increased lighting, farmers can yield a higher production for less money, the industry as well as consumers benefit, she says.
Blue crawfish sell in the aquarium market for $25 to $30 each. Compare that to $1.50 a pound for live brown-red crawfish and you are bound to wonder what profits could be made should lighting prove to be the factor in turning brown into permanent blue.
White castle
Following months of renovations, restorations and general sprucing up, Nottoway Plantation reopened this January ready to continue her role as a grande dame of antebellum architecture.
Built in 1859 by John Hampton Randolph for his wife, Emily Jane Liddell, the 64-room, three-story Greek Revival and Italianate mansion, designed by New Orleans architect Henry Howard, served as a home to their 11 children through the Civil War.
Most recognizable by the massive columns that support its height and multiple galleries that afford a view of the Mississippi River, Nottoway has been and remains a major Louisiana Highway 1 destination for travelers to Iberville Parish.
"We have a unique property," says Dale Huval, management consultant. "Our goal is to make all visits to Nottoway memorable ones."
Along with serving as a bed-and-breakfast, Nottoway has appeal as a romantic setting for weddings, which has prompted owner Paul Ramsay of Sydney, Australia, to include an expansion that will more fully accommodate nuptial celebrations as well as corporate meetings and family gatherings.
Guest cottages and a separate bridal dressing cottage providing full salon services have been added to the site. Extensive landscaping, including the restoration of a garden pond, offers the chance for relaxation under moss-draped oaks, as well as numerous photo opportunities.
The home contains ornamental iron railings capped with molded wooden handrails, 12 hand-carved Italian marble fireplaces and mahogany stairways. Each of the mansion's 15 bedrooms now has an attached modern bathroom. And along with Randolph's, a 300- seating-capacity banquet facility, Nottoway will now have a café and a fine-dining restaurant.
Within the mansion, no expense was spared as every detail of the interior –– from hand-painted Dresden porcelain doorknobs to crystal chandeliers –– were cleaned and, when necessary, replicated. European-trained craftsmen were brought in from New Orleans to repair plaster-covered walls and the detailed friezes that line the ceilings in every room.
The challenge, says Natchez architect Johnny Waycaster, hired to oversee renovations, has been finding a balance between the 1850s character of the home and the needs of a modern clientele. "I think we have successfully done that," he says. "It is a true restoration."
Looking to the spring opening of a new $1.2 million Iberville Parish visitor center off of Interstate 10 in Grosse Tete, Nottoway staffers anticipate an increase in day visitors.
Open are a new museum and theater where visitors are shown a documentary on the history of Nottoway following daily tours.
Nottoway's new Le Café is ready to serve visitors breakfast and lunch, and for those seeking a more intimate lunch or dinner, there's Ramsay's Mansion Restaurant, headed by chef Michel Maloiseau of the Ritz-Carlton Chicago.
When all is completed, more than $4 million will have being spent preparing Nottoway for its future, Huval says. "For historic homes like Nottoway and others to continue, they have to retain financial viability," he says. "This commitment by Paul Ramsay assures the preservation of one of Louisiana's jewels while opening up the home further so everyone can enjoy it."
In true Louisiana style, plans are under way for a 150th anniversary celebration at Nottoway this June.