Louisianian at Large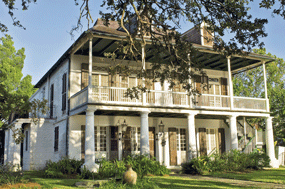 For sale: One Spanish Custom House
It was a once-in-a-lifetime opportunity that drew more than 40 bidders from around the country, all sharing in the same dream –– ownership of the New Orleans Spanish Custom House, an 1874 Spanish Colonial period residence.
Located in one of two bends at the south end of Bayou St. John, it was here that Santiago Llorens of Tarascon, France, built the home for his family.
Constructed of local cypress and soft brick, the raised basement home with a high sheltering roof and broad galleries is considered the embodiment of a Colonial Louisiana planter's home.
"It's kind of like a one-of-a-kind," says Hoyte Johnson of Atlanta, a preservation architect. "Really, one of a few finds."
The Spanish Custom House measures about 38 feet across and 31 feet deep. The exterior walls measure 18 inches thick. It contains four main rooms, two downstairs and two upstairs, each 12 feet in height. A large rear addition, constructed in 1927, features two-story ceiling-to-floor windows and a pair of cast-iron gates remade into 12-foot exterior entrance doors.
The gates are believed to have been salvaged from a mid-19th-century public or commercial building.
Original wrought-iron hardware remains throughout the home, including a door knocker that is shaped like a woman's gloved hand grasping a ball.
To bid on the property, a $50,000 cashier's check or similar guarantee was required.
"I wanted to see the property, considering the original owners and I have the same last name," said New Orleans resident and Natchitoches native Manuel Llorens. "You could say I'm here as a bidder, but I'm really here, more or less, as an interested observer."
Llorens said the first member of his family arrived in Natchitoches from New Orleans in 1803. "I don't know if there is a connection, but if there is one, I'd like to find out."
For two hours prior to the auction, bidders wandered through the rooms of the home and two outside buildings, the original carriage house and a two-room slave quarters. A blues duet entertained from within the back addition of the home while pastries and coffee welcomed arrivals under the home's front gallery. For those wishing to imbibe, a hallway table held a small pirogue-shaped tub from which bottles of iced champagne were drawn and opened.
As the auction hour drew near, bidders began filling the rear addition where empty chairs awaited. With them came a sense of excitement that circulated from one to another. It was that time when hope is at its highest –– and the race was about to begin.
When bidding reached $800,000, the field of competition narrowed to two.
Back and forth the remaining bidders competed, each increasing the previous bid by a $25,000 increment until an amount of $950,000 was reached.
Calling for and receiving no further bids, auctioneer Neal Alford rose and struck his gavel, signaling the end of the auction and the winning purchase price. With that one sound, the room erupted into applause as all eyes turned to the rear corner where buyer Lyndon Saia of Houma stood.
Final cost for the Spanish Custom House was more than $1 million because, along with the winning bid, the buyer pays an additional 10 percent for auction expenses.
According to Alford, Saia plans to restore the house for use as his residence.
Says seller Remi DeMatteo: "We are ecstatic someone who appears to love the house and knows about preservation plans to return it to its original condition, as it should have been for a long time."
Opelousas remembers the orphan trains
They came to Louisiana by train, little children, most between 2 and 3 years old, indentured to families willing to accept another mouth to feed in exchange for the promise of labor.
These "orphan train riders," as they were called, were the unwanted children of New York City. They were recognizable by squares of paper that displayed numbers for identification by foster families that were pinned to the lapels of the secondhand coats they wore.
As early as 1820, waves of immigrants flooded the streets of Manhattan, seeking shelter and work. Many who succumbed to illness and poverty left only the legacy of their offspring.
From 1854 to 1929, more than 200,000 children from New York City orphanages and refuge houses were distributed to families throughout 47 states and Canada.
Louisiana, which began accepting children in 1907, received 2,000 of them, and Opelousas is honoring them with the opening of the Louisiana Orphan Train Museum, only the second in the nation to recognize "America's first documented foster care program."
"Some were adopted by the families," says Florella Inhern, historian for the Louisiana Orphan Train Society and the daughter-in-law of the late Aloysius Inhern, a child of Irish immigrants. "Most were indentured."
It is the society's hope that other descendants of riders will visit the Opelousas museum and join the commemoration effort.
"I think the descendants will come forward once they see what we are doing," Inhern says. "We want to include the stories of all of the children who came to Louisiana."
The museum is located in a former Opelousas freight depot at Le Vieux Village, the city's welcome center located on U.S. 190. Inside the museum is a large mural by Robert Dafford that depicts the arrival of children along with the nuns who accompanied them from New York City and a local priest, Father Engberink, who encouraged families to accept the children into their homes.
One such child was George Anthony Thompson. He traveled to Opelousas with his sister, Agnes, at his side. They were to be placed with one family –– but upon arrival the two were separated.
Thompson's son, Louisiana Orphan Train Society President Harold Dupre, says because the children did not speak French, another boy with the same forename was mistakenly placed with Agnes, and two years passed before the children mastered the language enough to explain their relationship. By then neither family wanted to give up the child in their care, he says.
Thompson was eventually adopted by his foster parents; hence his children all carry the surname of Dupre.
"The children's stories are certainly of historical importance, but this museum also recognizes all the contributions made by them as adults," Dupre says. "It is as much about their journey as it is about who they became."
Though now open to the public, the museum will host a formal opening celebration in the fall. Descendants of Louisiana orphan train riders are asked to contact Inhern at (337) 942-7845.
A future goal for the museum is to include a research center for access and sharing of records.