Louisianian at Large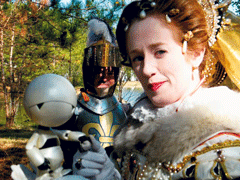 Arise ye all
From the first sounds of "thee," "thy" and "thou" while being greeted by costumed workers, you are transported back 400 years to the time of Queen Elizabeth and England's Renaissance period.
"We stretch a little for the entertainment value," says co-owner Rick Hight of the inclusion of legendary characters Robin Hood and Maid Marian. "We are not a historic re-creation but use history as a starting point for the entertainment."
The idea for the Louisiana Renaissance Festival, celebrating its 10th year, began in – of all places – Tucson, Ariz., where Hight and fellow owner Alvon Brumfield were stationed with the U.S. Air Force in 1995.
Hight says he and Brumfield took their families to the Arizona Renaissance Festival in Phoenix. The shared experience inspired them to plan and run one for themselves.
"We didn't want one too close to another festival," Hight says. "There is one in Houston and one in Atlanta; we figured right between the two."
Hammond's proximity to New Orleans was also a consideration, he says.
The grounds are located off U.S. 190, behind Hammond High School.
A mile-long path, set within 100 acres of pine-shaded woodlands, directs you into and through the 16th-century village of Albright, where vendors peddle costumes, musical instruments and wooden armory.
The path encircles a man-made lake and runs past the working shops of a blacksmith, glass blower, candle maker, baker and coppersmith.
As the path rounds the lake, it turns and enters onto a field where armored knights on chargers await the start of jousts.
Interspersed throughout are stages of entertainment. Jesters, jugglers, gypsies and Celtic highlanders perform throughout the day. At Queen Elizabeth's court and that of her father, King Henry VIII, the audience is invited to participate in ceremonial celebrations.
There is a dungeon for those curious about period torture, and those wishing to test the strength of their arms can shoot arrows or throw axes.
Carnival-style rides, thematic of the historic time and manually powered, introduce ye youth to how things may have been.
"The most difficult thing to convey to people is the size and scope of what we are," Hight says. "There are too many things to do and see in one day."
When thirst or hunger arises, there are two taverns where period foods such as shepherd's pie, roasted turkey legs and soup in bread bowls are served. It is only at one, though, that a taste of ale and its variations are offered.
Leigh Dokos, special events coordinator director, says that for the less adventurous in culinary fare and for those who have special dietary needs, there are enough varieties in contemporary foods.
The Louisiana Renaissance Festival operates 10 a.m. to 5 p.m. on Saturdays and Sundays, beginning Nov. 7 and ending Dec. 13, and is also open on the Friday following Thanksgiving Day.
For more information, go to www.LARF.org or call (985) 429-9992.

Angel with a message
With arms and wings spread wide, she stands looking up to the heavens, a 4-foot likeness of a once-existing statue made famous in a work of fiction.
Pineville's Angel of Hope statue, though the first for Louisiana, is one of 80 scattered throughout the United States.
They, like the one in Pineville, are intended to serve as a point of solace for those who have children who have died.
"It doesn't matter how old a child is; there is still a tremendous grieving process and need for healing," says Elaine Hicks, administrator of the Mount Olivet Cemetery where Pineville's Christmas Box angel stands. "Just from the number of people who have visited and shown interest in the statue, it is definitely serving people."
Alexandria residents Pam Schroeder and her husband, Dr. Robert Schroeder, a Rapides Regional Medical Center neonatal and perinatal specialist, lost a daughter in April 2005, shortly after her birth.
"Her name was Laura Elizabeth Linn Schroeder," Pam says. "She was 5 days old."
Pam says a friend told her of Richard Paul Evans' short story The Christmas Box and of the phenomena surrounding the angel statue.
According to Evans' Web site, after the story was published, people began seeking out the real statue on which Evans based the fictional one. In his short story, the character Mary Anne visits the grave of her long-dead child. The grave marker is a statue of a child angel.
Because the statue from Evans' childhood memory no longer existed, he commissioned one made to his best recollections and donated the statue to Salt Lake City.
Yearly on Dec. 6, the day recognized as Children's Day, a candlelight ceremony is conducted, and attendees are invited to leave a white flower at the base of the Salt Lake City statue.
The first Children's Day ceremony for the Pineville Christmas Box angel took place in 2007, before either the funding or the construction of the base was complete. Amazingly, hundreds of people came from as far south as Lafayette to participate, despite the lack of any publicity, Hicks says.
Part of the price of purchase for a statue is the promise to conduct an annual Children's Day candlelight ceremony. It is the only thing Evans asks; he claims no money from the sale of statues.
"That the date coincides with the Christmas holidays actually helps," says Pam, "for Christmas is always hard for anyone who has lost a child. They think of all the presents that child will not receive, all of the family gatherings the child has missed. Having the ceremony then, right before Christmas, actually gave us a little peace. We felt like we were remembering her, honoring her. It is really a very beautiful thing to do."
For more information, visit www.angelofhopela.com.