Louisianian at Large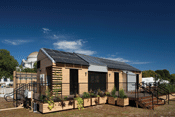 DeRidder Gets Medical Help
DERIDDER – Within the rural logging community of DeRidder, local residents recently welcomed the opening of Louisiana's 10th free clinic.
The Beauregard Agape Community Clinic, a member of the National Association of Free Clinics, provides medical services to working citizens who do not have health insurance –– either private or government, earn no more than twice the national poverty level or have been out of work for fewer than six months.
And though Louisiana does have a charity hospital system that also provides free services to the uninsured working, free clinics tend to offer more convenient means to medical care.
Within the charity systems, only emergency room physicians are available during evening hours, and this can result in long wait times.
For DeRidder area residents, the proximity of services is also a factor.
The nearest state charity hospital is Walter O. Moss Regional Medical Center, 50 miles south in Lake Charles.
Dr. Henry Carter, a practitioner of internal medicine, knows DeRidder and its people well. He has been a practicing physician there for more than 50 years.
"I think everyone knows by now that 47 million people don't have health insurance, and that figure relates primarily to people who don't have anything," Carter says.
For this segment of the population, everyday needs –– food, gas to get to work, clothes for the children –– are things of priority. But by placing clinics in areas where people can get to them and by opening them at times when people can come without taking time off from work, you encourage the address of problems earlier rather than later, Carter says.
"This is what makes for a healthier community, and a healthier community is the goal," he adds.
As with other free clinics, a pool of volunteer doctors, nurses, pharmacists and supporting community members runs the DeRidder clinic.
All operation costs, from the leasing of the building to soap for washing hands, are donated or paid for through donations.
Sharon Landry, director of volunteer services at the Lafayette Community Health Care Clinic, says since opening in 1993, more than 9,000 residents have received services, a tangible testament to the need.
For a listing of free clinics, visit www.freeclinics.us.
ULL Students Design
Solar Home
LAFAYETTE – It is called the BeauSoleil Louisiana Solar Home, a residential design concept created by Lafayette college students and hailed at the 2009 U.S. Department of Energy's Solar Decathlon as the "people's choice."
Employing the early dogtrot design of a center covered breezeway, the BeauSoleil home seeks to achieve energy independence while drawing on the area's love for cooking and entertaining.
It is through the breezeway that the house is able to reshape itself at a moment's notice,
making what was previously limited space expandable and transitional.
Sets of three glass doors line both walls of the breezeway. The doors slide and even rotate 360 degrees around a track
to allow for any number of configurations between kitchen and living room.
The covered breezeway
connects to outside decks lining the front and back of the house and also can be shut off from the exterior by the use of bifold hanging doors that pull down.
"A lot of accommodation was made to assure the space had flexibility for entertaining," says W. Geoff Gjertson, University of Louisiana at Lafayette associate professor and faculty team coordinator. "We wanted it to fit the way people live here –– food, family and friends."
The Solar Decathlon is the largest architectural competition in the world.
The 2009 contest included 20 entries from public and private universities within the United States, as well as teams from Puerto Rico, Canada, Spain and Germany.
Judging was divided into nine categories that tested design, engineering integrity, lighting use, living application and ability to operate as a fully functional modern home while zero-energy- producing.
Working with area contractors and suppliers, students first constructed the BeauSoleil home in Lafayette and then moved it to the National Mall, where it was reassembled and displayed with others.
It took two years and the input of about 200 students to complete the project.
Assisting the architecture students were engineering, business, marketing and interior design students.
ULL architecture student Scott Chappuis says the real world experience gained through execution of the project was invaluable. "It really taught us a lot about sustainable design concepts," he says.
The BeauSoleil home,
priced at $120,000 to $150,000, received the Solar Decathlon's first place score
for market viability.
For more information on the contest, visit www.solardecathlon.org.
Dubach Wilderness
Center Expands
RUSTON – Recreation, retreat and entertainment offerings at the Outdoor Wilderness Learning Center
in Dubach have expanded to include a new 300-capacity conference building.
The center, located on 800 wooded acres, is the outdoor rehabilitation area for the Louisiana Methodist Children's Home in Ruston.
"The children who use the center almost all come from situations of neglect or abuse," says Samantha Luttrell, farm supervisor for the center. "We offer counseling and various activities to help with rehabilitation for both the children and their families. Our goal is to eventually reunite."
While at the center, children can fish, walk, ride bikes, camp and work with horses.
"We have a horsemanship class in which basic skills in handling horses are taught and an Equine Assisted Psychotherapy program that allows the children to participate in activities with the horses and then discuss their feelings and behaviors," Luttrell says. "It is a very popular program."
As to the public's use of center facilities, the center provides numerous offerings for recreation.
There are ponds for fishing; walking and bike trails; camping sites and cabins; a sand volleyball court; and ball fields for playing baseball, soccer, football and Frisbee.
The center has a large
pavilion for family gatherings, and with the new conference building, it now has a place
to accommodate everything from corporate retreats to wedding receptions.
Luttrell says public use of the center allows for a source of income to offset operational costs and at the same time
provide a public service through community outreach.
Both the rope challenge course and 10,000-square-foot maze are used in various team-building programs offered through the center, she says.
Andrew Yepson, assistant principal at Cedar Creek School in Ruston, says seniors and sophomores at the school participate every year in programs at the center.
"Our seniors work on the high rope activities, and our sophomores do the low ropes and maze," he says. "They work on team-building and leadership skills. The center staff does a really good job at promoting those skills by challenging and bringing the students into the activities."
Luttrell says the center works with a lot of students, teacher groups and businesses. "We just had a group of chefs from the casinos in Shreveport come out," Luttrell says.
There are currently 106 children from the Ruston home who benefit from the center.
For more information on the center, visit www.lmch.org/owl.php.