Mardi Gras Bound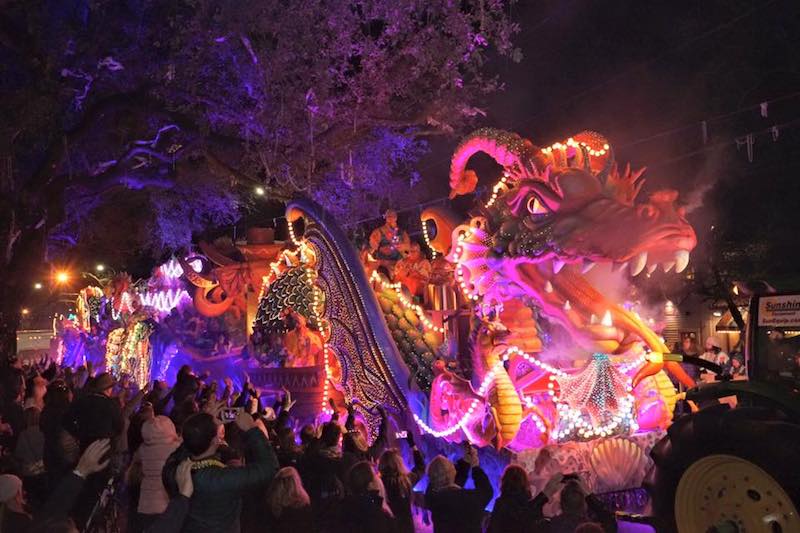 The Carnival season is in full swing in New Orleans, and now is the prime time to head to the Big Easy.
The weekend before Mardi Gras is when parade-goers get to witness three of the most revered 'super krewe' parades; these are the largest parades, which showcase some of the most ornate floats, those with unparalleled artistry and spectacular throws. The first of these spectacular parades will roll this Saturday with the Krewe of Endymion, followed by the Bacchus parade on Sunday, and ending with the Krewe of Orpheus on Monday night, the day before Mardi Gras. (Fun Fact: The floats for the super krewes are made by Kern Studios, an entertainment production company in New Orleans.)
In addition to the draw-dropping floats, there are celebrity monarchs, grand marshals and marching bands strewn throughout the parade, all eager to perform for the crowds. Among some of the throws at these parades are the krewe's emblem and medallion beads, stuffed animals, beads that light up, Mardi Gras cups, and doubloons.
(Fact: Some super krewes have more than 3,000 members, and while the Carnival clubs are open to anyone, members have to pay annual dues, with some krewes requiring sponsorships from an existing member for entry.) These three super krewes have various parade routes through uptown, downtown and through the mid-city area of New Orleans. (See link below for parade route maps.) (Fun Fact: There are nearly 100 parades during Carnival season throughout Greater New Orleans and the surrounding area.)
Here's what you can expect from these magnificent parades:
Endymion
The largest parade in New Orleans is the Krewe of Endymion, which has all-male masked riders. The parade rolls Saturday, Feb. 10, and begins at 4:15 p.m. There are at least 37 floats in the Endymion parade and this year's Grand Marshal is musician/composer Jon Batiste.
Some Endymion super floats can carry as many as 150 to 270 riders! "Pontchartrain Beach, Then and Now," is the largest float at over 300-feet long with nine sections. The theme of this year's parade is "Jazz – Our Gift to the World," and floats will gloriously illustrate the birth of Dixieland Jazz. (Fun Fact: According to Greek Mythology, Endymion was a handsome mortal who was visited every night by the moon goddess Selene, and who asked Zeus to grant him eternal life.)
There are more than 3,100 generous riders from which you can expect to catch lots of throws, and with the krewe's motto "Throw 'till It Hurts," you can bet you will leave this parade with a lot of loot. Endymion organizers estimate more than 15-million throws are tossed along parade route, which ends at the Mercedes Benz Superdome under the night sky after it rolls for several hours down the streets of New Orleans.
The fun doesn't stop there for Endymion! From there, riders will roll through the Superdome throwing their treasures to a mass of people waiting at the Endymion Extravaganza, which takes place after the parade. There are anywhere from 10,000- to-20,000 guests waiting the super krewe's arrival. Floats are scheduled to arrive in the Dome around 8:30 p.m. The musical headliners for this year's entertainment are none other than rocker Rod Stewart and hip-hop/R&B star Jason Derulo. The party doesn't end until 3:30 a.m.
Orpheus
The Krewe of Orpheus parade takes place on Lundi Gras, the day before Mardi Gras, and will begin rolling at 6 p.m. (Fun Fact: Orpeheus is a name from the Greek god of music and was co-founded by Harry Connick, Jr. in 1993.)
Actor Keegan-Michael Key of "Key & Peele" fame will reign as this year's Orpheus monarch. Orpheus is the first super krewe to include both men and women. Notable floats are the Dolly Trolley (the horse drawn bus used in Hello Dolly with Barbara Streisand), the Smoking Mary (a six-unit float resembling a steam locomotive), and the Orpheus Leviathan float, a 139-foot float with extensive fiber-optic lighting.
While the parade is still rolling, the Orpheuscapade, a black tie event and a full night of music and dancing, will begin at the Convention Center at 7 p.m. Guests will be showered with throws from the parade as it rolls through the Convention Center. This is the 25th annual Orpheuscapade, and in honor the New Orleans Tricentennial a dozen different performers will take the stage until 3 a.m.
If you are heading out to watch the parades, you may want to hold your spot on the parade route as early as possible. Especially for the popular parades and on Mardi Gras day, many people put out their custom-built seat ladders, chairs and blankets 24 hours before the parade, all to get an unobstructed view. The good news is that, even if you are not in the front row, you will catch and see enough to have one of the most memorable Carnival times in New Orleans.
There are other great options to watch Mardi Gras parades in New Orleans; in fact, you can purchase advance tickets that will hold your place in one of several viewing stands along the parade route. One of these grandstands is at Gallier Hall on St. Charles Avenue, where the mayor of New Orleans historically toasts the Kings of the Zulu Social Aid and Pleasure Club and also Rex on Mardi Gras day. Another option is to purchase tickets to watch the parades before and on Mardi Gras day from the grand stands at the InterContinental Hotel; purchasing a ticket for these and other stands can be well worth it because, in addition to the comfort, you can also opt for easy access to a restroom.
If you are coming in from out of town, you want to make sure you book your hotel in advance because many sell out during the Carnival season as Mardi Gras day draws near; in fact, hotel suites located directly on the parade route book up a year in advance! (Tip: Be sure to check on parade routes; this will help you find a hotel along or near the parades.)
One thing is for sure: witnessing these super krewes is a real treat during the Carnival season, and for that matter, any Mardi Gras parade in New Orleans. However, don't forget the biggest treat of them all, which is experiencing Carnival on Mardi Gras day, (also known as Fat Tuesday), on Tuesday, Feb. 12.
Happy Mardi Gras and don't forget to shout, "Throw me something Mister!"
For more information on parades and their respective routes:
mardigrasneworelans.com/parades