Medical News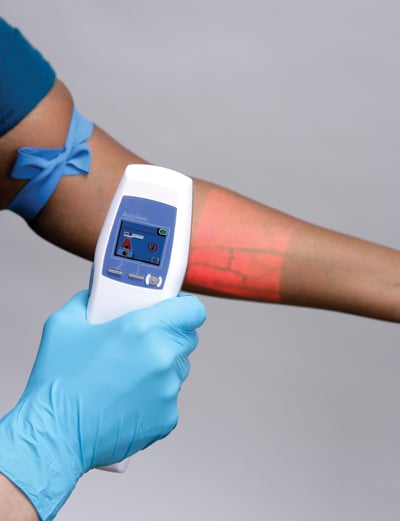 New Technology to Enhance Patient Care
Shreveport – Willis-Knighton Health System has recently implemented a new device the AccuVein AV400 vein illumination system, which will make taking blood a lot more efficient in all of the nursing units at all all four of the Willis-Knighton hospitals.
The new device uses a beam of light that is projected onto a patient's arm and will illuminate their peripheral veins making it easier for healthcare professionals to locate veins for venipuncture.
With venipuncture being one of the most common invasive medical procedures worldwide, and with up to one third of attempts to access a vein failing on the first time, the new AccuVein device is set to help improve first-stick attempts immensely at all Willis-Kingston hospitals.
"This is going to be good for the nursing staff, but even better for our patients," says Georgia Stephens, MSN, RN and patient care coordinator for staff development. "It illuminates the arm so the veins are easy to see. The AccuVein System does not touch the patient. Its use will enhance the comfort and safety of the patient and increase nursing efficiency."
The implementation of the AccuVein system is in accordance with the Willis-Knighton's commitment to the adoption of technology to enhance patient care and comfort. It is meant to help make sure that all patients, especially ones who are dehydrated, obese, have low body temperature, whose veins roll or who have had frequent venipunctures, receive venipunctures quickly and without unnecessary discomfort.

---
A Medical Detox Program
Lafayette – The University Hospital and Clinics has recently reestablished its Medical Detoxification Program, which has been closed since February 2012 due to state budget cuts. The 12-bed center is now open and taking patients, which makes it Lafayette's only hospital-run inpatient medical detox center.
UHC President and CEO Jared Stark said that the facility fulfills a great need in the Lafayette community. "This is yet another former closure that we have brought back to our community. Our goal is to keep this momentum going."
The voluntary inpatient program will be open to all eligible patients 18 years or older. In order to be eligible, patients must be diagnosed with substance dependance or withdrawal and they must be willing to undergo treatment.
The facility will be managed by Compass Health and is going to provide 24-hour medically supervised evaluation and treatment by trained detox nurses and counseling staff along with physician, pharmacy, testing, dietary and environmental services.
It is designed to be the "first step" in a patient's detox recovery. The program looks to provide a safe, therapeutic experience and minimize the painful effects of withdrawal. The detox protocols usually have a 5-7 day duration, at which point patients will be assisted in transitioning into a more comprehensive facility to complete their recovery.

---
New Virus-caused Cancer Drug
New Orleans – LSU Health Sciences Center New Orleans released information that reveals a new therapy treatment for preventing the production of lymphoma cancer cells caused by viruses, which are sometimes resistant to typical therapies.
The LSU research team was the first to show that a specialized fat molecule, called sphingolipids, may play a big role in the survival of aggressive cancer cells that are caused by viruses, the LSU research group's paper said.
They focus on a type of lymphoma called primary effusion lymphoma which is deadly and usually found in HIV patients. In the past, developing effective therapies to treat virus-caused lymphomas has been difficult, but they have seen a change in this with the development of a molecule called ABC294649.
The ABC294649 molecule developed by Apogee Biotechnology Corporation, has proven to have anti-tumor effects within the kidney, prostate and breast cells. It has also not only inhibited Sphingolipids, but it has been a key factor in killing primary effusion lymphoma cells. The drug has been shown to spare the uninfected cells while killing the infected cells.
"This is a major potential advance. There are no therapies available to fight viral tumors by selectively blocking these pathways, all while not harming normal, uninfected cells," said Dr. Christopher Parsons, Director of the HIV Malignancies Program at LSU Health Sciences Center New Orleans and senior author of the paper reporting this new research.