Moonlight Serenade: Downtown Baton Rouge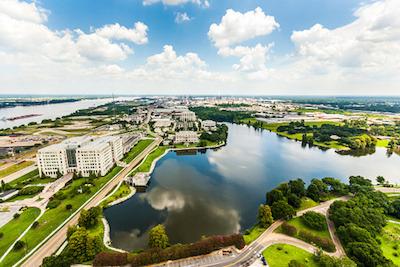 After decades of being a near ghost town – aside from its active political scene – there's no question that Downtown Baton Rouge is having a revival. It's as if it has returned to its heyday, a time when the legendary Huey P. Long and his entourage wined, dined and were entertained by some of the best performers in the country. Today, however, Baton Rouge has much more to offer those seeking a magical night on the town.
The entertainment offerings in the Capitol City's downtown are all within walking distance and they run the gamut from Broadway musicals to big name acts to cultural and educational performances. It's becoming crystal clear to visitors and locals alike: inspiration lives at every corner.
You will certainly be swept away by the memorable events and concerts available at both the Baton Rouge River Center Performing Arts Theater and the Raising Cane's River Center Arena, the latter of which has over 10,000 seats. (Tip: The best seats in the house at the performing Arts Theater are orchestra rows L, M, N, and O which are all eye-level with the stage). (Fun Fact: "Pitch Perfect" 1 and 2 were filmed inside the River Center Performing Arts Theater). The Raising Cane's River Center is one of the few venues in the country with four complexes-in-one, including the theater and the arena, which means more entertainment options for you.
The Manship Theatre at the Shaw Center for the Arts offers something for everyone and has a niche' for educational presentations. In addition to its intimate setting, there's a great exhibit space available, the use of which is only limited by one's imagination.
Regardless of the venue you choose, be sure to partake in both 'before' and 'after' experiences downtown, just as the locals do. Enjoying a delectable dinner along with refreshing cocktails is a must before heading to the theater; make a reservation (although not required) at Stroubes Seafood and Steakhouse, which is only steps away from the aforementioned venues. This upscale yet comfortable dining experience is truly unforgettable, and one you will want to repeat as often as possible. From the moment you walk into Stroubes, and take in its wall-to-wall windows, you know you are somewhere special. There really isn't a bad seat in the house, and its high-back booths give patrons a sense of privacy; plus, as you hear old standards, you'll feel as if you've stepped back in time to not only the jazz age, but to the swing era as well. (Fact: Part of the Stroubes Structure was once Stroubes drug store, which in the 1940s had a popular lunch counter and soda fountain; owners kept the name Stroubes for historical throwback sake.)
Start your downtown dining experience with a refreshing southern cocktail; one of the most popular concoctions at Stroubes is the Blood Orange Old-Fashioned followed by the Lemon Drop Martini. Not to miss appetizers include the crawfish beignets and the duck and andouille eggrolls, and for an entrée, the mouthwatering redfish with jumbo lump crabmeat is the most popular dish, followed by the chargrilled Mahi Mahi. If seafood is out of the question, tempt your taste buds with the Duck Louisiane or one of Stroubes' many choice steaks (upper two-thirds choice meat which is a grade below prime). Executive Chefs Ross Ford and Mark Riley, both Baton Rouge natives, say their dishes are a melding of classic favorites with a contemporary spin. (Fact: the aforementioned recommended dishes came from the creators themselves, both of whom are executive chefs).
Save room for dessert because the white chocolate bread pudding is "… the best hands down," according to both Ford and Riley, and… it actually is. You will want three servings of this southern delicacy, which is riddled with pieces of white chocolate morsels within the bread pudding and smothered in a whiskey sauce unlike any other. (Warning: It will be very hard not to fill up on Stroubes' warm, house-made and freshly baked bread. Covered with a host of seasonings like rosemary and sage, the bread can be dipped into an accompanying dish of herb-infused house butter.)
For a more casual atmosphere for dinner or lunch, head to Jolie Pearl Oyster Bar for select oysters that are sure to please even the most discerning of palates. (Tip: The Baked Brie and Bacon Oysters and the Grilled BBQ Nola are local favorites.) Be sure to try both their traditional and grapefruit margaritas, which are blended with freshly squeezed juices! (Tip: Local musicians perform from Thursday to Sunday.)
After dinner, stroll to the Mississippi River and watch one of the most stunning sunsets you'll see in Louisiana. (Tip: At the Florida Street entryway, there are Adirondack chairs and umbrellas on top of the levee for you to sit and watch the world go by.)
Post-show outings downtown are plentiful as well, and the nightlife here includes great live music, food and ever-flowing libations; among the hotspots are Boudreaux's and Thibodeaux's and the Roux House. (Tip: Many locals also take part in the Live After Five Baton Rouge event put on by the Downtown Business Association on Fridays, and Wine Walk Wednesday, which is an open wine-tasting tour.) While strolling downtown, be sure to take in Louisiana's Old State Capitol building (all lit up), as well as the Mississippi River Bridge (the Horace Wilkinson Bridge) and Louisiana State Capitol.
After getting your fill of the sites, culinary faire and entertainment outlets, you will be ready for a good night's sleep, and downtown Baton Rouge has several hotels, including some that are historically significant. The Hotel Indigo, a boutique hotel located on the corner of Convention and Lafayette Streets, was once where Huey P. Long's mistresses stayed overnight. (Fascinating Fact: There is an underground tunnel connecting the Hotel Indigo to the former Heidelberg Hotel, which was one of Long's hangouts.)
In addition to its fascinating history, Hotel Indigo is a pet-friendly hotel, which serves dog treats to the four-legged friends and, depending on human availability, where hotel employees will dog-sit. For those on two legs, Hotel Indigo is the only hotel near the river with complimentary bicycles. (Tip: Take an unforgettable scenic bike ride up and down the paved levy that skirts the Mississippi River from downtown Baton Rouge to the LSU campus).
Outside the Hotel Indigo are tables and chairs from which you can simultaneously enjoy the night scene and wet your whistle with a favorite libation. (Tip: Hotel Indigo's house favorite is the potent, yet delicious, French 75 – gin, Champagne, lemon juice, and sugar.) You can also order mouthwatering appetizers like crab cakes, crawfish bread and black-eyed pea hummus from the hotel's King Bar and Bistro, which attracts locals as well as downtown workers just getting off the clock.
Choosing a room at the Hotel Indigo depends on which view you are after. There are rooms that show off the Mississippi River and the bridge straddling this great waterway, and there are those that have the old and new state capitols in clear sight. (Tip: Reserve corner suite No. 706 for a great view of the river or choose corner suite No. 703 that faces the State Capitol; for those needing less room, there are standard accommodations that offer nearly the same views.)
Looking for good people? Be sure to say hello to Hotel Indigo's Margaret Chappuis, a Baton Rouge native, who will not only give you all the ins and outs of the hotel, but of the downtown area as well.
Hungry? Many of the King Bar and Bistro's dishes are made with local ingredients found within a 90-mile radius of the hotel; take a look at the hotel's herb, vegetable and fruit rooftop garden on the second floor. (Tip: The House of Representative Salad is not only delicious, but also includes strawberries and tomatoes from that very garden.) For breakfast favorites, the Cajun Benedict or the grits and shrimp are sure to satisfy, and be sure to order a cup (or two!) of River Road Coffee, a Baton Rouge brew created by the Melancon family.
After breakfast, head to the LSU Museum of Art where you will surely be inspired by the collections inside this 13,000-plus square-foot space. Located at the Shaw Center for the Arts, this museum houses one of the largest university-affiliated art collections in the South, and offers both world-class roaming exhibitions and a permanent collection which includes more than 6,500 objects. Need more intrigue and inspiration? The Louisiana Art and Science Museum showcases both temporary and permanent exhibits, as well as a planetarium (which has a 60-foot domed theater!).
April is festival month in Downtown Baton Rouge, and a plethora of events, including the Baton Rouge Blues Festival, the Ebb and Flow Festival and the Third Street Song Writer's Festival, take place! (Tip: For expert advice on festivals and all that Baton Rouge has to offer, contact the passionate and knowledgeable Christy Chachere Lohmann with Visit Baton Rouge.)
For more information go to vistbatonrouge.com, raisingcanesrivercenter.com, stroubes.com, hotelindigo.com, jolieoysterbar.com, manshiptheatre.org