Mosca's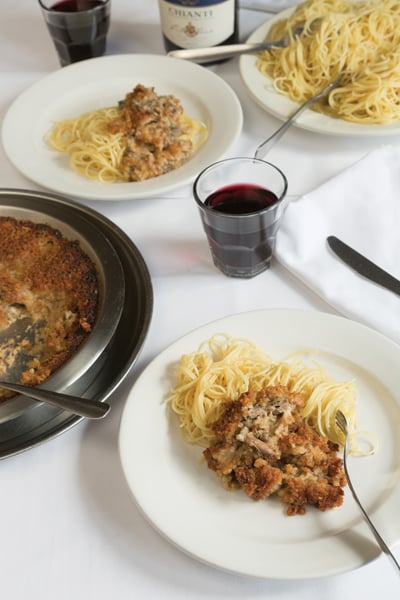 There are many hidden dining gems along Highway 90, which dips down along the southern coast as it runs across Louisiana. There are fried seafood joints, Cajun restaurants and various other regional eateries worth checking out. But southwest of New Orleans in Avondale lies Mosca's, a legendary Italian restaurant in the middle of nowhere.
In 1944, Mary Mosca, daughter of Italian restaurant owners from Chicago, married an oyster fisherman from New Orleans. Her parents, Provino and Lisa Mosca, would grow to fall hopelessly in love with the region and in 1946 they moved their restaurant to Mosca's current location. In the next 30 years the popularity of Mosca's exploded due to the family's tireless efforts in executing their central Italian recipes. Mary and her brother Johnny were actively involved in the management of the restaurant until passing away a few years ago. For nearly 70 years, Mosca's has been serving virtually the same menu of Provino and Lisa's classic dishes.
I headed there with a dozen friends for a gluttonous birthday celebration. With groups of that size, diners are required to order in advance – we called ahead and got two of almost everything. Aside from necessary repairs to the kitchen and dining room after hurricane Katrina, the aesthetic of the interior remains unchanged, and crossing the threshold feels like stepping through a rift in the space-time continuum and emerging in the 1950s.
Tradition is king at Mosca's, part of which entails ordering several required menu items considered by regulars to be essential to the experience. The first of these is the Italian crab salad, which is delicious and refreshing, loaded with crabmeat and a classic Italian vinaigrette-style dressing. It's a necessary first course and palate cleanser to prepare diners for the gastronomic onslaught that awaits them. The next essential dish is the spaghetti and meatballs, which is delicious. The pasta is perfectly al dente, and the red gravy is the perfect texture, thick but not cloying, and the handmade meatballs are incredible.
Moving along the Mosca's menu canon, we now turn to the heavy hitters. Johnny's sausage, which for many years was painstakingly handmade by Johnny Mosca, son of the original founders, is flavorful and a little spicy. Next, the spaghetti bordelaise and the Oysters Mosca must be discussed together because they are traditionally combined by diners into one decadent dish. The spaghetti is subtle but fabulous, simply cooked al dente and seasoned with oil, butter and garlic. Oysters Mosca is something like an oyster casserole, lightly breaded and full of butter, garlic, and parmesan. It is baked in an iron skillet and finished under a broiler for a perfect crispiness on top. When the oysters are combined with the pasta, the result is incredibly luscious and is one of Mosca's greatest offerings.
However, it is important to save room for the consensus favorite dishes at Mosca's, the chicken a la grande and chicken cacciatore. I would suggest going with a group large enough to enable ordering both. Mosca's cacciatore is traditional and well-executed; chicken is simmered in wine and herby tomato sauce until it is reduced, coating the chicken. Chicken a la grande is simmered in white wine, herbs and oil until it becomes unbelievably juicy and delectable. The oil and wine permeate the chicken, making it some of the moistest and most savory non-fried chicken you will find in this part of the country.
Mosca's is a restaurant destination well worth considering. Take the scenic route on Highway 90 and prepare yourself to step through the portal and experience culinary history. Just be sure to skip lunch.

for more information
Mosca's, 4137 U.S. 90, Avondale, (504) 436-8950