Mount Up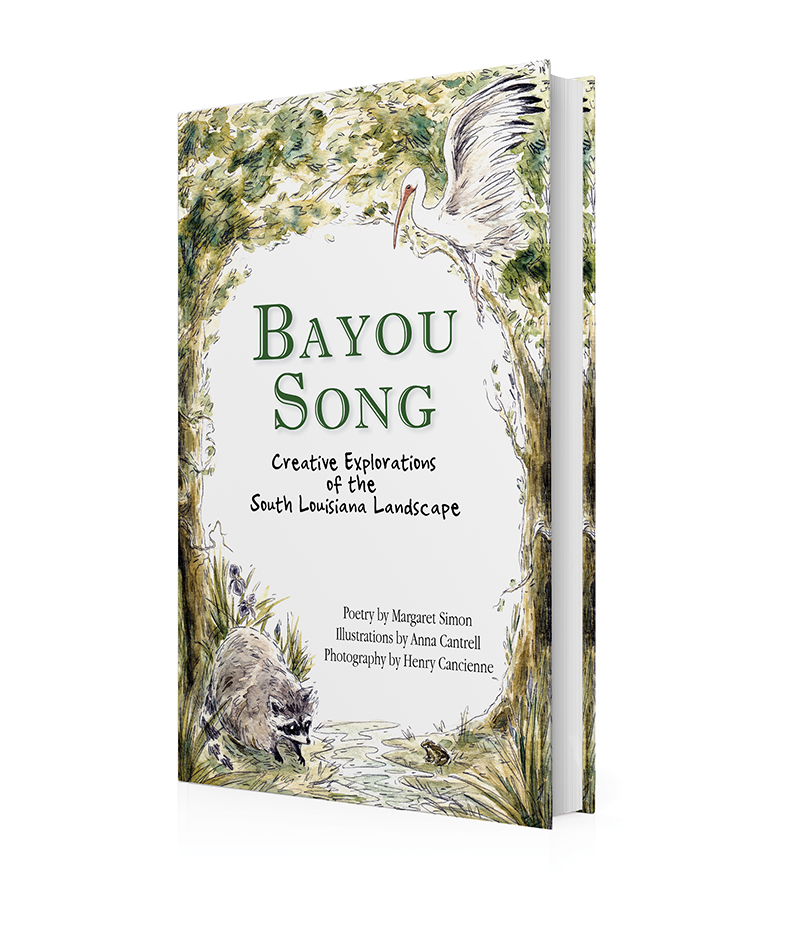 Bayou Song
With south Louisiana starting to make a turn from unbearably hot to comfortably cool, "Bayou Song: Creative Explorations of the South Louisiana Landscape" explores the Spanish moss-lined waterway of Bayou Teche and encourages readers to take a stroll, compose poetry and enjoy nature. This interactive journal provides plenty of creative writing prompts with lots of blank space for sketches, writing and nature samples. Appropriate for both kids and kids at heart, Bayou Song will inspire readers and writers to create their own bayou song.
*Selected as Louisiana's representative "52 Great Reads" at the National Book Festival in Washington, D.C.
---
"Bayou Song: Creative Explorations of the South Louisiana Landscape"
Poetry by Margaret Simon, Illustrations by Anna Cantrell, Photography by Henry Cancienne, $19.95
---
"Louisiana Trail Riders"
by Jeremiah Ariaz highlights the unique culture of African American trail riders in southwest Louisiana. The trail riders are part of a continuing tradition that began with Creole natives from the 18th century of gathering, socializing and riding. The riding clubs proudly continue the tradition with club names such as: the Crescent City Cowboys, the Buffalo Soldiers and the Stepping In Style Riding Club.
The black and white images within are beautifully haunting and engaging and celebrate this hidden, yet thriving, community. Ariaz captures moments between both new and old generations of riders, the care provided to their horses and all of the details that transform preconceived ideas of what it means to be a "cowboy."
---
Louisiana Trail Riders
by Jeremiah Ariaz, $49.95
---
Southern Writers on Writing
"Southern Writers on Writing," edited by Susan Cushman, features contributions from 26 writers from across the South and explores the triumphs and struggles of composing good writing with a particularly southern viewpoint. The essays collected within are funny, inspiring, confounding and complicated covering topics such as "Becoming a Writer," "Place, Politics, People," and "Writing about Race." These weighty topics are deftly handled, and serve to provide a comforting writerly shoulder for newbies to rest their worries. These writers have all "been there" before. Lee Smith, Harrison Scott Key and Clyde Edgerton, are just a few highlights in this stellar collection of work.
---
"Southern Writers on Writing"
edited by Susan Cushman, $28
---
Ask a Librarian
Recommendations for great reads from Chris Kirkley, Main Library Branch Manager, Shreve Memorial Library in Shreveport.
---
"Jackrabbit Smile"
by Joe Lansdale
The latest entry in his acclaimed Hap and Leonard series.
Mulholland Books, Little, Brown and Company, 2018, $26.
---
"Sometimes I Lie"
by Alice Feeney
A winding thriller with an ending that will keep you on the edge of your seat until the very last page.
Flatiron Books, 2018, $26.99.
---
Two Compelling Memoirs
"Well, That Escalated Quickly: Memoirs and Mistakes of an Accidental Activist"by Franchesca Ramsey.
MTV star Franchesca Ramsey's inside look at race and identity in social media in a fast-paced, ever-changing world.
Grand Central Publishing, 2018, $27.
---
"Educated"by Tara Westover.
What happens when a young woman leaves behind her childhood growing up in isolation, and goes on to accomplish great things?
Random House, 2018, $28.
---