Natchitoches 300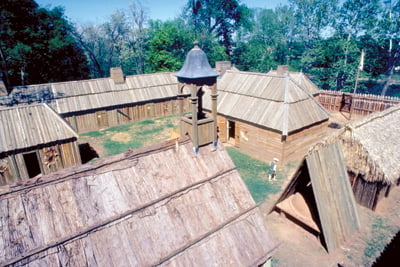 The story of Natchitoches begins with a French military presence that grew from huts in 1714 to a full-fledged fort in 1716, a fort whose remarkable replica will be the star of this year's 12-month observance of the Natchitoches Tricentennial. When you visit the fort you're likely to find "militiaman's wife" Rhonda Gauthier stitching the shirt of a military uniform, "French Marine" Jerry McCormick baking bread in the outdoor oven and "militiaman" Tommy Adkins (veteran re-enactor and 9th-generation descendant of the French engineer who added new structures inside the fort in 1733) loading his five-foot-long French Fusil musket. Such activity is not just part of the 1714-2014 hoopla, it's what these authentically costumed interpreter/guides do every day of every year, reliving Louisiana's colonial life for our entertainment and edification.

"Villager" Rhonda Gautier
Come to think of it, this New Year's began not only the Natchitoches celebration but also what we might call our Tricentennial Era, a century of occasional events honoring our colonial towns, all born like Natchitoches as military outposts established to guard the rivers and regions of the wilderness territory: New Orleans in 1718, Baton Rouge in 1719, St. Martinville (Poste des Attakapas) in 1756, the Poste des Opelousas in 1763, Alexandria-Pineville (Post du Rapides) in 1770, Monroe (Fort Miro) in 1785 and New Iberia in 1799.

"French Marine" Jerry McCormick
So how did Natchitoches become the first permanent settlement? To make an incredibly long story insanely short, it's because when Iberville and Bienville were ordered by the Crown in the final months of the 17th century to establish colonies in the vast Louisiana Territory (claimed by LaSalle in 1682), the Alabama-Mississippi Gulf Coast offered a convenient beachhead but didn't satisfy the need for an official French presence in Louisiana proper. So quick as a wink, in 1700, they erected a temporary post called Fort de la Boulaye near the mouth of the Mississippi, not so much to serve any real military purpose as to signal Spain that France was here to stay.
That accomplished, Bienville immediately departed to reconnoiter the Mississippi and Red rivers, and with him went his young cousin, Louis Antoine Juchereau de St. Denis, who on that expedition formed a lifelong alliance with the Natchitoches and other tribes of the Caddo Nation. In fact, when the principal village of the Natchitoches was flooded in 1702, St. Denis (then commander at Fort de la Boulaye) offered the natives lands on the north shore of Lake Pontchartrain, where they remained (assisting their French friend in campaigns against unfriendly tribes) before following him back to their abandoned village in 1710 when he undertook his second expedition.
There was really no question, then, when St. Denis launched his third and most eventful expedition in 1714, that he would choose the Natchitoches-Caddo village for the trade center he wished to establish on Red River. There, on one of the many islands created by that floodplain's spiderweb of waterways – specifically an expanse of high land between Bayou Amulet and the west fork of the river (a fork that would be cut off from the main channel a century later to become Cane River Lake) – he filled hastily constructed warehouses with a healthy supply of trade goods and erected huts for a small military contingent, thus creating the settlement/village/town/city that has existed from that day to this.
For St. Denis himself the expedition then led westward to Mexico along the prehistoric Indian trail dubbed el Camino Real by the Spanish (King's Road), and by the time he returned in 1716 his little cluster of huts and warehouses had been transformed into an impressive assemblage of buildings surrounded by a log palisade, bearing the name of Fort St. Jean Baptiste des Natchitoches, built by then Commandant Charles Claude Dutisné and reinforced by soldiers wearing the distinctive uniforms of the French Marines.

"Militiaman" Tommy Adkins changing a flint
The fort contained a ruggedly handsome commandant's house built of bousillage (a mud-and-moss mixture packed between wall timbers) as well as such poteau-en-terre structures (named for their "posts-driven-into-ground" support systems) as officers' quarters, barracks and jail. The little complex was as busy a place as one can imagine, with soldiers taking turns at guard duty or attending to their cleaning, structural repairs, cooking, baking and musket maintenance, while outside the fort could be seen the villagers and their families managing small businesses and home gardens in and around their modest structures.
The men of the village, militiamen all, were mostly retired regulars transferred to Fort St. Jean from other posts, who had become involved in trading or other enterprises even while completing their required service time, then remained as permanent citizens. Soon small farmsteads sprang up along the community's riverfront, sizeable plantations farther downriver began appearing in the 1780s, and from the earliest days many prospered by selling commodities like lumber to the growing settlement of New Orleans or "necessities" like French wine to the Spaniards living among the Adai-Caddo 15 miles west at the Mission San Miguel de los Adaes, established in 1717. Although officially forbidden, such "international commerce" and camaraderie grew to the extent that French-Spanish intermarriage became frequent, prompting a number of cross-desertions, but both commandants winked at such events and considered them an even exchange.
The brokering of Indian trade goods to New Orleans was so lucrative for all concerned that the Natchitoches-Caddo village (site of today's U.S. Fish Hatchery in East Natchitoches) became virtually dependent on it, swapping large quantities of baskets, moss, deerskins, salt, bear grease and pottery (the clever craftsmen quickly adapting their clay creations to popular French designs), plus captives taken in inter-tribal battling and sold as slaves.
Social events and entertainment were scarce, even Mass being limited in the early decades to occasional visits by the Spanish priests from Los Adaes. Even military activity was practically nonexistent (if you don't count occasional overnight jailings for disorderly conduct or over-hydration). In fact we know of only two military episodes of note, the first following the outbreak of new hostilities in Europe involving France and Spain, whereupon the clergy and other Spaniards of Los Adaes were disbursed in 1719 by Fort St. Jean's overzealous Commandant Philippe Blondel.When word reached St. Denis he coaxed the padres back, after which the Spanish military built its own fort in 1721, the Presidio Nuestra Senora del Pilar de Los Adaes, which later (1729 to 1770) would actually serve as the capitol of Spanish Texas.
St. Denis returned to Fort St. Jean as commandant in 1722, and the second significant military action occurred 10 years later stemming from a bloody uprising in 1929 of the Natchez Indians at Fort Rosalie on the Mississippi. French retaliation in 1730 scattered the Natchez, some reaching the Fort St. Jean region in 1732 and setting off 15 days of Natchez-versus-Natchitoches and French-versus-Natchez skirmishing in the surrounding hill country, at the Natchitoches-Caddo village and probably at the fort as well, climaxing with a major defeat of the Natchez at an uncertain site remembered in local lore as Sang pour Sang (blood for blood).
St. Denis was still commander when Fort St. Jean was rebuilt on higher ground in 1737 (within the current boundaries of the ancient American Cemetery, 200 block of Second Street), and he remained in Natchitoches until his death in 1744. His fort served France until Louisiana's transfer to Spain in 1762, after which, abandoned and in ruins by the time of the Louisiana Purchase, it was replaced by the U.S. Army's new Fort Claiborne nearer the center of town.
Fortunately, a layout of the first fort had been sketched by French Engineer-in-Chief Ignace Francois Broutin during his visit of 1833, a drawing that proved essential in creating the splendid replica that stands beside Cane River today, planned and overseen in 1979 by legendary restoration architect Samuel Wilson Jr. of New Orleans with research and supervision duties shared by State Parks personnel. The drawing included the barracks, warehouse and warehouseman's quarters Broutin added during his Natchitoches sojourn, as well as the additions and palisade-strengthening measures accomplished through the years by St. Denis. Consequently the replica is a full-scale model of a 1716 fort as modified through 17 years of occupation, built with 18th-century materials, tools and techniques.
Today's interpreter/guides, wearing the civilian and military garb of the day, are adept at many of the skills and crafts of those self-sufficient colonists, but they didn't come that way. There are no graduate programs in candle making, weaving, pottery casting, blacksmithing, cord platting or flint-and-steel fire lighting, so each learns such things from senior guides, then learns (and shares) additional skills by the age-old technique of research-research-research.
The entrance of this State Historic Landmark is through an Interpretive Center at 155 Jefferson St., where artifacts, films, maps and 3D modeling provide background helpful for comprehending the story and significance of the fort and of the old city it spawned. The fort is open 9 a.m. to 5 p.m., Tuesday through Saturday, and additional information is available at (318) 357-3101, (888) 677-7853 or crt.state.la.us/parks.
---
TRICENTENNIAL THEMES
The City of Natchitoches has assigned one or more aspects of local history and tradition to each month of the Tricentennial year, highlighted on each second Saturday by major events around the city, such as January with its emphasis on church history (exhibits and walking tours of historic churches); black history programs and the Black Heritage Parade in February; and March with its emphasis on the fort and el Camino Real.
You can find details for the entire year at Natchitoches300.com, or call (800) 259-1714.
Special Tricentennial programs at Fort St. Jean itself, following the city's monthly themes, begin Jan. 11 in the fort's little church with an 8 a.m. Mass and 11 a.m. presentation by the Rev. Chad Partain of the Alexandria Diocese Chancery, author of A Tool Pushed by Providence on the history of the Catholic church in north Louisiana.
"French Marines" will gather March 7-8 to present scenes depicting their decades of service in the fort; April brings performances and exhibits relating to historic and current local musicians; May 10 offers a 10 a.m. program on women's roles in the city's development; a demonstration of 18th-century lure-making and fishing techniques is set for 10 a.m. on June 14; on July 12 at 10 a.m. staff and local actors in period costumes will introduce three centuries of local characters; on Aug. 9 you can see artists creating historically inspired artworks; and Sept. 13 brings a birthday tribute to St. Denis featuring details of the founding father's life. A Native American program on Nov. 8 will feature vintage crafts and artworks of the Adai and other native groups, including crafts-making demonstrations, and on Dec. 14-15 the fort will be filled with re-enactors sharing with you their celebration of a colonial Christmas.