Naturally Chic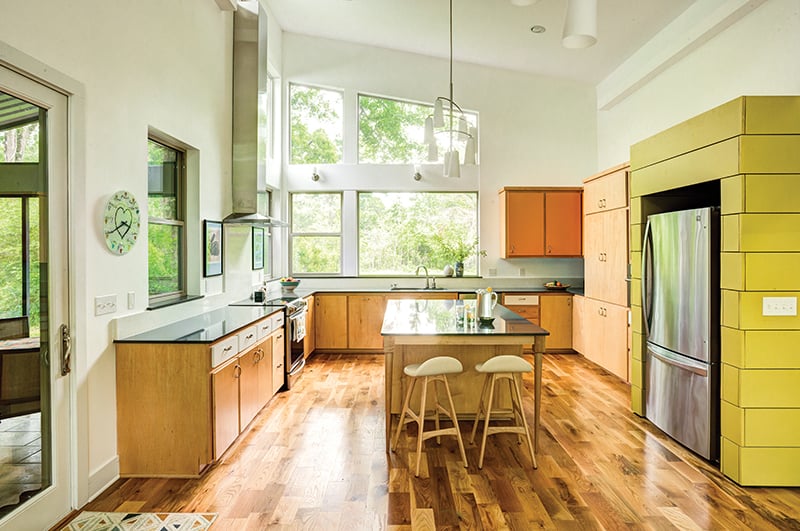 Reaching for a hand towel in the Griffard residence requires sliding a dark wood panel past a golden grid of speakers on a 1950s Grundig hi-fi sound system. Above, the vinyl turntable has been supplanted by a shining, modern sink and faucet, and where the traditional backsplash would have been, now a handsome bank of dials and radio coordinates panels the bathroom wall.
It's a playfully musical moment in a home that, like a great melody, both strikes an attention-grabbing chord and echoes harmoniously in its environment.
"I wanted to be able to get funky in a few places," says Phyllis Griffard, the University of Louisiana biology instructor who built the home in 2016 with her husband Pete, a recent retiree from Shell. "At the same time we are naturalists, we tread lightly. We wanted to minimize our square footage, minimize our waste."
Contemporary with touches of Southern color, the design by Lisa Bourque is marked by the expansive worldview of a well-educated couple who spent 20 years bouncing from Japan, to China, to Qatar, to Houston, with two boys in tow, only to settle back into Louisiana and build a home that was inspired by the grand adventures they've had rather than the ones they hope to go on some day.
That includes a heated towel dryer from the UK, bidet toilet seats and clever storage space applications from Japan, plus authentic Middle Eastern rugs throughout.
"We've moved a lot and had to make do all our lives with whatever homes we could find within our timeframe and budget," Phyllis says. "With this house we really wanted to make it ours, finally."
Located in quiet Sunset, an old railroad town thick with sweet potato farms and seemingly endless oaks and pines, the Griffards chose their 7.5-acre plot for its closeness to nature and the city as well. Most days Phyllis can leave home and be at the door of her on-campus office in Lafayette in less than 20 minutes.
At 2,722 square feet of conditioned living space, the three-bedroom, two-bathroom home under angular, intersecting rooflines feels larger than it is. After years in huge cities, often with a language barrier, the Griffards were hungry to reconnect with wilderness.
With high-efficiency windows and insulation, the property's minimal landscaping, thoughtful water run-off system, and composting, the home is geared for efficiency and sustainability. The house was designed on an East-West axis that greatly minimizes heat gain from the large windows. The couple's electric bill is about $100 a month.
"We wanted to be closer to nature, and we got it," Pete says. "I love our large windows, especially when the moon rises up and is visible through them. From any angle in our living area we can look out and see the green of nature."
Pete works in the yard a lot, so Bourque designed a special entrance and mudroom for him to get messy.
Phyllis admires the way the rural landscape seeps into their new home.
"You stay connected to the rhythm of nature, the seasons," she says. "Out there it's bobcats and butterflies, and you don't miss anything. The design makes it easy to connect with nature."
While feeling almost Scandinavian minimalist in places, Bourque did draw on elements of 19th-century dogtrot houses with two living spaces connected by a breezeway under a common roof. In the Griffards' case, the connecting feature is a Louisiana classic: the screened-in porch. Nested under the shade of the large, jutting eaves, they often relax on the porch with their pup Eva or when their sons Emile and Gabriel visit for dinner.
A trio of cartographer Harold Fisk's 1940s maps showing the historical traces of the Mississippi River beckons visitors into the kitchen with a nod to Louisiana's past in the contemporary language of vivid, almost surreal colors.
"They weren't afraid of color or opening up," Bourque says. "They told me their story and a lot about themselves and that helped the design tremendously, so that the interior and exterior fit together."
That palette of pastel green, ocean blue and a muted, well-tanned orange is used across the entire home, and was pulled from a painting of carousing swing dancers by painter Signe Grushovenko.
Phyllis and Pete first met two-stepping on a dance floor in New Orleans. "He was a broken-in Cajun," Phyllis jokes of her husband who relocated from his native Michigan to Louisiana with the oil industry. The couple invested in the painting of the dancers for their 20th anniversary, and now it sets the rhythm of their contemporary home.
"The great thing about a talented residential designer is that you know she's working for you, whereas an architect or contractor could possibly have their own vision," Phyllis says. "Lisa really represented our life and our values in the design. We ended up feeling like it is really ours."