Northern Louisiana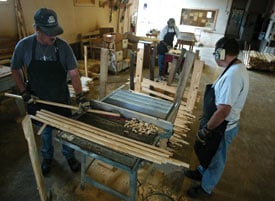 PROFILE
Compassion Inc.
Since 1967, the Monroe Sheltered Workshop, a non-profit organization for mentally or physically disabled people, has been part of the fabric of life in northeast Louisiana. New CEO Brandon Ramsey currently oversees the workshop, whose woodshop, bench shop and janitorial programs have provided the area's residents with wooden garden stakes, porch swings, tools for construction companies, survey pallets, quality woodworking and janitorial maintenance.
The program offers supervised employment to more than 30 disabled people, allowing them to experience the self-esteem that comes from leading productive, independent lives. Full-time employment opportunities are available when their training is finished. The community of Monroe has not only bolstered its own economy by supporting this program, but it has enriched the human experience.
Also offering services such as mail sorting, assemblage, packaging and shredding, several of the workshop's employees were once hired by State Farm Insurance. The workshop was saved from extinction last year by the care, dedication and donations of community members.
Benjamin Lee, director of marketing, Monroe Sheltered Workshop, 411 Cargo Lane, Monroe. (318) 323-3540 or www.monroeshelteredworkshop.org
NEWSBRIEF
Getting your goat
Back in the 1960s, the children of Shreveport wanted a local zoo and donated $15,000 in pennies, nickels and dimes to their cause. But even today, this Red River metropolis still remains zoo-less.
Members of the Red River Zooport effort have once again taken up the gauntlet to fight for a city zoo. They raised $6,000 in annual zoo-membership dues and received another $6,000 from a Community Foundation Endowment. This zoo-seeking crew walks on the wilder side of fund-raising; they sell goat feed at the petting zoo at the State Fair of Louisiana, with all proceeds going to their cause.
Zooport board member Al Henigan believes the city needs to turn its attention to more family-oriented entertainment attractions for the Shreveport-Bossier area. In true grass-roots spirit, Henigan issued a call for volunteers to assist with public relations, newsletter production, donation of land and the designing of the zoo itself.
Children who witness the humane care of animals in a natural-habitat setting are said to reap psychological benefits. Henigan cites the joy of children who visit the provisional zoo at the State Fair each year. "They've never even seen a goat; to have the opportunity to touch and feel an animal for the first time is so exciting," Henigan says.
It's hard to imagine a progressive city without a zoo, but Zooport members are committed to the cause. (In 2005, Chimp Haven, a national refuge and sanctuary for retired laboratory animals, will open in the Shreveport-Bossier area. Henigan says Chimp Haven's organizers hope to support efforts for a permanent zoo.) For Henigan and the children of Shreveport – who have to travel to Monroe, Alexandria or New Orleans to experience a day at the zoo – help can't come soon enough.
Red River Zooport, P.O. Box 4465, Shreveport 71134 or www.zooport.org
LOUISIANA GROWN
Berries in winter
Their green lace shrubbery is like a vintage Christmas gown adorned with fiery red jewels. In Louisiana, nandina (Nandina domestica) fills most gray winter days with warm color. Native to China, Japan and India, this plant with the highly poisonous scarlet berries is also known as "heavenly bamboo." Like bamboo, nandina clumps. In spring, it produces panicles of small white flowers that eventually evolve into the seasonal orange and scarlet berries that evoke feelings of festivity and are perfect for holiday decorations. Growing the Firepower breed of nandina in your yard might make you think you've been visited by the burning bush. Nandina belongs to the barberry family, and it prefers soil as rich as its color, devoid of sand. Tough and adaptable, it thrives in Louisiana light, either full sun or shaded, and tolerates average moisture. The beauty of the berries attracts mockingbirds, cedar waxwings and eventually robins. The white flowers are beloved by bees.
FORK IN THE ROAD
Hoist one at Canard's
With gourmets and connoisseurs as fortunate recipients, Canard's Restaurant and Catering in West Monroe invites people to dinner with a spirit akin to community outreach. Canard's catered tournedos, lump-crabmeat mashed potatoes and Gorgonzola mousse have fed many Monroe fund-raisers. The restaurant offers a warm haven for the exhausted working individual during happy hour. A clever calendar of events informs the public when margarita, martini, Beaujolais, pina colada (or any other designated drink) night will be observed. The restaurant's appetizers, such as Canard wraps – duck breast encircled by smoked bacon in a honey sauce – and entrees such as lobster ravioli, made from lobster, garlic and herbs cushioned in pasta and drizzled with saffron cream, are evidence of the innovative ideas at Canard's.
Chilly Northeast Louisiana will be warmed by the oven-roasted Mississippi quail, served with sweet onion reduction, asparagus and mashed sweet potatoes. Wild salmon gets charged with a spicy soy-chipotle sauce and a side of garlic spinach.
Soon to move into the top floor of new Richland Tower Building in West Monroe, Canard's new roost will offer a piano bar, extensive wine collection, private chef's tables, a dining room complete with fireplace, as well as banquet/conference amenities.
Canard's Restaurant and Catering, 605 Louisville Ave., West Monroe, (318) 325-5012.
WORTH WATCHING
Rich in history
(See related story, page 26.)
There remains amidst the higher elevations of Louisiana evidence of a great prehistoric culture that resided and thrived on land overlooking the Mississippi River flood plain. Poverty Point State Historic Site is an archaeological treasure trove of the American Indian civilization that settled in Louisiana 12 centuries before Jesus Christ and eight centuries after the building of the Egyptian pyramids. Furthermore, the site predates the Mayan pyramids of several hundred years after Christ. Poverty Point is considered one of the greatest archaeological sites in America. Archaeologists have estimated that more than 5 million hours of labor, carrying dirt in 50-pound baskets, was spent to construct the massive earthworks complex that served as dwellings. The presence of artifacts from throughout prehistoric North America is evidence that this was once a center of trade, to which other tribes from distant regions traveled. Tools, beads, bird effigies and cooking instruments are on display in this northeastern corner of the state.
Located in Carroll Parish and designated a historic landmark in 1962, Poverty Point offers an interpretive museum, special programs and tours. In the tradition of the Nile River which brought about a great culture, the Mississippi River likewise fostered its own culture at Poverty Point.
Poverty Point State Historic Site, Epps, (888) 926-5492.
Nandina berries
Canard's Restaurant