Old-Fashioned, New-Fangled New Orleans Tours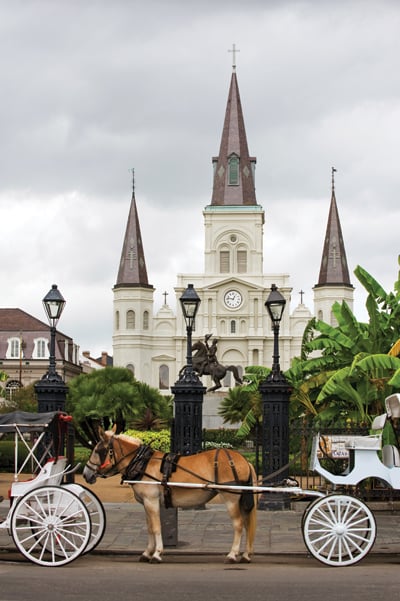 'Tis the season, and Louisiana streets and buildings are once again donning those tinsel-time colors of red and green. For New Orleans and especially the French Quarter, however, red is the dominant hue by a wide margin, thanks to a fleet of big London-style tour buses introduced this year by the local Valentino family of hoteliers. You'll spot the fire-engine red double-deckers immediately, cruising the streets of the Quarter (and beyond) as they circle past historic landmarks, entertainment locations and famous restaurants, each bus loaded with riders pointing and snap-shooting from the lower-level windows and open-air top-deck seating.
While these so-called Hop On-Hop Offs are the most recently arrived mode of guided-tour transport in town, they're but one of a long list of choices that range from traditional to ultra-modern, all vying for the pleasure of telling you the stories and showing you the sights of the city.
When it comes to the traditional conveyances, everyone thinks first of French Quarter carriage rides (some now offering jazz- and ghost-themed tours as well as the standard historic fare, some even straying beyond the Quarter into other landmark-filled neighborhoods). An occasional buggy tour is a beloved tradition among locals and high on the agendas of most visitors, providing something of a feel for life in the Vieux Carré before it got so vieux (especially when passing a group of costumed Dickensonian Christmas characters who roam the sidewalks this time of year).
You don't see white mules every day (said to be wellsprings of good fortune, or maybe it's harbingers of doom – can't remember), but you'll see several of them among the line of dray mules patiently waiting for you with their carriages and drivers along Decatur Street at Jackson Square. Pick a buggy and hop on for a pleasant and informative ride, and, if you haven't ridden in a while, prepare yourself for a difference: The days of wildly inaccurate spiels by the guides are long gone by. That means the loss of some humor value, perhaps, but it's nice to know visitors are no longer going back to Oshkosh with the notion, for instance, that Napoleon lived in the Napoleon House.
Other sightseeing experiences long ranked as de rigueur are steamboat port tours aboard the Natchez IX or Creole Queen and, of course, the walking tours offered by Friends of the Cabildo (a State Museum support group), National Park rangers (whose passing tour groups always make me feel like Yogi Bear), cemetery preservation groups and countless commercial guide services. The walking tour tradition is about as old as walking itself, but the list of themes is still growing. Naturally the architecture/history tours of the Quarter were the first, and they've now spread as far as the Garden District, Arts District and Irish Channel. Cemetery tours came next, born of visitors' desire to see the tombs of Marie Laveau and Jean Laffite's half-brother Dominique You in St. Louis Cemetery No. 1, since spread to St. Louis No. 2 and, in the Garden District, to wonderful old Lafayette No. 1.
The list of themes has at least quadrupled in recent years, and now you can find guides offering haunted-places tours, "Witches Brew" tours (the coven crowd and other scaries), vampire tours (blame Anne Rice), Voodoo tours (inspired by Marie Laveau and Dr. John – the name borrowed by the famous and funky singer Mac Rebennack), "underworld" tours (Mafia and more), "True Crime" tours, Scandal Tours (featuring "murder, mayhem, corruption, prostitution, assassination conspiracy"), the "Romantic Tour" (exclusive offering of Good Old Days Tours, (504) 523-0804), music history tours, live music venues, cocktail tours and guided dine-arounds.
Keeping right up with the lengthening list of themes has been the growing number of modern transportation types, some making it possible to cover vast expanses of the city in a single tour, while other modern varieties cling to the shorter radius but bring new elements of thrills to the traditional routes. Segways, for instance –those two-wheeled, vertical, one-man rigs usually seen in weaving convoys following at the heels (wheels, that is) of a tour guide – are agile enough to maneuver through the heavy foot traffic of pedestrian tour groups, and when it comes to wider-ranging excursions, needless to say it's helicopter-hopping that holds that record as measured in square-miles per hour.
The gentlemen of Jesuit Bend Helicopters, for instance, with two-day and sometimes even one-day notice ((504) 912-5300 or NOLAheli.com), can meet you at the Mercedes-Benz Superdome Heliport and in a single tour take you "flightseeing" above all the most popular sights: Jackson Square and the Moonwalk, cruise ships and the towering International Trade Mart along the river, the great old Whitney Tower and modern skyscrapers of the Central Business District, Lee Circle, universities, sprawling above-ground cemeteries, and even the sailboats and shrimpboat docks of surrounding lakes and wetlands. (On Dec. 7-8, incidentally, you can find the Jesuit Bend whirlybirders downriver at the Plaquemines Parish Orange Festival, offering short-hop aerial views of the river, old star-shaped Ft. Jackson and the ruins of Ft. St. Philip.)
Back on the ground and back in town, two other new tour-types offer a chance to see the sights while working off the calories from last night's cream-based sauces: guided bicycle tours and (no foolin') jogging tours! Bike rentals are plentiful, but Bicycle Tours and Rentals at (866) 293-4037 offers licensed guides to lead their Creole and Crescent bike tour of the Quarter or Garden District Tour of other early neighborhoods. New Orleans Jogging Tours ((504) 858-9988) provides a jogging buddy (also licensed) who'll lead and narrate a 90- or 120-minute tour (with ample breaks along the way) of French Quarter and Garden District landmarks and celebrity homes. "Anyone can do this tour," they say, and I for one will take their word for it.
Excursions get longer and longer as you graduate from mule power and leg power to "horsepower." The big modern motor-coaches of BUS-VISION circle constantly around the major attractions of the city, with free optional walking tours along the way, and the van-tour service called Movie Tours ((504) 383-8668) has combined the concept of big-radius routes with the new tradition of specialty themes to create a tour of local film locations (each matched with video clips of that location's scenes), ranging from vintage and recent movies to actual live film sets.
Happy to say, the guided tour services of New Orleans, of every theme and mode, are all busy as Santa's elves this season, but it's the newest of the new – the exciting look and novelty of those London-inspired double-decker "Hop On-Hop Offs" – that are turning all the heads. They just look like fun on wheels, and that explains their spread around the world including about 100 cities in the U.S., operated locally by City Sightseeing New Orleans under the purview of Hotel Management of New Orleans. That enterprise, headed by owner-manager Michael Valentino, owns five major Valentino family hotel properties in the city as well as Basin Street Station, a 105-year-old Southern Railroad Station recently restored to serve as a New Orleans information center (travel counselors, maps and literature, hotel reservations, arts/crafts/music exhibits, elaborate antique coffee bar and special event facilities) at 501 Basin St.
Located at the historic "hub of cultures" adjacent to the Quarter, Mid-City and Iberville districts (and accessible effortlessly via the Exit 235-A of I-10 East), the old station also serves as terminal of the Hop Ons. As such it provides free parking and ticket sales ($29 per day or $39 per week), but riders can also board and buy passes at any of the dozen stops strewn along Loyola Avenue (Hyatt Regency), Canal Street (Harrah's and the Marriott), St. Charles, Magazine Street, Tchoupitoulas (Mardi Gras World), Julia Street (Arts District) and Decatur (Jackson Square and the French Market). You can Hop Off wherever you please, stay as long as you like and just Hop On the next half-hourly bus (9:30 a.m. to 5:30 p.m. daily) when you're ready to move along.
---
BEST BETS
Going solo: If you're a curmudgeon and just don't like group tours, remember that with your vehicle, or with all those bike rentals, Segway rentals and Hop Ons, it's no great challenge for a visitor to get around New Orleans unassisted. And thanks to the many very portable sources of directions and information on local landmarks and attractions, provided by guidebooks (from souvenir shops, bookstores and the gift shops at hotels and attractions) and digitally (courtesy of your App Store, iPhone, i-This and i-That), your solo sightseeing can be quite successful.
Still too public? The massive privately endowed archive called the Historic New Orleans Collection can help. Visit hnoc.org/vcs to "tour" their Digital Survey of every street, every block, every structure in the French Quarter – compiled as the Vieux Carré Survey by decades of researchers and housed at the HNOC, but not digitalized and accessible online (complete with the modern and vintage maps, engravings and paintings) till 2012.
History in the Round: As of 2013, the great marble and granite Louisiana State Exhibit Museum (née Louisiana State Exhibit Building), one of the "goods" blown Louisiana's way by the ill wind of the Depression, has stood adjacent to the State Fairgrounds in Shreveport for 75 years. It was the work of architects Edward F. Neild and D.A. Somdal and product of FDR's Works Projects Administration, tasked to create jobs in the bleak 1930s by funding worthwhile projects in categories like construction, reforestation and the arts.
Beyond Conrad Albrezio's immense exterior fresco at the entrance, the great central gallery (encircling a lush doughnut-hole courtyard) and flanking side galleries present exhibits that celebrate the entire state, not only by now-historic artworks but by such unusual media as a giant topographic Louisiana map by sculptor Duncan Ferguson; 22 wax-figure dioramas of Louisiana agriculture, industry and life; natural history collections and important artifact collections representing our greatest prehistoric (Poverty Point) and historic (Caddo Nation) Native American cultures.
Visit the website of museum "Friends" today (flsem.mmcchosting.com), and visit this great Smithsonian-affiliate museum (9 a.m. to 4 p.m. weekdays, free) at your first opportunity.