On the Road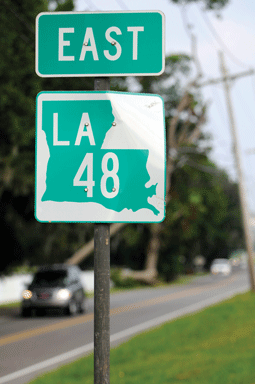 Road trip! C'mon, it's that time of year! Take the kids for a day trip to Water Town USA in Shreveport or the big Blue Bayou Water Park in Baton Rouge or even just swimming at a sandy-sided creek. Or heck, you don't even have to get wet; a week or weekend of good old-fashioned sightseeing is always in season. Pick a road, or string a few together, and go get reacquainted with some Louisiana faces and places you haven't seen lately.
Louisiana Life is a magazine about people, not a travel magazine per se, but it's fair to figure that the past 27 years' worth of articles –– some about individual achievement, some about the spirit of a particular community, some about lives and lifestyles strung out along a particular highway –– have inspired quite a few drives. Abe Lincoln said, "Give me a man who loves his own place," and you can't do that until you've seen it firsthand.
To reach a specific destination fast –– or to hop about quickly to see a certain category of destinations, such as battlegrounds or gardens or art galleries –– take the interstate. If, however, you have time to enjoy the route itself or to pick a particular region for in-depth exploration, take the back roads.
THE INTERSTATE
Even quick interstate trips offer exits that can tempt you to stray. For Interstate 20 across the northern tier of parishes, those quick stops might be, depending on your interests, the shops of Antique Alley in West Monroe, the sprawling flea market called Bonnie & Clyde Trade Days in Arcadia, the hilly cluster of historic homes and churches in little Mount Lebanon or the American Rose Society's national gardens near Greenwood. Our other east-west route, the Interstate 10/Interstate 12 combo, will tempt you with the casinos of Lake Charles, the Vermilionville "living history" village in Lafayette, the lively Atchafalaya film and exhibits at the swamp-side State Information Center, a Baton Rouge stop for a view from atop the State Capitol or a tour of Louisiana State University's new downtown arts complex, or the antiques districts of Denham Springs and Slidell.
Our major north-south interstate is 49, linking Shreveport; Lafayette; and, soon, New Orleans. In October it leads north to the State Fair, and southbound it passes such enticements as meat pies and Front Street shopping in Natchitoches, colonial Kent Plantation House or the Louisiana Maneuvers and Military Museum in Alexandria-Pineville, old homes and antiques in Washington, zydeco dancing at Slim's in Opelousas or a quiet drive through mystical Grand Coteau.
Interstate 55, famed in Chicago as the road to La Place, offers a lot for such a short span through Southeast Louisiana: the Camp Moore Confederate Museum and Cemetery and good Kentwood water in Tangipahoa Parish, good Italian sausages and cheeses at nearby Amato's Winery and good antiquing in Ponchatoula. Poor Interstate 59, however, (which LSU fans in New Orleans believe was put there just for 'Bama games) gets out of state so fast you can blink and miss the Honey Island Swamp Monster.
U.S. NORTH-SOUTHS
For a nostalgic drive back through the 1930s, '40s and '50s, take any one of the great U.S. highways that still echo those years of optimism when Americans first began taking joy rides –– a whole new world with a whole new style, from art deco autos to the new round-shouldered architecture of gas stations and diners.
Our two longest north-south U.S. highways, 165 and 167, cross in Alexandria to form a big "X" through the middle of the state. U.S. 165 departs I-10 just east of Lake Charles and makes a beeline northeast through rice fields and crawfish farms to Kinder (home of the Coushatta Casino Resort), Oberlin (with its historic Allen Parish Courthouse), Forest Hill (see the old sawmill town of Long Leaf, now reborn as the Southern Forest Heritage Museum) and Alexandria. North of the city it undulates through hill-country towns such as Pollock and Georgetown to Columbia on the Ouachita River; then upstream to Monroe, with its university and museums; through Bastrop, with its dynamite Main Street restoration project; and on to the Arkansas line.
U.S. 167 is born at the old town square of Abbeville, travels north to Lafayette, junctions with I-49 to Opelousas and then junctions with State Highway 10 to the Cotton Festival town of Ville Platte (where you can visit Floyd's Record Shop for vinyls and CDs of early zydeco and swamp pop songs recorded here by legendary music producer Floyd Soileau). In Meeker 167 joins U.S. 71 for the ride past Lecompte (home of those good pies and occasional blackberry cobblers at Lea's) and the campus of LSU-Alexandria.
North of Alexandria, whose 100-year-old Hotel Bentley is newly re-restored, follow 167 through the old sawmill town of Bentley and the Catahoula District of Kisatchie Forest to Huey and Earl Long's hometown of Winnfield. You're in serious hill country now, so enjoy the ride north through Jonesboro (with its bed-and-breakfasts and Jackson Heritage Museum) to Terry Bradshaw's university town of Ruston and the Eddie Robinson Stadium at Grambling.
You'll find great functional art at the big Follette Pottery in Ruston near Vienna (pronounced vie-ANNA), and drop by the Absalom Autry House, an 1849 dogtrot log cabin at Dubach, before wrapping it up with a drive through Bernice to Junction City on the Arkansas line.
U.S. 371 enters from Welcome, Ark., and forges straight ahead through the pleasant towns of Springhill, Sarepta and Cotton Valley; skirts around Minden and cypress-studded Lake Bistineau; and plunges southward through Bienville Parish to end its "dry run" at Edgefield on U.S. 71, just a thirsty mile or so short of Red River.
Our other four major north-souths, however, are the "running buddies" of scenic rivers, starting with U.S. 65, which is always happy to lead Arkansas folks down the west bank of the Mississippi through beautiful Lake Providence to Jerry Lee Lewis' Ferriday. Then, of course, there's good old U.S. 61, with all its colorful aliases, beginning as Airline Highway from New Orleans to Baton Rouge. It then carries the nickname of Delta Blues Highway as far up as Greenville, Miss., simultaneously assuming the title of America's Great River Road in Baton Rouge and sporting those special pilot's-wheel highway signs through St. Francisville; Natchez; and, indeed, all the way to Minneapolis-St. Paul.
U.S. 71 is born at the Atchafalaya town of Krotz Springs but makes its way northwest through the Red River bottomland towns of Bunkie (with its historic Bailey Hotel and pretty train-station information center) and Cheneyville (with its visitor-friendly cotton gin, Producers Mutual Gin Co.) to Alexandria. Once across Red River it follows the east bank up through the pecan festival town of Colfax, then to Clarence (John Wayne slept here) and Coushatta (Louisiana tourism-meister Will Mangham slept here, in a cradle) to Shreveport-Bossier. Once past the gates of Barksdale Air Force Base, where you're welcome to visit the great 8th Air Force Museum, it makes its way through the farmlands and dogwood-redbud woodlands of north Caddo Parish to the Arkansas line.
Parallel to the Sabine River and Toledo Bend Reservoir on most of its Shreveport-to-Lake Charles route, U.S. 171 is the uncontested major thoroughfare of the old "Sabine Free State," the so-called no man's land created by Spanish-French, and later Spanish-U.S., border disputes. The first stop for southbounders is Mansfield, whose landmarks are its old log cabin courthouse and Civil War battlepark. Next comes the famous tamale town of Zwolle, where you're bound to have a meal regardless of the time of day. Just below Many, pull off to see the well-preserved Louisiana Long Leaf Lumber Co. sawmill town of Fisher and again a few miles south to walk the sandstone terraces and pathways of the old 4,700-acre "garden in the forest," Hodges Gardens.
Vernon Parish preserves memories of the pre-World War II Louisiana Maneuvers at Fort Polk's Military Museum (Building 917) and Leesville's own vintage-depot Museum of West Louisiana. U.S. 167 next leads to DeRidder, whose Beauregard Parish Museum shares a 1927 Kansas City Southern station with a major doll collection and then glides past Sam Houston Jones State Park to I-10 in Lake Charles.
U.S. EAST-WESTS
Our east-west U.S. highways were born as buffalo and American Indian trails, then widened by Louisiana settlers and later waves of westbound wagon trains, such as wonderful old U.S. 80's route through North Louisiana, which hugs I-20 but clings to a personality of its own. From the old Mississippi River bridge at the bluffs of Vicksburg, 80 crosses the broad delta flatlands by hopscotching parish seats –– Tallulah, Rayville, Monroe –– to the Ouachita River, lined by art museums and the natural-habitat islands of the Louisiana Purchase Gardens & Zoo. Next come the peach country university towns of Ruston and Grambling, with the old Dixie Theatre for musical entertainment and the Louisiana Military Museum for history. Farther west, timeless towns such as Mount Lebanon and Minden might be hidden by hills and hardwoods from the interstate, but U.S. 80 visitors quickly discover their beauty and hospitality.
Then comes Bossier City with its Harrah's Louisiana Downs thoroughbred track and riverside casinos, where 80 crosses Red River and follows Texas Street and Texas Avenue through Shreveport, passing such landmarks as the riverfront district and Louisiana State Exhibit Museum (complete with Works Progress Administration-era murals, adjacent to the century-old state fairgrounds) as it continues west toward the Rose Society gardens and Texas.
Two of the South's most famous pioneer trails are the Natchez Trace from Tennessee to Natchez and El Camino Real, the Royal Road that leads from Natchitoches to San Antonio and well into Mexico. In fact, the two trails are one, linked from Natchez to Natchitoches by a swell overland trek that just didn't have a catchy name –– today's U.S. 84. The first stop after Natchez and the Mississippi bridge is the Louisiana information center in Vidalia, then circle through Ferriday for a stop at the don't-miss-it Delta Music Museum and an informal tour of the former Jerry Lee Lewis home –– now a drive-through package store but, you know, if you ask nice…
Then it's west to Frogmore Cotton Plantation & Gins, whose antebellum manor house is surrounded by an incredible collection of 19th-century and ultra-modern cotton-ginning buildings and accouterments. The plantation is custodian of a prehistoric Indian burial mound, and, 10 miles west at the confluence of the Little, Black and Ouachita rivers, fragments remain at the Methodist and Presbyterian cemeteries of the 2,000-year-old ridge-enclosed mound complex on which the city of Jonesville was built.
U.S. 84 then skirts giant Catahoula Lake and bisects Jena on its hill-country path to Winnfield, where, to make a "Long" story short, statues of Huey and Earl stand here and there and the Louisiana Political Museum and its Hall of Fame are filled with names you know. It's then 25 miles through Kisatchie National Forest to Clarence, where the route continues with a name change: Louisiana Highway 6.
South Louisiana needed both a U.S. 90 and a U.S. 190 in order to span the Atchafalaya Swamp at its northern and southern ends. A single Highway 90 bridge does the trick in Morgan City, but the narrowest point in the upper reaches of the basin requires about a 10-mile span of elevated Highway 190, which, with its handsome molded-concrete side rails, was considered a marvel of its age.
U.S. 90 follows the Mexico-to-Florida Old Spanish Trail, passing through Vinton, with its Delta Downs Racetrack and Casino, and Sulphur, with its Brimstone Museum of town and sulfur-mining history. Once across the pirate-pistol-decorated Calcasieu bridge in Lake Charles, it passes through the "rice country" cities of Jennings and Crowley to Lafayette and, in the old days, headed downstream past all those Bayou Teche plantations to Morgan City. That bayou drive retains its Old Spanish Trail status but became Louisiana 182 when today's divided Lafayette-Morgan City highway commandeered all of its "90" signs. That route, however, is soon to become part of I-49, so perhaps the Teche road can reclaim its rightful number.
After passing the Swamp Gardens and real-life oil rig International Petroleum Museum and Exposition in Morgan City and then Houma, with its Terrebonne Museum in the old Southdown Plantation House, 90 crosses Bayou Lafourche on its way to New Orleans. On the west bank of the Mississippi, it junctions with River Road, passing near the 19th-century General Merchandise Store in the historic Salaville district that now houses the Westwego Museum. Once across the Mississippi and through New Orleans, 90 passes old Fort Pike at the Rigolets and crosses the Pearl River into Mississippi.
Eastbound U.S. 190 crosses the Sabine River into Louisiana near Merryville; hooks south through pine hills from DeRidder to DeQuincy; and heads east to Kinder, where you can donate money at the Coushatta Indians' casino or spend it for some of their exquisite basketry. To the east you can find Cajun dance halls around Basile, visit the Prairie Acadian Cultural Center (part of Lafitte National Park) in Eunice, see the Jim Bowie Museum in Opelousas and picnic in the little park in Port Barre that marks the birthplace of Bayou Teche.
From the old bridge in Baton Rouge, 190 heads east through the old-town side of Denham Springs and the old Hungarian town of Albany on its way to Hammond and Covington. Then it skirts Lake Pontchartrain, passes Fontainebleau State Park (former plantation of Bernard de Marigny de Mandeville, for whom everything in Southeast Louisiana in named) and merges with U.S. 90 to cross into Mississippi.
STATE HIGHWAYS
Our state highways take us to places with good adjectives such as "rustic" and "remote." Some crisscross each other to spiderweb a region; others travel alone, like solemn 66 to Angola, devastated 82 along the Gulf Coast or lonesome 23 along the last miles of the Mississippi. Every road is someone's nostalgic favorite, a quietly personal thing, but each is a link in that chaos-theory complex of concrete that brings us all together and takes us all home.
Even without considering length or numerical order, the first that comes to mind is venerable Highway 1, which follows Bayou Lafourche, the Mississippi and Red rivers from Grand Isle at the gulf to our northwest corner, tying together, along the way, every east-west route of historic or contemporary importance.
Born at an intersection with Highway 1 in Vivian, Highway 2 winds its way through the woods and waters of extreme North Louisiana to the village of Highland on Lake Providence in the far northeast. It's not a tourist route, so its "attractions" are more of the natural variety: the endless waters of Lake Claiborne and Bayou D'Arbonne Lake, the hills and hardwood bottoms of Bodcau Wildlife Management Area and Kisatchie National Forest. The older homes hereabouts are mostly Victorian, with a few surviving "double-pens" and dogtrots, and the antebellum Claiborne Courthouse in Homer lends a touch of Greek Revival.
At Shongaloo in Webster Parish, Louisiana 2 swings southeasterly through Homer while Alternate 2 forks northeastward through Haynesville, as if to keep the gladiators of the famous Haynesville-Homer high school football rivalry separated until game day. The routes rejoin in Bernice, with its Depot Museum and Lynn Creek Winery, and the road then forges eastward to Farmerville, which throws the state's annual Watermelon Festival in July. Stop to admire the old Morehouse Parish courthouse and handsome storefronts of Bastrop before following Highway 2 through Goodwill and Oak Grove to end at U.S. 65, near the Louisiana Cotton Museum on Lake Providence.
Paralleling Highway 2 to the south are U.S. 80 and I-20, and, one more layer down, Highway 4 takes you on a cross-state journey from the Red River to the Mississippi. From U.S. 71 at the southern tip of Bossier Parish, the road heads east to Jonesboro (pretty in December, with its Wonderland in the Pines lighting) and then takes you past Columbia on the Ouachita River, Winnsboro on good ol' Turkey Creek and Newlight on the Tensas (below the big Tensas National Wildlife Refuge), ending at the old cotton town of Newellton beside oxbow Lake St. Joseph.
Forty miles down U.S. 71 from the start of eastbound 4, westbound Highway 6 departs Clarence on a journey that is quite short and quite long: 40 miles, 300 years. Born as a buffalo trail, American Natives gave it as many names as there were tribes: Spanish soldiers called it El Camino Real (the Royal Road), and, in his telling of its story, Pulitzer-winner Hodding Carter called it Doomed Road of Empire.
Highway 6 soon crosses Red River at this region's geologic pride and joy, Grand Ecore Bluff, and atop the bluff, a new Corps of Engineers visitor center provides a sweeping view as well as films and kiosks that tell stories of the river and Natchitoches area. In the city, just west, stands a "living history" replica of Fort St. Jean Baptiste, the first substantial fort built here after the founding of the French military post in 1714, and a few miles farther west, a right turn on Highway 485 at Robeline leads to the Adai Indian Cultural Center and to state park picnic tables and archaeological digs at the site of Los Adaes (the Spanish fort and mission erected there to keep tabs on the French).
Eight miles west on Highway 6 stand one replica and one original structure of Fort Jesup, built by the United States in 1822 to guard the still-disputed border, and, west of Many, Highway 6 crosses the Sabine River's immense Toledo Bend Reservoir, where the colonial Oliphint House (open for tours) begins the Texas leg of the El Camino Real National Historic Trail.
Louisiana Highway 8, another scenic hill-country, river-bottom and small-town route, enters Vernon Parish from Texas near the Confederate breastworks of Burr Ferry and heads northeast to faraway Sicily Island in Catahoula Parish, with visits along the way to Leesville; Colfax; Jena; and the dramatic hilltop site of Fort Beauregard, overlooking Harrisonburg and the Ouachita River. By far the longest of the east-west routes, Highway 10 leads east from U.S. 171 near Leesville and spans the entire width of West, Central and Southeast Louisiana on its long haul to the Mississippi line near Bogalusa, sampling such variety as Kisatchie Forest pines, Evangeline Parish rice fields, Ville Platte cotton fields, the landmark Stelly's Diner in Lebeau, ferry rides across the Atchafalaya and Mississippi rivers, antebellum homes and gardens in the Feliciana Parishes, the St. Helena Courthouse and tiny antebellum jail in Greensburg, Fluker's Bluff on the Tickfaw and the historic cabins of Franklinton's Washington Parish Fairgrounds.
The duty of 40-odd-mile Highway 12 was just to feed Houston-Beaumont traffic through DeQuincy to east-west U.S. 190, vital in the days before I-10, and the final "layer" of our old east-west pattern is wonderful Highway 14, the duck-hunter's delight, which leads from Lake Charles through the lower reaches of the rice lands to Lake Arthur, Gueydan and other gateways to the marshlands. It then provides a pit stop for fresh oysters in Abbeville before ending in the New Iberia region, with its Shadows on the Teche, Live Oak Gardens of Jefferson Island and Jungle Gardens/TABASCO kingdom of Avery Island.
So there's plenty to see and do, and time's wasting, but take a little time to prepare. Call the Office of Tourism at (800) 227-4386 for your free state map and annual tour guide, which not only provides geographic listings of towns and attractions but also lists state and state-certified information centers lined with racks just bursting with additional guidance. Brochure-maps specializing in categories of routes such as bike trails, River Road plantation routes, Audubon Golf Trails, ancient mounds trails or Louisiana colonial trails are especially helpful, with others dedicated to individual roadways such as the famous Highway 27 Creole Nature Trail, the Old Spanish Trail, El Camino Real, a "Zydeco/Cajun Prairie" circle drive and many, many more.